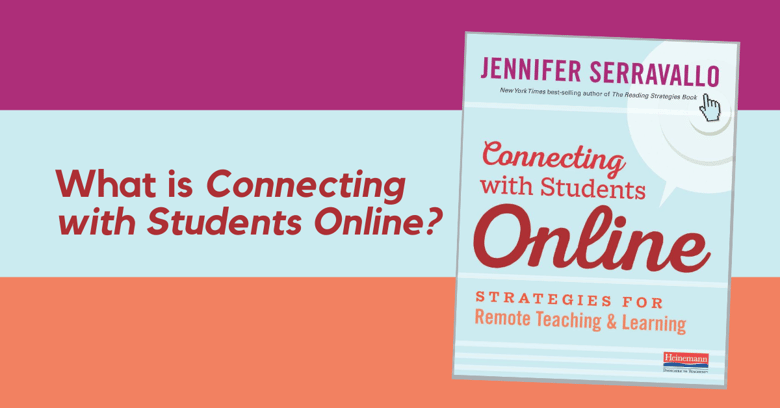 Remote instruction this past spring was filled with teachers lamenting, "I miss my students," and countless stories of children upset because they missed their teachers just as much. Gearing up for this school year, many educators are wondering:
How will I build the relationships crucial to teaching and learning when we're forced to teach at a distance?
How can I partner with caregivers to make the most of online instruction?
How will I keep children meaningfully and joyfully engaged?
How can I keep things manageable for all of us?

After spending much of March through June teaching students and teachers online, watching her own children's responses to distance learning, and supporting teachers grappling with remote instruction, Jen started to think about how she could help in the year ahead. She polled her Reading and Writing Strategies Community on Facebook and an extraordinary 5,000+ educators responded with concerns big and small. She felt a slim handbook with video examples might best provide the support they and others were asking for.
"I wanted to write a book that a teacher could pick up on Friday and by Monday feel more confident about the parts about moving a classroom online that can feel most elusive. Although school buildings may not be open or only partially open, school is open and teachers are working harder than ever. They deserve help and support."

- Jennifer Serravallo
Her new book, Connecting with Students Online, emphasizes the importance of teacher–student and student–student connections within a practical vision for remote teaching and learning. Remote instruction will never be the same as in-person, but Jen has found that many of the same structures and practices we know work can be adapted to it. This book shows how to teach responsively, guide practice, monitor progress, develop strong relationships, and more from a distance. The advice in the book is based on pertinent research and grounded in the varied experiences of K–8 teachers, educational leaders, and parents across the country. Perhaps most importantly, it offers realistic and compassionate advice for teaching and learning while living during a pandemic.

Learn more about Connecting with Students Online on Heinemann.com.

This book includes access to online resources.

Connecting with Students Online uses a similar approach as Jen's Reading and Writing Strategies Books. Read it cover-to-cover if you wish, but it's designed to dip in and out of for step-by-step, how-to teaching strategies. Also like the strategies books, Connecting with Students Online is designed to offer advice that will fit into any classroom—no matter your curriculum or approach to literacy instruction.
With relationships at its heart, Connecting with Students Online provides detailed ideas for instructional prioritization, assessment, progress monitoring, conferring and small group work, engagement, bringing students together and developing community, and much more. Jen simplifies complicated remote learning tasks such as daily scheduling and unit planning.
Of course, teachers have other important relationships to think about. For instance, Jen devotes a chapter to strategies for bringing adult caregivers on board as instructional allies. She also suggests ways to lean on colleagues to avoid a sense of professional isolation.
Ultimately, you can take the teacher out of the classroom, but you can't take the classroom out of the teacher. The teacher–student connection remains the heartbeat of instruction whether in-person or online. Connecting with Students Online makes the latter not only possible but doable.
Jen will be donating a portion of the proceeds from Connecting with Students Online to organizations that help children directly affected by COVID-19.


PS: Connecting with Students Online will arrive near the end of September. Need help now? Jen has a team of consultants who are part of a think tank on Jen's work and ready to support you immediately. Start with PD from them now and be even more prepared when your book arrives. Contact Lea Mercantini to find out more.