Inviting children to read and write poetry offers countless opportunities to develop students' literacy skills—at any age or stage. Reading and writing strategies provide students the "how to" whether the skills you are helping them develop relate to interpreting symbolism, figuring out a central theme, understanding figurative language, composing a poem with attention toward structure (such as line and stanza breaks), or considering how punctuation impacts meaning and rhythm.
Celebrate the beauty and power of poetry during National Poetry Month and beyond with strategies from Jennifer Serravallo's Reading and Writing Strategies Books to deepen students' understanding of and appreciation for poetry, and to help them become more confident and skilled readers and writers.
"Drum the Poem to Find the Rhythm" is one of the 100 new strategies in the recently released and heavily revised 300+-strategy The Reading Strategies Book 2.0. This strategy is a fun and engaging way to support the goal of fluency by working on phrasing and expression. To use this strategy, have students tap out the beat of the poem with their hands or feet as they read. This helps them feel the poem's rhythm and emphasizes the pauses and stresses. This strategy can be especially fun to practice with a friend, encouraging children to read and re-read the poem.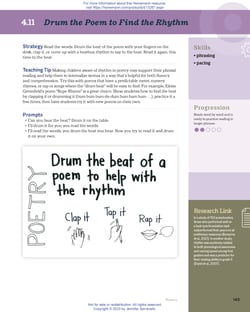 When teaching children to write poetry, turn to The Writing Strategies Book for help. One consideration poets make is how to structure their words; one aspect is where to create line breaks. Line breaks are an essential element of poetry, as they can affect the meaning and rhythm of the poem. You can introduce the concept of line breaks by cutting up a sentence into individual words and using a pocket chart to play with different line breaks, inviting children to notice how changes in the line breaks impact their reading. Then, students might go back to their drafts to consider where they want the breaks in their poems.
In this conferring video, Jen teaches one young writer to think about line breaks to control her poem's pace, meaning, and emphasis. Learn more about conferring and small group instruction in writing, including more video examples, in Teaching Writing in Small Groups.
---
Word choice is another goal you might focus on as you help students improve the quality of their poetry writing. Check out "Rhyme Time" from The Writing Strategies Book. Since so many of the poems children encounter have rhyming words, they'll often try to rhyme their own—but sometimes their rhymes are at the expense of meaning (Who among us hasn't read some version of: "Roses are red/I don't like to go to bed/my sister puts things on my head/that's what I said.") Instead, teach children to draft the lines of their poems thinking of meaning first. Then, they can go back to consider which words they want to rhyme, use resources such as rhymezone.com to generate lists of words, and then revise the lines of their poems to incorporate words that retain their meaning—moreover, considering word choice when writing can be a great way to build vocabulary!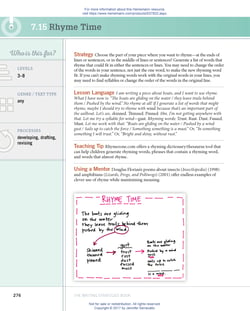 These three strategies are just a few of many dozens across both books that can help you celebrate National Poetry Month and weave the reading and writing of poetry throughout the year. Strategies offer students the "how to" to become skilled readers and writers. As a bonus, many of the strategies they'll learn and practice in poetry can also be used during their reading of narrative and expository text.