Last November we started a conversation around Jennifer Serravallo's Five Lenses to Assess and Teach Readers. We learned that by using these five lenses—engagement, fluency, print work, comprehension and conversation—you will get the clearest sense of the student. Seeing a student through only one or two lenses is limiting to you and to the student. Jen recommends that you try to collect at least one student artifact from each lens.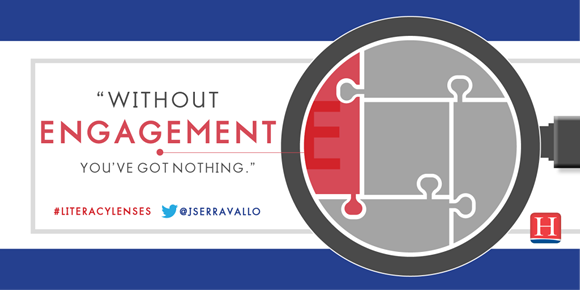 ENGAGEMENT

Let's focus on engagement. When we consider a student's level of engagement, we are in essence assessing whether the child reads for pleasure or merely for school. Engagement refers to a reader's motivation and desire to read, as well as his or her ability to read for sustained amounts of time. It's no accident that Jen lists this as the first lens.
Jen offers a few tools to use to assess engagement. In her upcoming book The Reading Strategies Book, Jen writes "My favorite assessment for figuring out who needs support with engagement is the engagement inventory."
An engagement inventory is essentially a kidwatching tool. Spend time literally watching your students. Record what you see for an entire independent reading period. Do you see when a student reacts to a text? Do you see if a child finishes reading one book before starting a new one? Do you see when a student becomes disengaged from a text? Engagement inventories can help you understand what kids do as they are reading–avoidance behaviors, distractibility, or signs of engaged reading.
"Without engagement you've got nothing."




–Jennifer

Serravallo

Another powerful tool is the book log, or reading log. Book logs can help you identify many things about your readers. For students reading at lower levels, a simple tally log can be used. Teachers can also put a sticky note on the back of a book and have students mark a tally every time they finish reading it. Use book logs to look for patterns about students' engagement. Where are they when they read the most? What type of books do they enjoy most? One way to use book logs to keep students engaged is to suggest other works by an author that a student likes. Keep several book logs to look for trends over time.
Reading interest surveys can be completed orally during a conference or by having the student write their answers down. You can find premade lists of questions online, or you can make your own. A reading interest survey asks questions about a student's interests, habits, and attitudes around reading, and can help you learn what students like to read, as well as their attitudes about reading. These surveys can help match students to engaging books and authors they may not be aware of. They can also help you match reading partners by showing you which students have similar reading tastes. Take reading interest surveys throughout the school year to see how your students grow and change.
What do you look for when you check to see if your students are engaged readers? As you consider engagement and these tools (engagement inventories, book logs/reading logs, and reading interest surveys), what resonates? We have created blank versions of these engagement tools for you to download and use in your classrooms. Scroll down to the bottom of this post for both Microsoft Word and PDF versions.
Join us Twitter using the hashtag #literacylenses to share your thoughts and stories.
♦ ♦ ♦ ♦
Jennifer Serravallo is a national literacy consultant and the bestselling author or coauthor of the Heinemann titles Teaching Reading in Small Groups, Conferring with Readers, The Literacy Teacher's Playbook K–2, and The Literacy Teacher's Playbook Grades 3–6. She started out teaching grades 3–5 in Title I schools and then spent eight years as a national staff developer at the Teachers College Reading and Writing Project.