Welcome to the Heinemann PD Professional Learning Community Series! This month we explored cultivating literacy-rich classrooms.
♦ ♦ ♦ ♦
October flowed with posts sharing content and ideas to support our thinking about literacy-rich classrooms that honor student independence. Scroll through the links below for a recap of shared videos and downloads, PD opportunities, and links related to this month's blog series.
---
Using Student Talk as Research with Jennifer Serravallo
How can we couple the power of allowing children to talk about books with purposeful, deliberate instruction?
Click through to view the video and read the full post.
---
Webinar Series
Webinar season is underway! Did you know that if you aren't able to join us live for any of the sessions, you can still register to access the recorded webinars? We just wrapped up a few fantastic series and more are on the way with Fountas & Pinnell-trained consultants and authors such as Ellin Keene, Dan Feigelson, Smokey Daniels & Nancy Steineke.
Find out more about our webinar series and register here.
---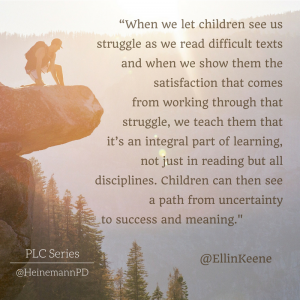 How do we get kids to savor the struggle?
We had the chance to listen in on a conversation with Ellin Keene and a literacy coach from Missouri to grapple with this question.
---
Rethinking Classroom Roles : Video with Kristin Ziemke
Technology changes so quickly that modeling and integrating new tools into teaching can feel overwhelming. Amplify authors Kristin Ziemke and Katie Muhtaris talk about starting each day from a "place of possible" and maintaining pedagogy.
Revisit the post and view the video with Kristin kere.
---
November Book Study in the Heinemann PD Teaching & Learning Facebook Group
Join us in our Facebook group this November as we push each others' thinking about the importance of giving students the chance to "grow from bystanders into Upstanders". This incredible book invites readers into the classroom of Sara Ahmed (and weaves in commentary from Harvey "Smokey" Daniels) to witness how she uses inquiry to address curriculum topics that lead students to be thoughtful and action-oriented toward social justice. You can get a copy of Upstanders here or access it with a Digital Library subscription!
Spend a few days in New Orleans at this amazing multi-day institute with Sara, Smokey and more: Inquiry, Literacy, and Life: Cultivating Student Engagement, Curiosity, and Collaboration. Follow the link to read more and register!
---
Next month in our PLC Series: Equity and Social Justice
---