So many of Heinemann's professional books come with online resources. This step-by-step guide is a reminder of how to access them!
To help demonstrate just how easy the process is, we will be using Kelly Gallagher and Penny Kittle's new book 180 Days as our example. These steps are applicable to any professional book with online resources.
Step 1: Have your book on hand!
Step 2: Flip open your book to "Online Resources" or "Video Access", found in the first few pages.
Step 3: Follow the instructions and type the URL provided into your web browser.
There is only one URL, which leads you to a landing page that contains all video clips, printouts, etc. for your professional book. The landing page will be organized by either chapter, category or both.
Step 4: After typing in the URL, either Register or Login to Heinemann.com.
This will help to keep all your online resources in one place.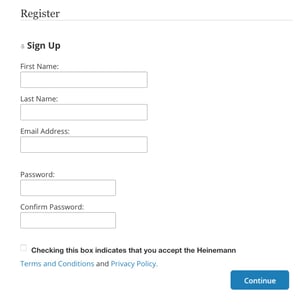 Step 5: Once logged in, enter keycode found in BOLD and click "register."
After you have registered and entered the keycode, you will be on your online resources profile. You only need to enter the keycode once! In the future, you can find all your registered resources here. Videos, printouts, and more.
Step 6: You are now connected. Browse & Enjoy!
Not all professional books come with online resources, but many do! While reading a Heinemann professional book, look out for QR codes or symbols in the margins. This is an indication that your book has online resources!