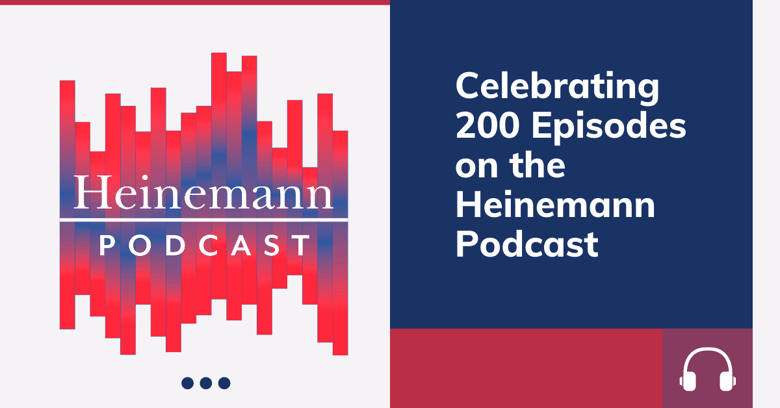 Since our start in 2016, the Heinemann Podcast has been dedicated to bringing you relevant content from Heinemann authors, new and upcoming educational voices, and classroom teachers. In our four years, we've produced 200 episodes featuring conversations on literacy, equity in the classroom, student choice, new technology, inquiry, and so much more.
Below is just a small selection of the topics and voices you will hear on the podcast. You can subscribe to The Heinemann Podcast wherever you listen to podcasts to hear our full offering. We look forward to more insightful conversations, new voices and perspectives, and engaged educators. Happy listening!
---
Episodes About Technology
Approaching New Technology in the Online Classroom
Sarah Gilmore and Katierose Deos, authors of Integrating Technology, talk about why our grounding principles about teaching should be guiding technology integration.
Read the World
Kristin Ziemke and Katie Muhtaris, co-authors of Read The World: Rethinking Literacy for Empathy and Action in the Digital Age, discuss the opportunities for technology to deepen learning and ignite wonder in the classroom.
Connecting With Students Online
When you think of the logistics of shifting our teaching from in person to online, you likely have had hundreds of questions that all start with, how? Author Jennifer Serravallo maps out the answers to that question and many more like it.
---
Episodes About Language
Growing Language and Literacy
Andrea Honigsfeld's book, Growing Language and Literacy: Strategies for English Learners, offers a multi-faceted approach to language instruction. It is based around the five levels of language acquisition identified in the TESOL framework, and emphasizes instructional practices that honor students' strengths.
Centering Bilingual Latinx Students
Carla España and Luz Yadira Herrera, co-authors of En Comunidad: Lessons for Centering the Voices and Experiences of Bilingual Latinx Students, infuse their own experiences into their writing and teaching, urging teachers to create liberating spaces for their students by embracing a practice known as translanguaging.
Developing Reading and Writing Strategies en Español
El libro de estrategias de lectura takes Jennifer Serravallo's Reading Strategies Book and turns it into a complete resource for reading instruction in Spanish. This resource has 300+ strategies, including some specially created just for Spanish-language development and all new visuals in Spanish.
Jennifer Serravallo's The Writing Strategies Book is also available in Spanish! Learn more about El libro de estrategias de escritura.
---
Episodes About Equity and Social Justice
The Value and Inequity of Identity Work
In this episode, Heinemann Fellow Alum Minjung Pai sits down with Cornelius Minor. Cornelius is a well-known educator, Lead Staff Developer at the Teachers College Reading and Writing Project, and Heinemann author, best known for his book We Got This. Min and Cornelius talked about the core values of identity work, and how it informs their education practices.
Social Justice Talk
Author Chris Hass and co-contributors Nozsa Tinsley, and Tiffany Palmatier (Social Justice Talk) share their first hand experiences facilitating conversations in the classroom that disrupt and challenge harmful social beliefs and practices that we are all immersed in everyday.
Elevating Equity and Justice
In his new book, Elevating Equity and Justice, education policy expert and former civil rights lawyer, Robert Kim, takes us on a deep dive into ten cases of great historical impact, providing background and information on each as well as an explanation as to why it's important to know them.
---
Episodes About Classroom Community
Finding the Right Tools
What makes a good tool? Towanda Harris, author of The Right Tools, covers how to best assess students, balancing standards, and how to evaluate research-based materials.
Strategic Classroom Design
Jessica Martin and Jamaica Ross talk about the importance of classroom design. In Jessica's new book, Strategic Classroom Design, Jessica reveals just how important a classroom environment is.
The Joyful Teacher
Berit Gordon's book, The Joyful Teacher focuses on reflection and self-agency by providing readers with clear and focused strategies that can be adapted into an individualized practice.
---
Episodes About Mathematics
Re-Imagining Math Class
If you could reimagine math instruction, what would you change? In this episode, Steve Leinwand talks about fostering authentic math fluency in students, and valuing deep understanding over memorization and speed. Steve's latest book is
Examining the Culture of Mathematics
Heinemann Fellow Alum Marian Dingle's passions lie in diversity of mathematics curriculum, and highlighting the work of mathematicians of color. In this episode, Marian speaks with Dr. Cathery Yeh about the culture of mathematics, and the impacts it has on students and educators.
Finding Context in Unexpected Places
In this episode, Sue O'Connell shares some key ways to build math fluency. She says that many of us were taught math in ways that focused on memorization, and regurgitation. But that doesn't necessarily lead to deep understanding.
Sue is the lead author of the groundbreaking grade-by-grade resource Math in Practice
---
Episodes About Reading and Writing
Getting to Know Your Readers
In this episode, Sonja Cherry-Paul and Dana Johansen, co-authors of Breathing New Life Into Book Clubs, chat about the role of technology in book clubs, and what is at the heart of starting a strong book club.
Demystifying the Writing Process
What do we do when students are reluctant to write? The most important thing to remember is that it's the conditions, not the kids. In this episode, Kelly Boswell, author of the new book Every Kid A Writer: Strategies That Get Everyone Writing, provides a different approach to writing instruction
A Teacher's Guide to Reading Conferences
"Conferring…" writes author Jennifer Serravallo, "is where the magic happens." In this episode, Jen talks about her latest book, A Teacher's Guide to Reading Conferences, which is part of Heinemann's Classroom Essentials Series. While conferring with readers might seem intimidating or out of reach, it is attainable -and necessary- in every classroom.
---
Episodes About Pedagogy
Moving to a Points Free System
Sarah Zerwin, author of Point-less: An English Teacher's Guide to More Meaningful Grading, suggests moving away from something many of us can't imagine teaching without: grades.
Inquiry Illuminated
In this episode, we highlight Inquiry Illuminated: Researcher's Workshop Across the Curriculum, the new book from Anne Goudvis, Stephanie Harvey, and Brad Buhrow. Anne and Steph, along with the book's contributor Karen Halverson, provide a structure for inquiry that's predictable, proven, and—most importantly—authentic.
Bridging the Gap Between Research and Practice
Is there research we can lean on for the unique situation we find ourselves in? And when we look to research to inform our practice, context is crucial. Both context and research are what Not This, But That series editors Colleen Cruz and Nell Duke have been thinking a lot about.
Check out the latest Not This, But That books: No More Random Acts of Literacy Coaching and No More Teaching Without Positive Relationships
---
Special Series
In addition to our standard slate of shows, Heinemann also offers special series that explore exciting topics and highlight new voices!
The Year Ahead
Hosted by author Meenoo Rami, this four part series dives deep into the challenges posed to educators figuring out our to teach through a pandemic. Meenoo uncovers the connecting links between teachers across district, state, and even national lines. Her conversations remind us that we are not alone during this time that can feel so isolating.
Check out the first episode on The Year Ahead
Beyond the Letters
Hosted by Kate Roberts and Maggie Beattie Roberts, Beyond the Letters explores the unique experiences that live at the intersection of education and queer identity.
Subscribe to Beyond the Letters wherever you get podcast to listen to both seasons.
The Heinemann Fellows
Over the years, each cohort of Heinemann Fellows have brought fresh perspectives and ideas to Heinemann. You can hear a wide variety of conversations led by past fellows on the podcast on everything from . Browse a full list of all our fabulous Fellows episodes!
…
Thank you to all our listeners for four years of support! If you haven't already, make sure to subscribe to The Heinemann Podcast wherever you listen to podcasts, and leave a rating and review! Is there something you'd like us to cover on the podcast? Let us know!