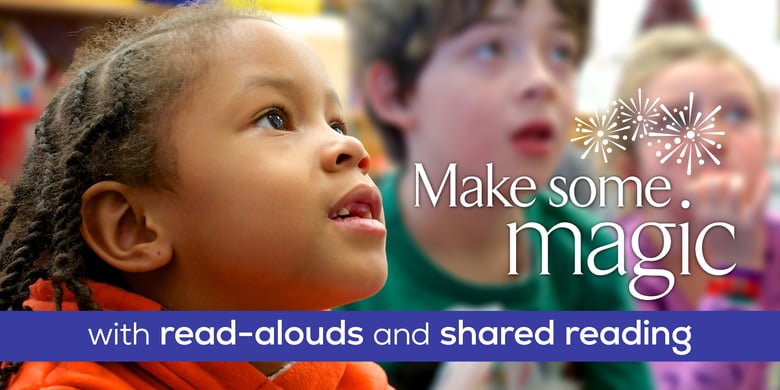 The following is adapted from Let's Gather: Reading to and with Your Students, Grades K–2.
Read-aloud time is magical. You say to your students, "Let's gather," and then, opening the pages of a book, you sweep the class up into an intense experience of reading at its best. Your read-alouds will be wide-ranging, including video-alouds and poems and fiction and nonfiction texts across a range of sub-genres.

Sometimes the text is a story, and soon your students will see the world through the eyes of a character, experiencing the love and hurt, the yearnings and insights that the character experiences. Other times the text will be informative, and as they listen, your youngsters will experience that satisfying clunk when new information fits alongside known information, when questions that have been sparked begin to be answered.

When you say, "Let's gather," and call your community around a shared text, you are given a magnificent opportunity to mentor children in the mindset, habits, and strategies of proficient readers. Your read-aloud time will afford you the perfect forum for providing the explicit instruction in vocabulary, text structures, genre knowledge, literary knowledge, and comprehension strategies. As you do this, you'll draw on the gradual-release-of-responsibility model of instruction that's recommended by the National Center for Education Research.

The Let's Gather classroom bundles provide grade-level specific read-aloud plans highlighting thoughtfully curated fiction and nonfiction texts that will not only captivate your students' attention, but also lend themselves to supporting a progression of high-level comprehension skills across the year. These plans call attention to words that are not only critical to the text and topic, but also to the academic conversations you'll foster. There are plans for first reads and rereads of the read-aloud texts, helping you and your students grow a repertoire of reasons to reread, perhaps each time with a different lens. Finally, these plans include regular opportunities for partner talk and whole-class conversations, helping teachers learn ways to support students in having collaborative, text-based discussions.

Let's Gather also includes several templates for shared-reading sessions that teachers can use and adapt across multiple texts. The shared-reading lesson plans provide opportunities for the whole class to read a text aloud together and are especially useful for teaching and reinforcing phonological awareness, concepts about print, word-solving strategies, and fluency.

The Let's Gather read-aloud and shared reading classroom bundles provide teachers with complete interactive read-aloud and shared reading plans to use with and alongside the Units of Study in Reading or to supplement any other resources you might be using to teach reading.

These read-aloud and shared reading plans are designed to give you images of possibility and expand your understanding of ways read-aloud time can go. The hope is that they mentor you in trying some new ways to model proficient reading strategies and to develop children's knowledge while also keeping a class of young children engaged.