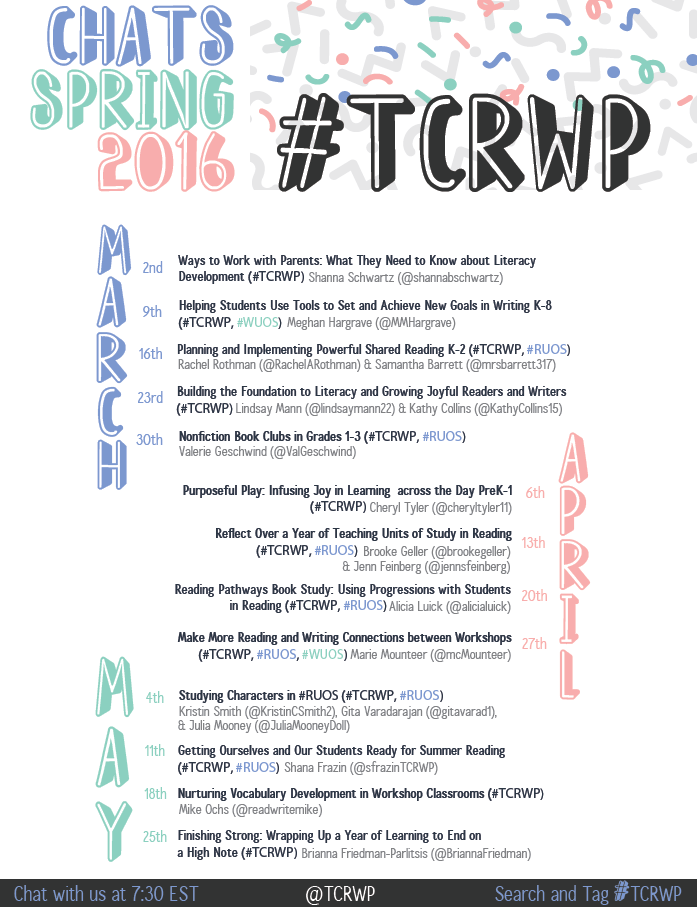 See below for the chat transcript.
by Anna Gratz Cockerille
At the mention of book clubs in reading workshop, one typically thinks of fiction and imagines discussions of character changes, plot twists, and life lessons gleaned from a story. Certainly, fiction book clubs are a rich, delightful pinnacle of reading workshop. But nonfiction books can also lend themselves beautifully to the book club structure. Because nonfiction reading is like taking a course on a topic, the natural step after learning about a topic is to share what you've learned. As such, nonfiction begs discussion. Likely you've heard something akin to the following in your classroom during nonfiction reading workshop: "Ew! Did you know that bad breath in the morning comes from tiny microbes living in your mouth?" Or, "Wow! This lizard has green bones and green blood!"
In many ways, book clubs are the highlight and culmination of what we teach in reading and writing workshops. To prepare for book clubs, children must not only read to understand the information, they must also reflect on the information enough to be able to talk about it with others. Children must record the ideas they'd like to share with their clubs, often in writing, and they must plan to communicate these ideas in ways that their whole group will understand.
In simply preparing for a book club, then, a nonfiction reader is practicing the following reading skills:
Monitoring for sense
Determining importance
Analyzing vocabulary
Making connections within (and often across) texts
Summarizing
Inferencing
Interpreting
During a book club, be it nonfiction or fiction, the goal is for children to listen to each other, consider each other's ideas, and find patterns and points of agreement or disagreement. In a nonfiction book club in particular, children must push their thinking and talk beyond listing captivating facts from their reading and toward deeper ideas and interpretations.
After a book club session, the goal is for children to read differently because they are part of the club. They read forward, armed with ideas from the club discussion which they will ideally use to inform their understanding of the text.
It makes sense that children need a great deal of instruction and support in order to get really good at talking about nonfiction in clubs. Join us for tomorrow's #TCRWP Twitter chat with host Valerie Geschwind, Reading and Writing Project staff developer and expert on nonfiction and book clubs. Valerie will lead participants in thinking about best practices for launching and sustaining the most powerful nonfiction book clubs possible in grades 1–3. We hope to see you there!
Each Wednesday night at 7:30 p.m. ET, The Teacher's College Reading and Writing Project hosts a Twitter chat using the hashtag #TCRWP. Join @ValGeschwind to chat about nonfiction book clubs in grades 1–3 tomorrow evening.
♦ ♦ ♦ ♦
Anna Cockerille is a staff developer, literacy coach, and writer based in New York City. She has taught in K–8 classrooms all over the world in places such as Sydney, Australia; San Pedro Sula, Honduras; and Auckland, New Zealand. Anna has been a staff developer for the Teachers College Reading and Writing Project at Columbia University (TCRWP) and an adjunct instructor for the Literacy Specialist Program at Teachers College. She writes at Two Writing Teachers.
Not on Twitter? New to Twitter? Take Heinemann's free Twitter for Educators course here.