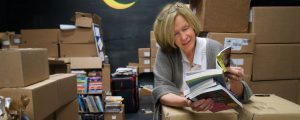 Lucy Calkins recently sat down to discuss the Teachers College Reading and Writing Project's groundbreaking Classroom Libraries for grades K-8. Throughout this three-blog series, Lucy answers your most frequently asked questions about the TCRWP Classroom Libraries. In the following video Lucy talks about "What Inspired the TCRWP Classroom Libraries project?" where she asserts that she and her TCRWP colleagues began the project with the conviction that, "the particular book matters." In other words, children are drawn to read more when they are enjoying the particular book they're reading.
Lucy references how the Harry Potter series, irresistible to legions of children, set young readers on track to become lifelong learners and avid readers. Like so many teachers, Lucy is passionate about inspiring such reactions in children and understands the struggles teachers face to acquire the multitude of high-quality books necessary to create high engagement. The classroom libraries project arose from this need—to provide teachers with carefully curated, irresistible classroom libraries capable of transforming kids into skilled, eager readers. Watch the video below to hear more about the inspiration behind the classroom libraries.


But how was this monumental undertaking achieved? Watch the following videos to learn more about the curration of these book collections.

[embed]http://heinemann-com.wistia.com/medias/egowbojkui[/embed]
[embed]http://heinemann-com.wistia.com/medias/kaxmcw2rf8[/embed]
Be sure to check back next week when we'll take an even deeper look at the selection process behind the Teacher's College Reading and Writing Project Classroom Libraries.

♦ ♦ ♦ ♦

To learn more about the TCRWP Classroom Libraries, browse representative titles, and order shelves, visit calkinslibraries.com

♦ ♦ ♦ ♦

To view additional TCRWP Classroom Libraries FAQs videos, click here.

♦ ♦ ♦ ♦