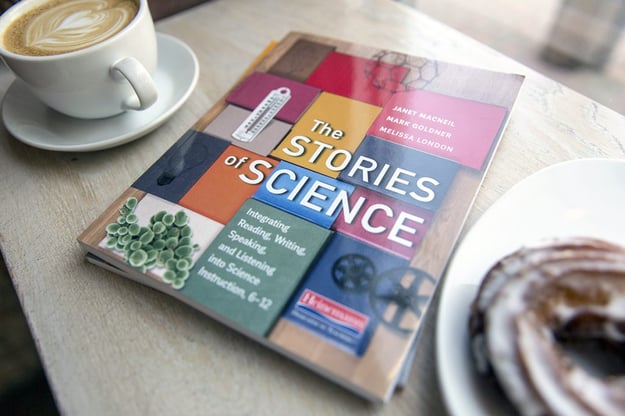 The Following is adapted from The Stories of Science: Integrating Reading, Writing, Speaking, and Listening into Science Instruction, 6-12
In The Stories of Science, authors Janet MacNeil, Mark Goldberg, and Melissa London describe how many of the elements of good science stories are meant to grab and hold the attention of the audience. (After all, what value is a story with no audience?) As they put it "In the movie The Never Ending Story, a boy reads a magical book and finds himself falling into the fantasy world described by the author. This is exactly what we want the audience to do when they read, hear, or see science stories."
In the book, the authors point to several strategies are used to lure readers into a story (and keep them there). Here are the four essential elements of engaging science stories:
An intriguing question or problem: Scientists are driven by the intriguing, deep questions that motivate us to find out more and attempt to explain what we observe. Consequently, these questions or problems should be the focus of the stories we tell.

A good science story starts with a meaty question for students to ponder and investigate. At first, we can provide these questions. But our ultimate goal is to entice students to come up with these questions on their own—questions that they will want to investigate and then share with others in the form of stories.

What kinds of questions provide the seeds for growing good science stories? The best questions cannot be answered with a simple yes or no; jump-start critical thinking (not just a regurgitation of information or facts); and are intriguing.

An overarching theme or big idea: Every good story needs a theme (which we call a big idea). This big idea is closely connected to the question and identifies what the story is about. After identifying the big idea, we need to make sure that it is the focus throughout the story. Including extraneous information that does not support the big idea leads to long, convoluted stories that are not effective (and become boring).

Key evidence: Science isn't magic! We can't just say something is true without backing it up with strong, relevant evidence. Our stories must include that evidence, whether it's derived from firsthand investigations or gathered from other sources.

A strong conclusion: A strong finish is critical for any type of story. We don't want to leave the audience hanging. Instead, we need to reiterate the big idea, why we believe it, and perhaps its relevance. In many cases, a story may end with further questions to explore.
Other Story Elements That May Come into Play
In addition to the four essential elements that apply to all science stories, students may need to consider additional elements, depending on the type of story they're creating and their intended audience.
♦ ♦ ♦