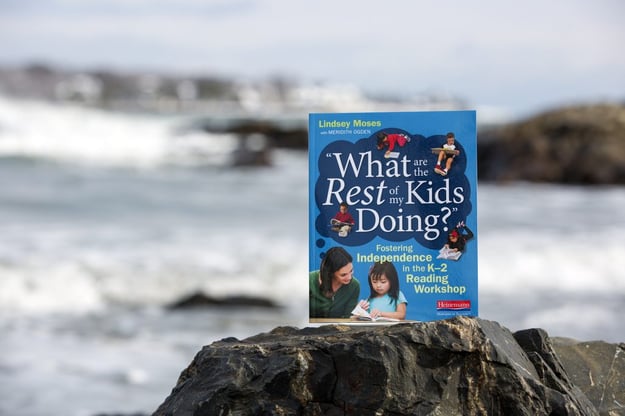 As authors Lindsey Moses and Meridith Ogden point out in their book "What are the Rest of my Kids Doing?" Fostering Independence in the K—2 Reading Workshop, there are a variety of ways to discuss the stages of literacy development. Fountas and Pinnell (2011) developed a continuum of literacy learning with corresponding leveled text. Others use Lexile levels, Developmental Reading Assessment (DRA) levels, Dynamic Indicators of Basic Early Literacy Skills (DIBELS) scores, grade-level expectations, or various norm-referenced assessments. Although Moses and Ogden assess reading performance of young learners using these tools, they note that a more general understanding of literacy progression helps to inform decisions made about developmentally appropriate practice. The National Association of the Education of Young Children (NAEYC) and International Reading Association (IRA) identify phases in a continuum of early reading and writing (1998).
Moses and Ogden note that, IRA and NAEYC recommend effective reading instruction for kindergarten and primary grades that includes but is not limited to the following:
reading meaningful and engaging stories and informational text daily
giving students opportunities to independently read meaningful and engaging stories and informational text daily
providing balanced literacy instruction that includes decoding and meaningful reading instruction
establishing opportunities for small groups that provide focused instruction and collaboration with other students
teaching a curriculum that is intellectually engaging and challenging to expand children's knowledge of the world and develop vocabulary
Below the authors offer instructional suggestions as the beginning steps in creating an environment that fosters independence among young learners in the reading workshop.
Phase 2 (kindergarten)

Listen to stories and retell simple narrative stories or informational text
Use expressive language to describe and explore
Recognize and name letters
Demonstrate letter-sound correspondence
Demonstrate some recognition of rhyme and beginning sounds
Understand basic print concepts (read left to right, top to bottom)
Match printed words with spoken words

Phase 3 (first grade)

Read and retell familiar stories
Use strategies (rereading, predicting, questioning, contextualizing) when comprehension breaks down
Use reading and writing for various purposes on their own initiative
Orally read with reasonable fluency
Use letter-sound associations, word parts, and context to identify new words
Identify an increasing number of words by sight

Phase 4 (second grade)

Read with greater fluency
Use strategies more efficiently when comprehension breaks down
Use word identification strategies with greater facility to identify unknown words
Identify an increasing number of words by sight
The above table shows an adaptation of expected reading development for children in the primary grades (phases 2, 3, and 4) from the IRA and NAEYC (1998, 15–16).

♦ ♦ ♦

You can learn more about "What Are The Rest of My Kids Doing?" here.

♦ ♦ ♦