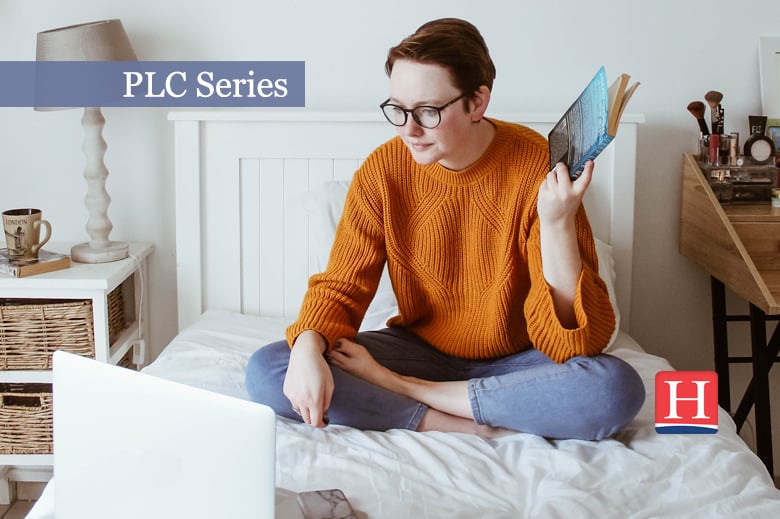 Welcome back to the Heinemann Professional Development Professional Learning Community (PLC) series.
Each month, we'll share a post designed to provoke thinking and discussion, through a simple framework, incorporating mini-collections of linked content into your professional development time.
This month, our post invites us to use inquiry as a tool for becoming aware of how our lived experiences affect how we respond to students.

♦♦♦♦
by Jaclyn Karabinas

Connect
As educators, we spend a lot of time building our knowledge of content and instructional approaches. But how much of our practice leaves space to build our knowledge of students and ask questions to uncover what we don't know?

Consider
Keep this question in mind as you work through this today: How can we embed inquiry of what we do not know about students, due to our lived experiences, to build awareness of how we respond to them?

Educate
Read Black Boys and White Educators by educator Kass Minor. You may need to read it a few times to find your own connection to her reflective thread in the piece, due to your own professional and lived experiences. Make notes not only on the learning process she uncovered, but the stories or reactions that came to mind as you read.

Reflect
In the piece, Kass writes,
"I won't deny myself the body of knowledge I've built. But I continue to ask myself the questions that hover around critical humility: How much do I know? How much do I not know? And how can we break this loop of white educator, good intentions, Black child, IEP?"
Spend some time in conversation, thought, or writing to reflect on the loop she describes. What does it look like to accept that we can't—and won't—know everything? How do we use this to move forward with inquiry that allows us to better know students and what they need to learn?

Practice
Look back over what you uncovered during your reflection. Sometimes, the defense or insistence of good intentions prevents us from asking questions about what we might not know. Find one of the examples you thought of and give yourself some time to ask questions to find possible holes in what you know about the student and how they approach school.

Extend
Our questions should lead us through self-assessment and toward research. Research can (and should!) involve many sources ranging from conversations to articles to reading a title written or recommended by a knowledgeable person in the field. Accepting that there will always be something we do not know is just the start; without continuous awareness, acceptance, and action on this fact, we perpetuate inequities.
How will you make space for self-assessment and research to pursue what you do not know? Reach out to colleagues and social media to begin to build your list of authors to read, people to follow, and topics to explore.

Refine
The Heinemann Fellows are a cohort of educators who embrace the role of teacher-as-researcher. They engage in the inquiry process rooted in a question that has arisen as a problem of practice in their work as an educator. Below are two pieces by Fellows that model the introspection and research to grow their knowledge. Read these to refine your understanding of what this looks like and sounds like.

Act
Make the commitment to building awareness of how your own lived experiences affect how you respond to students, and to increasing your understanding through listening, conversation, reading, and research. You don't need to be a Heinemann Fellow to tackle a problem of practice (though you might consider applying!) Work on crafting questions, get started by talking about these questions with colleagues, and continue your list of authors to read and people from whom to learn.
♦♦♦♦
Looking for more PD?

Online: Our webinar season is about to begin! Take a look at the options available to you, including Inquiry Illuminated: Researcher's Workshop Across the Curriculum, beginning February 13th!

Off-Site: Our workshop season kicks off with Penny Kittle and Kelly Gallagher in Austin, TX on February 3. Check out who might be coming to your area this season!
On-Site: Heinemann's Speakers & Consulting Authors are thought leaders in how to create successful classroom and school environments based on respect, collaboration, empathy, and positivity.