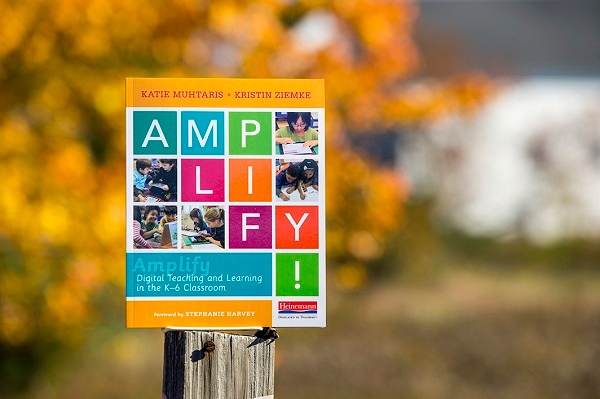 Amplify: Digital Teaching and Learning in the K–6 Classroom by Kristin Ziemke and Katie Muhtaris is out now. Amplify does exactly what the title implies. "When introducing technological tools, we often apply the same practices and strategies we use in our daily teaching, but amplify their power with technology," write coauthors Katie Muhtaris and Kristin Ziemke. "We model what we want students to do with the technology, guide them to try it out with us, provide time for practice, then share as a class."
In today's post, the authors list three ways to incorporate digital teaching into your everyday practice. Try them out!
1: Online Reading

Daily reading is an essential component of the elementary classroom. A healthy balance of student- and teacher-selected texts, comprehension instruction, and many opportunities to practice reading creates strong readers. Research is clear that minutes spent reading equal student achievement (Nagy, Herman, and Anderson 1985). By intentionally providing time for digital reading, we invite students to learn about current events and topics of interest. A balanced approach works best, based on interest, curricular inquiry, and classroom learning experiences. Students benefit from explicit instruction in applying navigation and comprehension strategies when reading in a digital format. Although it's tempting to label students as digital natives and assume they understand these concepts, it's clear that kids need support, and it's up to us to explicitly teach and model elements of digital reading. We teach skills like scrolling and navigating, the functions of different Web elements, minimizing distractions, and finding just-right websites.
Starting Points

Dedicate time to Web reading. Whether a few times a week or every day, give students time to practice their online reading skills. Alternate between having students choose sites or articles to read and assigning shared texts.
Examine your current units of study. Where might you incorporate some Internet resources or reading opportunities? Find at least one article or website that will enrich students' understanding and diversify their resources.
Build on students' passions and curiosity. Use online reading to follow up on students' questions and wonderings—those connected to a unit of study or a book they've read or simply a question a student has a burning desire to answer.
2: Recording Booth

A class recording booth is one of the easiest ways to capture student thinking. You can create a recording booth with practically any device—laptops, smartphones, tablets, and Chromebooks all have built-in cameras that will allow you to capture video. We find that most devices with built-in cameras have some form of recording program available by default. A few possibilities include Camera, Apple's iMovie, or WeVideo. Choose something simple to use and focus on how the tool can capture a different type of evidence. Often what kids say gives us completely different information than a written response. We depend on the recording booth so much that we've added a microphone to eliminate interference from background noise: we need to capture their thinking in a high-quality format.
Video book reviews create a book buzz as students talk excitedly about their favorite books and make plans for future reading. By allowing kids to record video book reviews and making them accessible on a website or blog ("Why don't you go watch the latest book videos and get some ideas about what to read next?"), we build a community in which kids know they have an audience for their work.
Starting Points

Start by modeling for students what the video should look like. This will help you maximize time spent recording and avoid many videos that make you motion sick from the camera lurching violently to and from
Set up your device in a corner of the classroom so students have a quiet place to record their thinking. Add supports like a chart depicting how to start, record, and stop the camera. To ensure you capture ideas from all students, post a class roster in the booth; when one student finishes her recording, she crosses her name off the list and lets the next student on the list know it's his turn. To decorate your recording studio, add a colorful shower curtain, piece of fabric, or even a green screen. A solid background hides activity in the classroom so the student making the video is less distracted and viewers can focus on the speaker. If background noise is an issue, add an external microphone like a Snowball USB mic or use headphones with a built-in microphone.
3: Digital Bulletin Boards

We use a variety of simple-to-access, digital collaborative spaces to gather feedback from students, respond to student work, or provide information and site links. Like corkboards, chart paper, and sticky notes that make thinking visible, these digital collaborative spaces invite all students to view, respond, and interact. There are other good tools available, but we like Padlet because it has a number of options, is accessible from numerous devices, provides a personalized URL, is easy to share, and saves all bulletin boards in a single account. It's a wonderful tool for gathering feedback from students; we often use it to pull together final thoughts about a lesson or to share lingering questions. It's quick to set up and easy for students to access and thus the perfect tool for impromptu lessons and data collection. When Kristin's class finished a read-aloud of The Little Red Hen, she created a Padlet wall that said, "Did the Little Red Hen do the right thing? Share your thinking." The notes kids added led to a wonderful debate on what is fair. Katie has used it in a similar way to archive students' thinking, as a place for student book clubs to share their learning, to collect exit tickets after a lesson, and as a format for students to create their own websites.
Starting Points

If you have only a few devices, set up your digital board and leave it displayed and ready. Have students visit during the workshop to share their thinking about a current read-aloud or how they applied the day's minilesson. This is a great way to engage them in reflection and works as a formative assessment piece for you.
Set up a number of walls by genre or category. Students can leave book reviews on the appropriate wall, as well as get suggestions for books to read. Padlet walls support images, videos, and links. You can also generate QR (Quick Response) codes (scannable barcodes that can direct a user to a specific website) that can be scanned by devices and which will take students directly to the site.
♦ ♦ ♦ ♦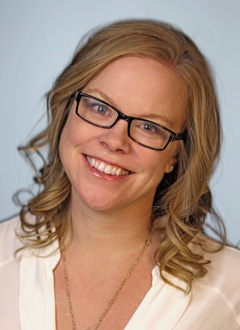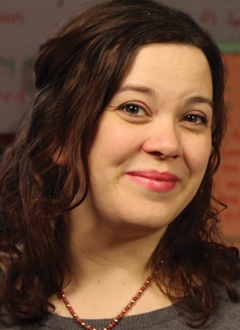 Kristin Ziemke (left) has been teaching and learning from children in both urban and suburban schools for the past 13 years. She engages her first grade students in authentic learning experiences where reading, thinking, collaboration, and inquiry are at the heart of the curriculum. Follow her @KristinZiemke.
Katie Muhtaris (right) has enjoyed teaching and learning with her students in the Chicago Public School system for the last eight years. She is Nationally Board Certified as a Middle Childhood Generalist and holds a Master's Degree in Teacher Leadership. Follow her @KatieMuhtaris.