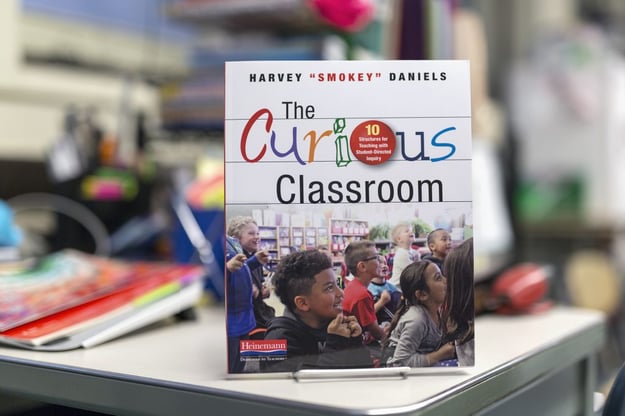 Ever wonder how to get students genuinely engaged in your curriculum? Or wish you could let them explore those amazing questions they brim with? In his new book, The Curious Classroom, Harvey "Smokey" Daniels provides research-based suggestions that help cover the curriculum by connecting what kids wonder about to the wonders you have to teach them.

♦ ♦ ♦

So what is student-directed inquiry approach, and how is it different from other project-based and inquiry-oriented teaching models? Here's a quick sketch of what student-directed inquiry looks like:
We believe that all students can and must conduct their own research projects at every age level. We recognize that students are being held back if they are not supported to conduct their own short investigations from the earliest grades on up.
We co-plan learning along with students, rather than plan solely as adults and then lead kids through our set plans later. Even when we have a required curriculum, we make room for kids' questions before, during, and after the mandated material.
Our aim is always to provide the largest possible degree of student voice and choice in every part of the school experience.
We plan from kids' interests, not just from standards, benchmarks, targets, tests, and the "data desires" of people outside of schools. We build curriculum from kids' wonders and then back-map projects to the relevant standards.
We respect kids' attraction to relevant, authentic topics they choose for themselves. Inside of mandated units and topics, we seek out the elements that are most interesting to kids, and start with those.
We start small and build kids' inquiry muscles with lots of practice. Some of our projects are short, lasting five minutes, twenty minutes, an hour, a couple of days. Some topics require far more time than others, so we tailor the schedule to fit the subject. We give kids plenty of chances to build their research skills and strategies through countless smaller, shorter inquiries before we try long inquiry units.
We actively honor kids' curiosity all day long. We welcome the spontaneous emergence of children's questions. We'll often interrupt an ongoing lesson and make time to honor, capture, and, when possible, investigate a child's wonder.
Inquiry thrives in a collaborative climate, so we use knowledge from social psychology and group dynamics to create a climate of genuine friendship, support, and collaboration. Partnering and teamwork are an integral part of an inquiry operating system.
Before asking children to undertake a new activity or strategy, we explicitly model it ourselves.
We take on new, nonexpert roles in the classroom, such as lead learner, research partner, coach, and facilitator.
We encourage students to share their inquiry findings with interested audiences. We occasionally will host public events where parents or community members are invited. More often, sharing with the class or with just a few other students provides a suitable and efficient way for kids to go public.
Our assessment efforts aim to help kids become their own planners, record keepers, goal setters, self-monitors, and reflectors. This includes banking topics for future investigations. As the year moves on, we look to see kids taking on more of this responsibility.
Individual academic achievement and skill development are not the only important goals of inquiry projects—or of an education. With every investigation, we also want kids to develop their humanity, empathy, and sense of justice. In student-directed inquiries, our kids are constantly looking out to the wider world and asking, "Where do we fit in?" and "What can we do to help?"
♦ ♦ ♦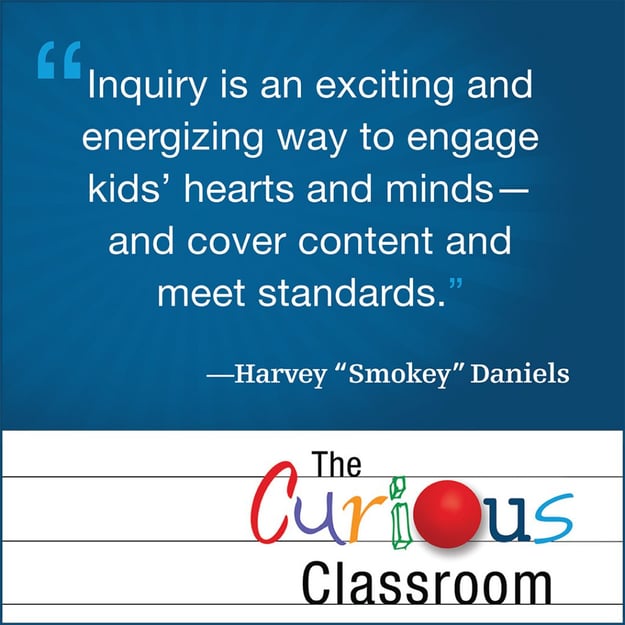 ---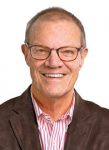 Harvey "Smokey" Daniels has been a city and suburban classroom teacher and a college professor, and now works as a national consultant and author on literacy education. In language arts, Smokey is known for his pioneering work on student book clubs, as recounted in Minilessons for Literature Circles. His latest bestselling books on content-area literacy are Upstanders, Subjects Matter, Second Edition; Texts and Lessons for Teaching Literature; Texts and Lessons for Content-Area Reading; Comprehension & Collaboration; and Texts and Lessons for Content Area Writing. He is also coauthor of Best Practice, Fourth Edition and The Best Practice Video Companion as well as editor of Comprehension Going Forward.
Smokey works with elementary and secondary teachers throughout the United States, Canada, and Europe, offering demonstration lessons, workshops, and consulting, with a special focus on creating, sustaining, and renewing student-centered inquiries and discussions of all kinds. Smokey shows colleagues how to simultaneously build students' reading strategies, enhance their collaboration skills, and get them citizen-ready for an era of challenge and change.
Connect with Smokey @smokeylit.