A Preview from A Guide to the Reading Workshop: Middle Grades

by Lucy Calkins and Mary Ehrenworth

Over decades of research (1977, 2002), Richard Allington has returned often to the three key conditions readers need to thrive:
time to read,

access to books they find fascinating, and

expert instruction.
The first condition, time to read, means examining middle school schedules to make sure students get time to practice. Allington argued, and many other researchers have argued, that above all, students need time to engage in reading in order to get better at reading. Arguing for time for independent reading in schools, Donalyn Miller (2015) likens the situation of students needing to read in order to get better at reading to learning a sport or an instrument. No one ever asks the coach why his players are practicing on the field, and no one asks the music teacher why students are playing instruments during practice times. The only way to get better at doing something is to practice doing it.
Gay Ivey and Karen Broaddus (2001) suggest that the goal of "creat[ing] skillful, versatile, engaged readers" (350) may actually be at odds with the way reading has been taught in old-fashioned middle school classrooms, where dozens of students inch their way through the same text at the same pace. They explain that too often, students are expected to read increasingly complex materials, yet they get little time practicing reading and little instruction in methods for deeply comprehending texts.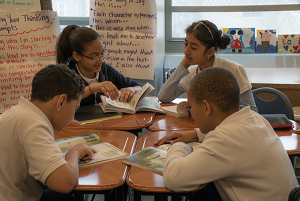 The second condition, access to books readers find fascinating, means increasing the range of texts that students access in school. Perhaps Ivey and Broaddus's biggest concern lies in their observation that students are expected to be independent readers, yet "they get limited opportunities to explore their own interests in reading, to read at their own pace, or to make their own decisions about whether or not to read a book" (350). Researchers champion independent reading because it supports students in getting stronger at reading. Ivey and Broaddus surveyed close to 2,000 sixth-graders and discovered another important reason to offer time for students to read texts they can and want to read: engagement. When asked, "Which reading activities do you enjoy most in this class?" 63% of students said time to read and 62% said the teacher reading aloud (360). The researchers concluded with an important suggestion:
These results suggest the possibility that these fundamental features of instruction—having a rich supply of texts and many opportunities to experience text through independent reading and through teacher read-alouds—may be universal needs for diverse students across a range of contexts. (367)
We can create more research-based classrooms in middle school ELA, then, by increasing access to books and time spent reading. To fulfill the third condition readers need to thrive, we also need to increase teachers' expertise in reading instruction. [The Units of Study for Teaching Reading, Middle School Grades] aim specifically to increase teacher depth and breadth of knowledge in the content of reading, and in methods of reading instruction. They aim to offer adolescents the kind of education that is directly in keeping with the goal of creating "skillful, versatile, engaged readers" (Ivey and Broaddus 2001).
...
---
For more information about the forthcoming Units of Study for Teaching Reading, Middle School Grades, click here.
---