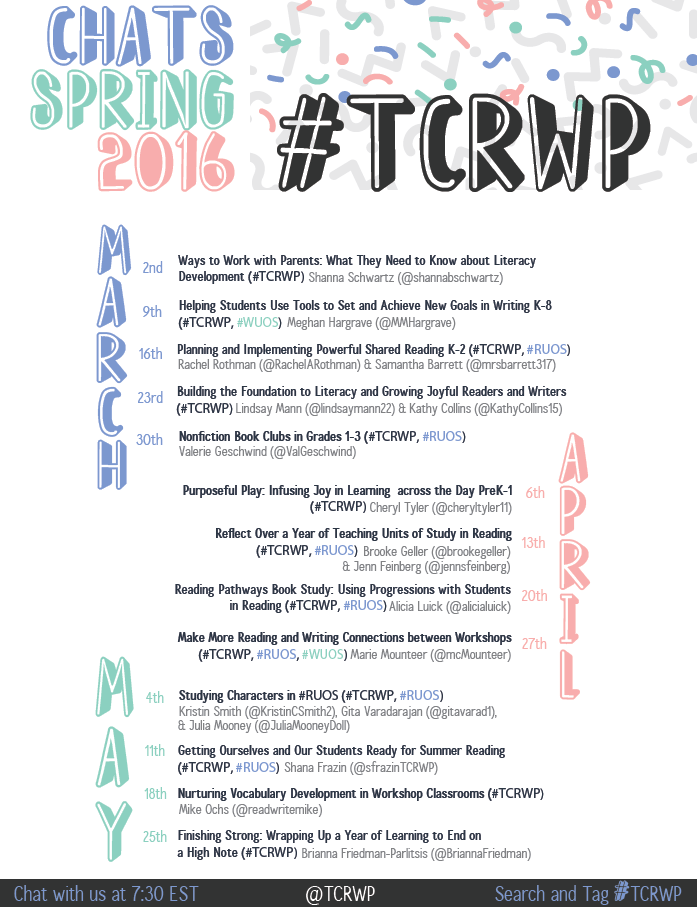 See below for the full transcript of the chat.
by Anna Gratz Cockerille
In chapter four of A Guide to the Reading Workshop, Primary Grades, Lucy Calkins begins by referencing the beloved movie The Sound of Music (p. 28). In the film, Maria, played by Julie Andrews, teaches the Von Trapp children to sing. She emphasizes beginning at the beginning. The children must learn "Do, Re, Mi" before they learn to vocalize and harmonize on more complex numbers like "So Long, Farewell." Certainly, learning basic notes is an important part of what the children are learning as they sing Do, Re, and Mi. But Maria does not drill the children on note names or force them to practice scales over and over. Instead, by teaching them stories and modeling her own love of music, she helps the children to experience the joy, fun, and beauty of music.
As Lucy Calkins points out, there is a similar principle at the beginning of reading instruction. "Learning to read starts not with A, B, C," she writes, "but with discovering that reading is a way to connect with others, learn cool things, and have fun" (p. 29). Reading instruction starts with a love of story. It starts with young children wanting to learn to read because someone has shown them how wonderful connecting with a book can be.
Teachers in the primary grades do a lot of this work. They welcome children into the world of reading and introduce them to favorite books. They tell children, "Yes, you are readers, too!" and demonstrate what that means. Of course, there are other guides in addition to teachers that are just as (and at times more) crucial when it comes to inducting children into the reading world. These are parents*. Parents open books and read to children in cradles. Parents soothe children into sleep at bedtime with stories, pack books on long trips for diversions, and bestow books as precious gifts. Parents, those whom children wish to emulate above all others, model a reading life when they read and discuss books with their children.
It is imperative that parents are partners in their children's reading development. In order to for parents to be best empowered to support the rich literacy work happening at school, they must understand key basic principles of the instruction. Consider how a parent could support a child at home when he or she understood some of the following:
Ways that literacy development typically progresses
Expectations for children at different stages of literacy development
General characteristics of levels of books
Some of the thinking work toward which children are reaching at particular levels
Thinking prompts and conversation starters to help children practice the thinking work toward which they are reaching
Join tomorrow's Twitter chat with Senior Staff Developer Shanna Schwartz to share and learn ways to best support parents on their children's reading journeys.

*Please note: We are using the term parents to represent all those who care for children, including mothers, fathers, grandparents, and other guardians.
Each Wednesday night at 7:30 p.m. ET, The Teacher's College Reading and Writing Project hosts a Twitter chat using the hashtag #TCRWP. Join @ShannaBSchwartz to chat about ways to work with parents tomorrow evening
♦ ♦ ♦ ♦
Anna Cockerille is a staff developer, literacy coach, and writer based in New York City. She has taught in K–8 classrooms all over the world in places such as Sydney, Australia; San Pedro Sula, Honduras; and Auckland, New Zealand. Anna has been a staff developer for the Teachers College Reading and Writing Project at Columbia University (TCRWP) and an adjunct instructor for the Literacy Specialist Program at Teachers College. She writes at Two Writing Teachers.
Not on Twitter? New to Twitter? Take Heinemann's free Twitter for Educators course here. See below for the full chat transcript.