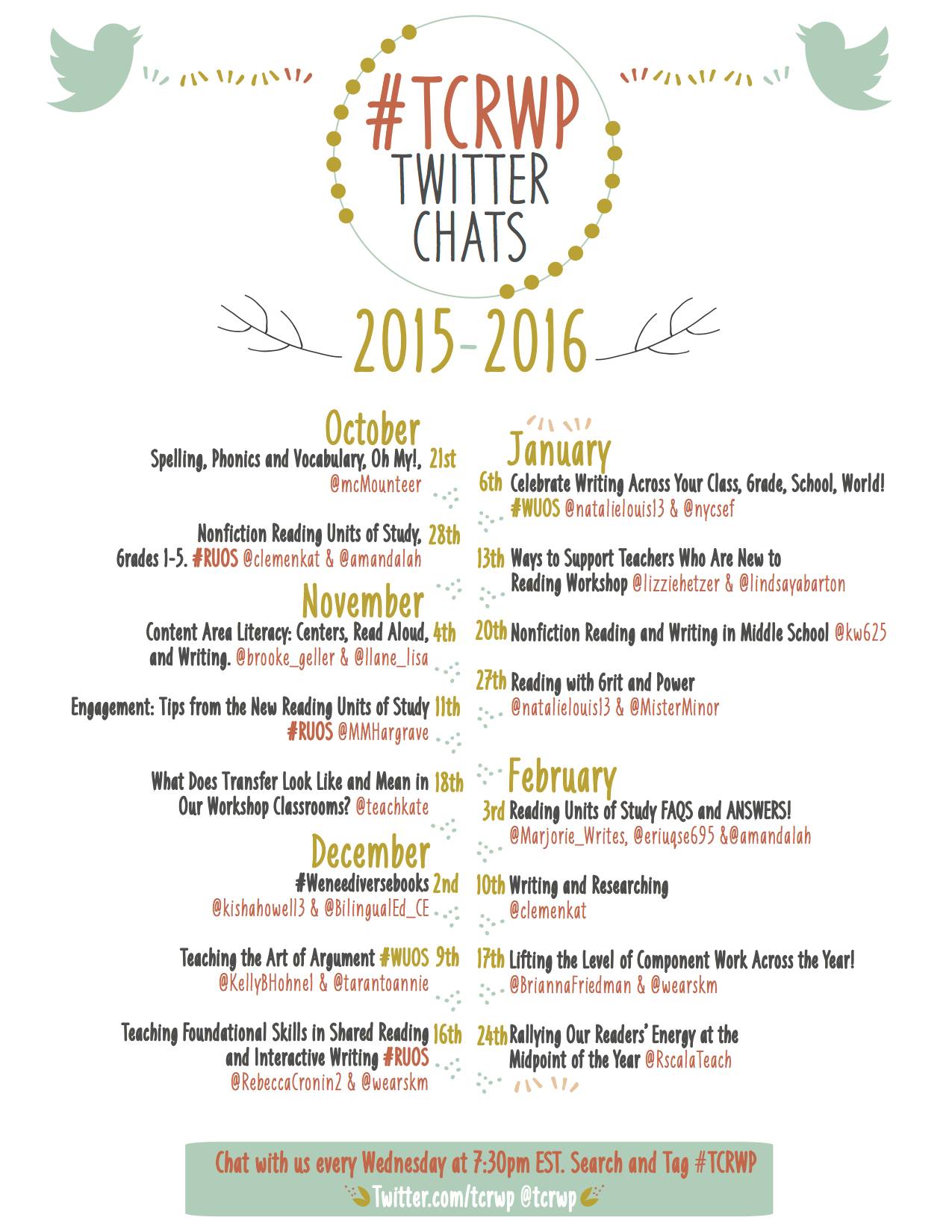 See below for a full transcript of the #TCRWP chat
By Anna Cockerille
Like most high-profile trends in education, the grit phenomenon has been hotly debated. Proponents, such as Paul Tough, author of How Children Succeed: Grit, Curiosity, and the Hidden Power of Character, believe that aspects of children's characters are better predictors of success than IQ scores. They say that children who approach life with curiosity, resilience, and optimism will be better equipped to overcome challenges than those whose test scores top the class.
When Lucy Calkins and colleagues sat down to discuss where they stood on the grit debate, they shaped their own definition of grit and how they would apply it to their own beliefs about instruction. In Building a Reading Life (Units Grade 3, Unit 1), Lucy Calkins and Kathleen Tolan write, "We decided that while an important part of grit is teaching children to be resilient, flexible problem solvers, equally important is teaching them to reach out for help when the going gets tough" (p. 130). In addition, Lucy has often said that children must learn how to outgrow themselves as readers, to persevere when they encounter challenges.
Certainly, getting better as a reader comes with a fair share of challenges. Readers must tackle increasingly complex words, then they must learn to hold on to larger and larger swaths of text, then they must learn to analyze complex texts with sophistication. To help students get better at these skills, of course teachers must instruct, model, and guide students in practicing specific techniques and strategies designed for each skill. But equally important is teaching students what to do when the going gets tough. Because it will get tough. Even the best readers face times when they are stopped in their tracks by a word, a phrase, a confusing plot twist. Perhaps a better goal than being one of the best readers is to be one of the best-equipped readers, for best-equipped readers are not necessarily the ones who know the most words or even the ones who remember every detail from the story. The best-equipped readers are the ones who know what to do when they encounter trouble. They go back to reread. They talk and write about their reading. They ask for help. They are never left in confusion or devoid of strategies, because they know what do. They continue to grow as readers, throughout their lives.
In Building a Reading Life, and indeed, across the entire series, Calkins and her co-authors help teachers to teach children that the "difference between someone who simply reads casually and someone who reads increasingly sophisticated, complex books is grit" (p. 130). Join colleagues from The Reading and Writing Project tomorrow evening to learn more about specific strategies for teaching students to read with grit and power.
Come chat with the @TCRWP!
♦ ♦ ♦ ♦

Anna Cockerille is a staff developer, literacy coach, and writer based in New York City. She has taught in K–8 classrooms all over the world in places such as Sydney, Australia; San Pedro Sula, Honduras; and Auckland, New Zealand. Anna has been a staff developer for the Teachers College Reading and Writing Project at Columbia University (TCRWP) and an adjunct instructor for the Literacy Specialist Program at Teachers College. She writes at Two Writing Teachers.
Not on Twitter? New to Twitter? Take Heinemann's free Twitter for Educators course here.
See below for the transcript of the Twitter Chat: Reading with Grit and Power. Hosted by @natalielouis13 and @MisterMinor. Brought to you by @TCRWP