Welcome to the seventh week of the Heinemann Summer Sessions! Each week throughout the summer, we will feature an article, video clip, or new professional book chapter from the Heinemann Digital Library on the topic of student engagement. Today, we look at the Digital Campus article "Graphic Novels in the Classroom" by Gene Yang.
This week's Summer Session reading is an "essay in panels," and it truly explores the meaning of graphic novels in the classroom. As a high school teacher and educational technology specialist, Gene Yang needed to miss instructional days with his students every few weeks. By drawing "comics lectures" for the substitute to pass out, he could create lesson continuity for the students during his absence. When he discovered the increase in student engagement with these materials, he began to explore the benefits of these visually permanent lessons.
Yang argues that "image and text share narrative responsibility." As a result, integrating visual material can support successes for struggling readers or English language learners.
Consider how students have responded to images and visual media in your own classroom. Can you think of any students who would thrive if information were presented graphically? Are you using graphic novels already?
Click here to read the essay. [PDF]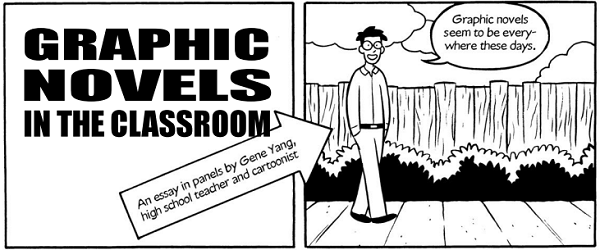 We would love to hear your thoughts, so share in comments below. You can also engage on our Facebook page or share on Twitter with #summerplc. Be sure to follow @HeinemannPD, @HeinemannPub and @geneluenyang on Twitter.
♦ ♦ ♦ ♦

Gene Luen Yang began drawing comics in the fifth grade. His graphic novels American Born Chinese (2006) and Boxers & Saints (2013) were nominated for the National Book Award. He also writes the graphic novel continuation of the popular Nickelodeon cartoon Avatar: The Last Airbender. In addition to his comics work, Gene teaches computer science and creative writing.
♦ ♦ ♦ ♦
♦ ♦ ♦ ♦
All Summer Sessions PLC content is also available within the Heinemann Digital Library. For year-round access to dozens of additional professional books, articles and classroom video examples, we encourage you to subscribe to our Digital Library.