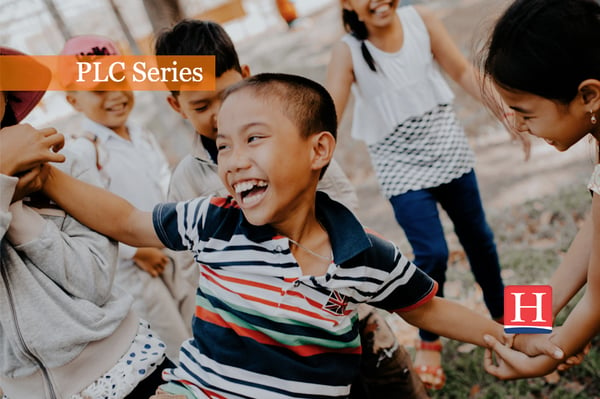 Welcome to the Heinemann Professional Development Professional Learning Community (PLC) series. Each month, we'll share a post designed to provoke thinking and discussion through a simple framework, incorporating mini-collections of linked content.

Use these as learning modules during your professional development time, whether in a team, a PLC, or on your own!


♦ ♦ ♦ ♦
by Jaclyn Karabinas

Connect
Consider the differences between the two scenarios:
A staff meeting where you are asked to tap into collective experience and socially construct a plan of action to solve a problem

A staff meeting where a problem is presented and a solution and plan of action is provided
Consider
Keep these guiding questions in mind as you work through this learning module:
What is the power in a self-directed community vs. managed group of individuals? What does it take to design all the moving parts that create an efficacious community?

Educate

First, let's hear what authors and classroom teachers Kristine Mraz and Christine Hertz have to say about the difference (and long term benefit) of creating a classroom community vs. a classroom management system.

Reflect
Think through your day completely—from when students walk through your door to when they leave. Make two lists. On the first, note times where you feel as though you are managing students and on the second, times when you feel you are serving as a member of the community and at times, a facilitator.


Practice
Look for patterns—what emerges? Could you categorize and prioritize the items in your first list to determine your next steps towards strengthening the moving parts of the classroom community? Look closely at your second list. Can you describe why the flow of your classroom is so successful in those situations?


Extend
Sometimes when we move from a seemingly clear management system to an approach that is a more responsive, front-loaded, social-emotionally based practice, we fear loss of control. With so much to accomplish in a school day, how can we possibly "give away" so much time to creating and revisiting routines, structures, or elements of community?
Read this short piece, "But What If No One Listens to Me?!" to dig a little deeper into why the authors say, "A classroom run on fear or shame does not teach how to live boldly and kindly in the world."

Refine
So, you are on board. You are ready to keep moving forward with this approach. And then it happens. With a few of your students in mind, you start to doubt that this will be effective for all children. In this short video clip, Christine Hertz addresses this. She poses the question: "How can we wrap [this student] into our community and find ways for them to be successful as well?"


Act
Creating and strengthening a community requires a mindset of growth, persistence, empathy, and so much more. But that's just it—this practice teaches these qualities of participating as a citizen in a community not only to you as the teacher, but to the students as well. If we are creating classrooms that are "microcosms" of the world, as Kristi says, shouldn't our classrooms be the place to build the skills to create the kind of world we want to live in?
Where do you start? You will find more success if you start building your library of resources and support system of colleagues now. Keep reading about child development, social-emotional learning, and the research that sheds light on the long term effects of this type of approach. Ask school leaders to make space for discussions about the benefits of taking on this critical challenge as a school community.
Remember that Christine and Kristi are real teachers in real classrooms and that all of their work is rooted in experience, research, and writings by many other educators. This is why they can confidently say, "Management will get you compliance, but it won't get you community."
For Further Reading:
♦ ♦ ♦ ♦
Looking for more PD?
Online: Join us for one of our live webinar series this season, including one with Kristine Mraz and Christine Hertz beginning on March 11. Time zone or schedule doesn't line up with the sessions? We record, archive, and make the session available for you the next day.
Off-Site: Spring 2019 One-Day Workshops are open for registration around the country!
On-Site: Heinemann's Speakers & Consulting Authors are trusted experts in how to create successful classroom and school environments.