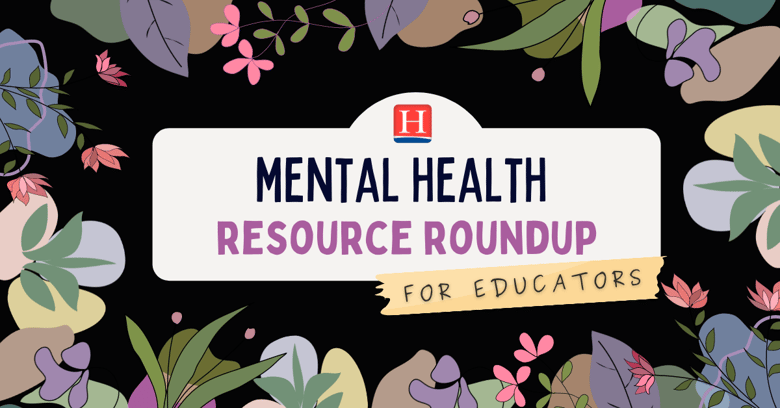 Mental Health Awareness Month is an opportunity to pause and remember the importance of good mental health within ourselves and in our communities. In that spirit, we've pulled together a collection of resources specifically geared towards educators. Our hope is that these resources will save teachers some time and energy, and ignite positive change now— and throughout the year. While resources are included for student mental health, the main focus of this roundup is caring for the mental health of teachers. If there is a resource you have found particularly helpful, please let us know in the comments.
Mental Health America (MHA) has published a webpage of resources called, Teachers: Protecting Your Mental Health that covers Ways To Help Yourself and Ways To Help Other Teachers.

Classroom WISE: Well-Being Information and Strategies for Educators was developed by the Mental Health Technology Transfer Center (MHTTC) Network in partnership with the National Center for School Mental Health. Check out their resource collection that includes a module on Teaching Mental Health Literacy and Reducing Stigma.

SHAPE (School Health Assessment and Performance Evaluation) was developed by the National Center for School Mental Health (NCSMH) and "offers schools, districts, and states/territories a workspace and targeted resources to support school mental health quality improvement." Resources are free if you create a login and password and will allow access to content like: Care for the Caregiver: Guidelines for Administrators and Crisis Teams.

Houghton Mifflin Harcourt has curated a list of Mental Health Awareness Activities for Schools plus 5 Steps for Teacher Wellness with #4 being:
"Acknowledge others' accomplishments. As educators, we often see great things happen every day and think about them as they happen. Yet, time slips away, and we don't always communicate them to the folks who need to hear the praise. So, when we find and recognize good things that happen, we feel better about life. Consider recognizing the good things that happen by sending a note or email or by telling the person face to face about what you noticed, whether it's a colleague, a student (or their parent), or somebody else. You will feel better."
In this powerful TED Talk, Educator Sydney Jensen asks the question: How can we support the emotional well-being of teachers? Although this talk was recorded before the pandemic the message and call to action are even more relevant and useful.


The National Association of School Psychologists has a downloadable PDF for Supporting Children's Mental Health: Tips for Parents and Educators.

This piece from the PBS Teachers Lounge blog: 5 Ways to Reduce Stress and Feel Like Yourself Again, includes a link to Mental Health America online screening tools that will prompt you through a series of questions along with information for next steps. The online tests are also available in Spanish.

Teach.com has compiled a list of 50 Resources to Support the Mental Health of Teachers and School Staff which includes links to apps, support groups, videos, PDFs, books and podcasts. Check out the Facebook group Teaching with Mental Health in Mind, a group "providing mental health support for educators who come into daily contact with youth."

Slowing Down for Ourselves and Our Students
by Arlène Elizabeth Casimir and Colleen Cruz
Check out this Heinemann blog post (above) from Alex Shevrin Venet and Arlène Elizabeth Casimir, two trauma-informed educators. Read about why it's hard to slow down, what it looks like to teach in survival mode, plus prompts that will allow you to reflect on this past year of teaching in your classroom.

MentalHealth.gov has a webpage for educators that includes information about What Educators Can Do in Classrooms and Schools and a Toolkit for Community Conversations About Mental Health.

From NEA News: Aspiring Educators: Protect Your Mental Health. This post on the NEA website shares "a series of activities and events to help future educators find the time to address and take care of their mental health." The piece includes a link to a neaToday School Me podcast episode covering the same topic, Mental Health Matters for Aspiring Educators.



While not specifically focused on mental health, Water for Teachers (a Heinemann podcast miniseries), does focus on engagement with the hearts and humanity of those who teach. Host Shamari Reid, in conversation with fellow educators, moves from logic to emotion, from the head to the heart, from thinking to feeling, and from the ego to love. Listen to Shamari's conversation with Cornelius Minor above. Browse all Water for Teachers podcast episodes here.



We will continue to curate this list of resources.
Check back for updates and share with fellow educators.


Check out our other Roundup Resources for Educators