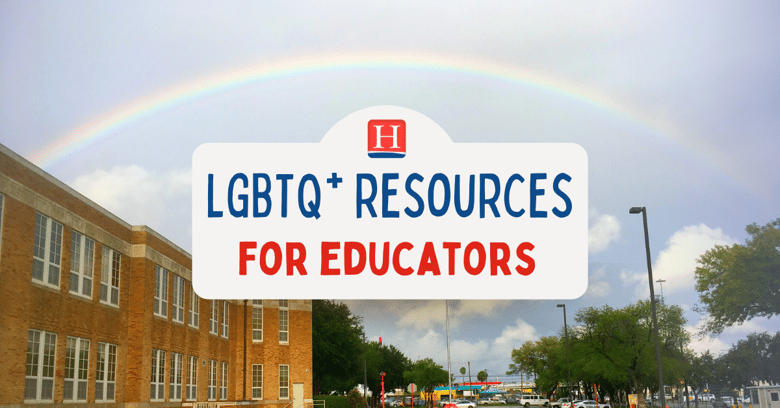 Classrooms need to be safe and welcoming spaces for all children, including children and teens who identify as LGBTQ+. And teachers need to have all the tools to nurture and support all learners and build a classroom community that is inclusive and inviting. To that end, we have pulled together resources to educate ourselves, our classrooms, and our school communities to better support our LGBTQ+ students and colleagues.
LGBTQ+ History
The Facing History & Ourselveswebsite offers "ideas and guidance on how to incorporate LGBTQ+ voices and history into your teachingPowered by Rainbows has myriad videos and podcasts on LBGTQ+ resources, history, current events, and more. They offer a special group of resources for educators, like this video about How to Make Your School LGBTQ Inclusive. It includes a number of suggestions for educators who are new to this work or consider themselves more experienced.

LGBTQ History.org has created a LGBTQ Rights Timeline in American Historythat spans from Colonial Life and Founding of the Nation (1607-1770) to The 21st Century Transformation (2000-Present). The website also offers lesson plans, and video and multimedia resources.

The Making Gay History podcast has twelve seasons (and counting!) that bring the voices of LBGTQ+ history to life through exploratory conversations with those who lived through it.
Resources & Book Lists
EDTalks: Creating Gender Inclusive Schools by Jason Bucklin
LGBTQ Program Coordinator with Minneapolis Public Schools
Bring The Work Into Our Classrooms
Once you have a good grasp on some basic concepts of this work, it's time to start thinking about how to take what you've learned into the classroom.
Extend Our Learning
As teachers, caregivers, and community members we must seek out opportunities for professional development and self-work.
This post was originally published on June 8, 2022 and continues to be updated.
Check back for updates and share with fellow educators.