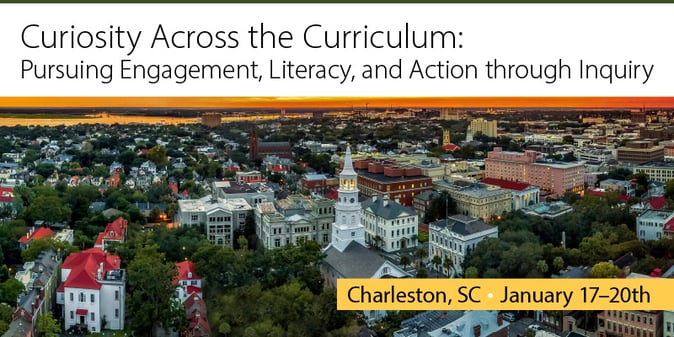 This January, Heinemann PD is excited to present the multi-day institute Curiosity Across the Curriculum: Pursuing Engagement, Literacy, and Action through Inquiry. This incredible weekend of learning invites us to embrace the inquiry process we wish our students to experience, trying out everything we will ask of them, as we commit to the more engaging and challenging practice of student-directed inquiry.
Thinking about attending this year? Let's meet the team of nationally recognized author-educators who will be leading the way during this weekend of learning.
Harvey "Smokey" Daniels
"Inquiry is an exciting and energizing way to engage kids' hearts and minds—and to cover content and to meet standards. But inquiry also requires some courage and adjustments from us. That's why the learning we'll do at this institute, along with collaboration with educators from around the country, will set you up for success."
Harvey "Smokey" Daniels, a former classroom teacher and college professor, is a full-time author and consultant. He offers demonstration lessons, workshops, and school improvement support, showing elementary and secondary teachers how to build students' literacy, engage them in inquiry, and strengthen the social-academic skills kids need to become lifelong learners. Smokey is the author or coauthor of 20 books, including The Curious Classroom; Subjects Matter; Best Practice; Comprehension & Collaboration; Upstanders; the Texts and Lessons series; and Mini-lessons for Literature Circles. Having worked with educators in 49 states, Smokey is still seeking a job in Idaho.
Nancy Steineke
"My only visit to Charleston was so short that it doesn't even count! I'm looking forward to collaborating with other Charleston "newbies" and seeing what inquiry topics emerge."
An experienced classroom teacher, Nancy now serves as a national K-12 consultant on literacy and inquiry, providing workshops, keynotes, and demonstration lessons. As she presents over the course of the weekend, Nancy will explicitly demonstrate writing strategies that improve skill while decreasing grading, publishing inquiry with performance, and fostering classroom community and collaboration. She is the author or coauthor of nine books including the bestselling Texts and Lessons series and Assessment Live!. Nancy's newest book on collaborative classroom management will be released this spring.
Chad Everett
"I am looking forward to my first visit to Charleston. Over the past year, I have reflected more and more on how our personal identity shapes our practice, so I am excited about connecting the narrative of Charleston to my personal narrative and the narrative of the United States as a whole."

Chad Everett is a former literacy coach and classroom teacher, and currently serves as a middle school assistant principal in north Mississippi. A self-proclaimed literacy and technology geek, his knowledge of effective technology practices to enhance student learning, coupled with his passion for literacy, makes him a significant resource in the school districts with which he works. He is also deeply involved with community adult literacy, believing the change needed to transform education extends beyond the school's walls.
Kristin Ziemke
"I'm anxious to head to Charleston to launch my own inquiry into Denmark Vesey and the Gullah. I've just recently learned about their historical significance and how they continue to impact people today."
A resident teacher and innovation specialist in Chicago, Kristin Ziemke works with K-12 students, teachers, and principals to develop learning experiences that redefine school. Kristin pairs best practice instruction with digital tools to transform learning in the classroom and beyond. She is a coauthor of Amplify: Digital Teaching and Learning in the K-6 Classroom; Connecting Comprehension and Technology; and the forthcoming Read the World: Rethinking Literacy for Empathy and Action in a Digital Age. An Apple Distinguished Educator and National Board Certified Teacher, Kristin collaborates
with educators around the globe as a staff developer, speaker, and writer.
Sara Ahmed
"My first visit to beautiful Charleston will be with the Institute attendees! After reading books like White Rage, Just Mercy, and A Young People's History of the United States, I think my inquiry lens will shift toward a more confronting and honest history as I inquire into the city."
Sara has taught in urban, suburban, private, and international schools. She
is currently living abroad in Bangkok, Thailand, where she is an elementary
literacy coach and consultant-in-residence. The heart of Sara's work is supporting
educators and students in considering their own identities in relation to the
way they move through time and space in society. Sara is coauthor, with
Harvey Daniels, of Upstanders: How to Engage Middle School Hearts and Minds
with Inquiry. Her latest book is Being the Change: Lessons and Strategies to Teach
Social Comprehension.