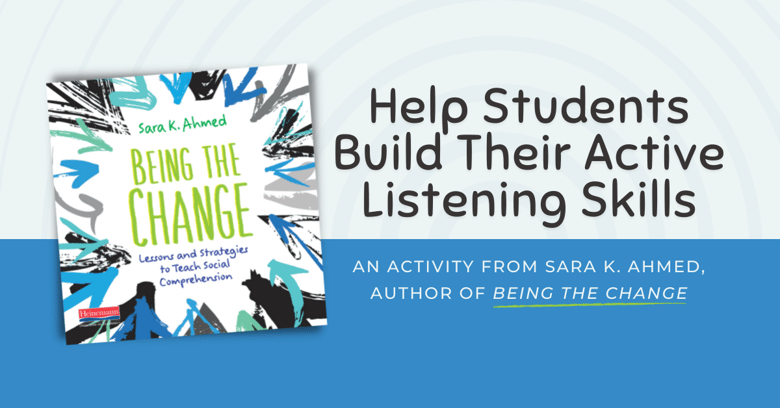 If we want kids to attend to the multiple perspectives around them and listen actively and empathetically, we need to mentor them and show them how. I purposely use mentor, and not teach, because we need to be practicing these skills ourselves rather than just telling them to do so.

I can only sketch a blueprint and offer some tried-and-true suggestions and teaching moves. You, the expert in your classroom, will need to choose the moments and tools you'll use to help your students build the skill of active listening.
To learn more about Being The Change visit Heinemann.com.
The most important guidance I can give you here is to provide safe opportunities to do the social comprehension work of listening every day. Our goal is to make the process of active listening automatic in their thinking and writing, and to treat listening to someone else as an act of love. To do this, we need to give kids plenty of opportunities to make this type of thinking visible in our dialogical classrooms. These opportunities need to be real enough that kids will use the skills they learn in our classrooms in their lives beyond school. That may mean catching "live" moments in the classroom or in the halls and using them as teachable moments, rather than setting up plausible, yet inauthentic scenarios.

There are few absolutes in social comprehension; full immersion in it often yields more questions than answers. This work is messy because it is authentic and because it deals with human beings. So, I humbly ask (maybe even humbly implore) you to head into this work with a commitment to uncertainty, while understanding the value of how it can better our citizenship in this big world:

Active, empathetic listening facilitates real communication.
How many times have you so misread or misinterpreted what someone was thinking or saying that you jumped to an emotional reaction? (I am personally raising many fingers here.) Out of those times, would pausing to practice an active listening stance have helped to avoid that impulse? (Now, I am liberally nodding.) Creating opportunities where we practice the critical components of communication—how to listen, pause, speak, ask questions, and reflect—can yield the solidarity we need.

Active, empathetic listening facilitates real learning. Listening requires us to consider and utilize perspective, evidence, and language, connecting the new to the known, and we evolve as a result. Kids become the teachers in dialogical classrooms where real communication and real learning take place.

➡️ Let's get started.

Introduce Active Listening by Giving Kids a Chance to Show What They Already Know. Before students can become skilled, active listeners, they need to understand what active listening looks like, sounds like, and feels like. The following activity gives students an opportunity to show what they already know about active listening.
1. Tell students that, in a few minutes, you'll ask them to discuss something in pairs or small groups, with the goal of "actively listening" to their partner(s).

2. Read or view a piece of text or media with students that will elicit a conversation—preferably one that has enough depth for them to discuss, agree and/or disagree, and draw on their background knowledge. I like Shirley Jackson's "The Lottery," Toni Cade Bambara's "Raymond's Run," Gary Soto's "Seventh Grade," and Jacqueline Woodson's The Other Side.
3. Before sending the students into their pairs or groups, ask a student volunteer to model this conversation with you while the rest of the class watches. Ask the class to look for and note signs that you and the student are listening actively.

4. As you converse with the student, use the signals of active listening— cues that show interest and genuine listening:
• Body position: Knee to knee, eye to eye, shoulders square to each other, best eye contact possible. "Give them your best shoulders and your best eye contact," I say.
• Making notes: Taking mental notes, writing notes, or recording what others say.
• Follow-up questions such as:
• Can you say more about that? I need more information to make
sure I am understanding you.
• I heard you say _________; can you give me an example of what
you mean?
• Did I hear you correctly when you said _________?
• I'm curious. What makes you say that?
• Can you talk a little bit about how you came to that conclusion?

5. After your fishbowl demonstration, ask the students how you and your partner indicated that you were listening actively. Scribe their responses on an anchor chart. In my classes, I've often titled these charts "Our Zone" or a variation on that name, such as "Our Discussion Zone," "Our Reading Zone," or "Our Listening Zone." Whatever title you use for the chart, be sure it underscores that these signs of active listening belong to the class as a whole. As you add ideas to the chart, include the students' initials next to their contribution
For example:
• Take some silent time to listen to how your body is feeling. (LC)
• Hear each other, then empower each other to take risks. (MC)
• Notice . . . and send hearts to your friends when they need them. (AS)
6. Let students begin their own pair or small-group discussions. As they work, circulate in the room and look for ways in which they are showing active listening.
7. Bring the class back together and invite them to share in a way that put listening first: When we hear from you, I want you to focus on what you took away from listening to your partner(s). That means, rather than saying what is on your mind or making your contribution to the group, you are instead going to amplify or echo what your partner(s) offered.
8. Work with students to add to your zone chart examples of active listening that they saw in others.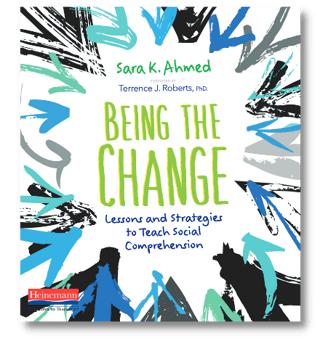 To learn more about Being The Change visit Heinemann.com.
---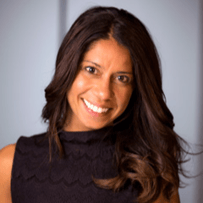 Sara K. Ahmed currently serves as the Director of Curriculum Integration and 5th-grade advisor at Catherine Cook School in Chicago. She has taught and coached in city, suburban, public, independent, and international schools, where her classrooms were designed to help students consider their own identities and see the humanity in others. When she is not in the classroom or meeting with teachers, you can find her coaching cross country, soccer, or basketball.
Sara is the author of Being the Change: Lessons and Strategies to Teach Social Comprehension and coauthor with Harvey "Smokey" Daniels of Upstanders: How to Engage Middle School Hearts and Minds with Inquiry. She is an international speaker and staff developer in schools around the world-- bridging literacy, inquiry, and social identity work through curriculum development, professional growth meetings, and lab classrooms. Sara has also served on the Teacher Leadership Team for Facing History and Ourselves, an international organization devoted to examining and confronting the choices we've made in history—individual and society.
Sara has just returned from Bangkok, Thailand where she served as a literacy coach and consultant-in-residence at NIST international school. These days you can find her playing tennis, reading, or writing her way through her sweet-home Chicago, and rediscovering the restaurant and pastry scene with her family.
You can find her on Twitter or Instagram @SaraKAhmed.