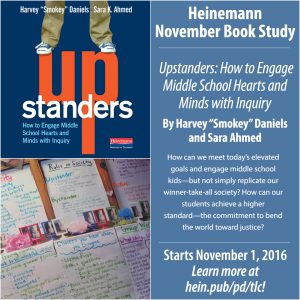 When you think of Facebook, what's the first image to pop into your mind? Chances are you think of baby pictures, announcements from friends and family, and what your mom had for breakfast.
But, did you know there are number of pages and groups on Facebook dedicated to education? Whether rooted in a book, subject, or shared interest, Facebook provides many opportunities to connect and grow as an educator.
Facebook groups are a fantastic place to build a professional learning network (PLN) and learn alongside other educators who are tackling similar endeavors as yourself. Whether you are looking to share conversation about the professional books in your "to read" stack or to gain insight to other educators' perspective on ideas from books or articles you have already read, Facebook groups allow you to have the important conversations and collaboration that allows professional learning to thrive.
Here are some important pieces of information to help you build your understanding of the function of Facebook groups:
A Facebook group is different from a Facebook page in that two-way communication is promoted and encouraged.
The nature of a Facebook group facilitates sharing and discussion whereas a Facebook page is a location for people and organizations to create a public presence online, like a website.
On the desktop Facebook website, you will find your groups listed on the left-hand menu.
You can have mobile access to your groups via the Groups app for Facebook. This allows you to read and participate in conversation without the distractions of the Facebook home feed.
You can post, reply, and add media via the Groups mobile app just as you do from the desktop website.
Using the app, you can customize your notifications for different groups, discover other groups, and prioritize a set of favorites so you can see your most frequented groups first.
---
Download the Groups app and take a look at some our Facebook groups that are ready for you to join for quality, free summer PD:
Please join us in the Teaching & Learning Community group hosted by Heinemann Professional Development. During the month of November, we will immerse ourselves in a book study on Upstanders: How to Engage Middle School Hearts and Minds wtith Inquiry by Harvey "Smokey" Daniels and Sara Ahmed. You can order your book here or via a Heinemann Digital Library Membership!