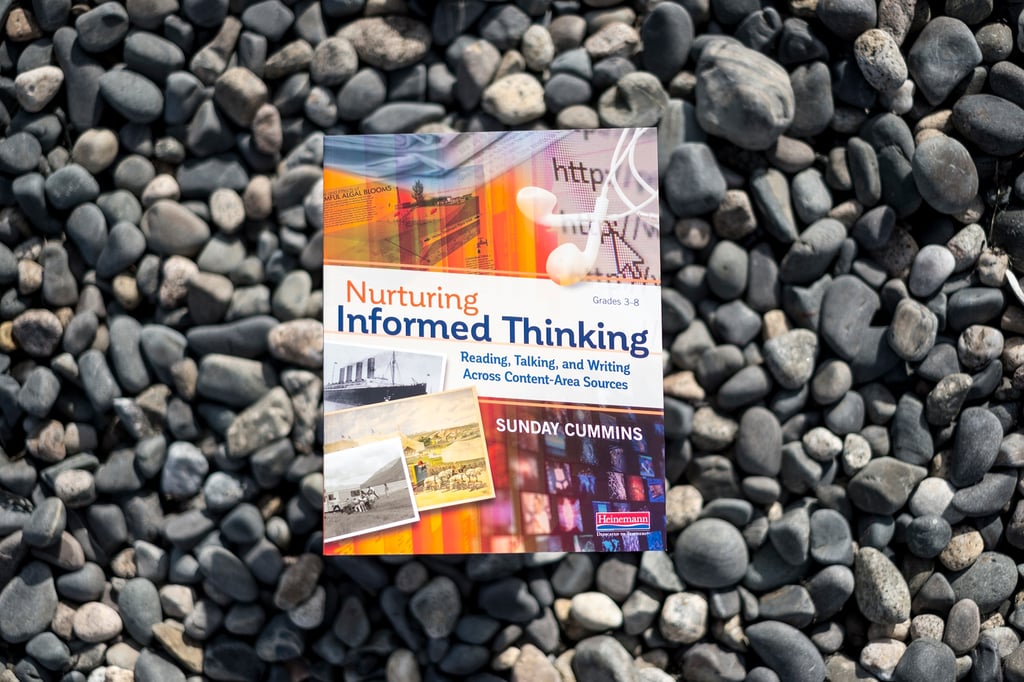 In a recent conversation with my seventh-grade daughter, she told me she was making plans to develop her own app. When I asked her how she planned to do this, she explained that she'd read several articles on the internet by app developers about how they got started. She told me that as she read, she realized most of the developers started by finding someone who knew more than they did, a mentor of sorts. One person had gone to a local university and found a technology student to help get her started; others had gone to local businesses and asked around. I had to smile. Weeks before, when Anna had first mentioned this endeavor, my husband and I had offered to find someone to help her get started, but she'd soundly rejected the idea. She had wanted to figure it out on her own. Reading multiple sources on this topic she cared about, though, had informed and transformed her thinking. Now she was embracing the idea of outside help.
What happened here? Anna had a question. She realized she didn't know enough about a topic that was important to her. She sought out multiple sources on the topic and deepened her understanding by synthesizing teh information in those texts. Only she was able to think critically about what she needed to do to move forward.
I asked Anna if she thinks kids do this naturally—read more than one text on a topic to answer their questions or deepen their understanding. She shrugged, unsure, and then said, "I think some kids might be like, 'I read this article and now I know what I'm talking about.'" When I asked Anna why she reads more than one text on a topic, she paused and then explained, "Well, I'm looking for information, for more information I can add to my repertoire of what I already know. It's like when I was making muffins the other day, I looked at one recipe and saw a pretty good list of ingredients, but then I looked at another and it said to add cinnamon on top of the muffins. Cinnamon on top! That's the extra I'm looking for! Now I have an even better idea for making muffins."
Thanks for reporting a problem. We'll attach technical data about this session to help us figure out the issue. Which of these best describes the problem?
Any other details or context?
message
This is what we want for our students. We want them to ask questions and then actively seek out answers by locating and reading or viewing multiple sources—articles, books, videos, photographs, infographics. We want them to think across those sources and be able to articulate for themselves as well as for other what they learned—orally and in writing. We also want them to act on what they learned—whether it's developing an app or making a better muffin or advocating for a particular issue or group.
Like Anna, our students are also growing up with access to an endless amount of information—some of it fact and a lot of it opinion. Like many of the adults they know, the students receive "news" in short bites, skimming headlines or quickly reading synopses of an event. For many, their interpretation of what it means to be "informed" is skewed.
It is critical that we as educators teach students how to grapple with multiple sources on a topic or issue and that students have a chance to master doing this. A few years ago I realized that the instruction I offered students focused mainly on one source at a time and that I needed to make major changes in my practice. The students with whom my colleagues and I work need more opportunities to grapple with multiple sources on a topic or issue, and they need specific strategies for making sense of those sources. At first, I thought I knew what this would look like—I'd just use tricks of the trade like Venn diagrams and two-column notes. I'd start to talk more about what was "similar" and "different" between sources with students. I'd find cool sources to engage the students and we'd take off. But as I began to explore this further in real classrooms, I realized these tricks were primarily only good for a surface-level understanding of multiple sources. Nurturing a sense of being informed and transformed would require more instructionally.
• • •
---
Sunday Cummins, a former classroom teacher and literacy coach, is the author of Close Reading of Informational Texts and Unpacking Complexity in Informational Texts. She has a doctorate in Curriculum and Instruction from the University of Illinois, Urbana-Champaign and taught at National Louis University. As a literacy consultant, she continues to teach and learn alongside educators with a focus on reading, writing, and creating informational sources. Sunday is a graduate of Teachers College, Columbia University and also served as Literacy Education Professor at National Louis University. You can learn more about her current work through her blog at sunday-cummins.com.