"Students were seized by curiosity, hungry to build knowledge, and fully in charge of their own learning. And those experiences, those habits of mind, will serve them for the rest of their lives." — Harvey "Smokey" Daniels
---
In his most recent book, The Curious Classroom, Harvey "Smokey" Daniels dives deep into the who what where why whens and hows of student-directed inquiry. With each chapter, he lays out the next step in a ten-rung ladder to help you get your class from zero to inquiry as quickly as possible.
We wanted to know more about why student-directed inquiry is good for kids, and what teachers and schools have to gain from this approach to learning, so we asked him! Here's what he had to say:
…
Learn more about The Curious Classroom at Heinemann.com
---
Follow us on Instagram @heinemannpub to stay up to date on the latest books, your favorite authors, and upcoming events!
---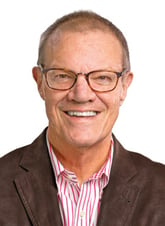 Harvey "Smokey" Daniels has been a city and suburban classroom teacher and a college professor, and now works as a national consultant and author on literacy education. In language arts, Smokey is known for his pioneering work on student book clubs, as recounted in Literature Circles: Voice and Choice in Book Clubs and Reading Groups, and Minilessons for Literature Circles. His latest bestselling books on content-area literacy are The Curious Classroom; Comprehension & Collaboration, Second Edition; Upstanders; Subjects Matter, Second Edition; the Texts and Lessons series; and Content-Area Writing. He is also coauthor of Best Practice, Fourth Edition, and The Best Practice Video Companion as well as editor of Comprehension Going Forward.
Smokey works with elementary and secondary teachers throughout the United States, Canada, and Europe, offering demonstration lessons, workshops, and consulting, with a special focus on creating, sustaining, and renewing student-centered inquiries and discussions of all kinds. Smokey shows colleagues how to simultaneously build students' reading strategies, balance their reading diets, and strengthen the social skills they need to become genuine lifelong readers.
Connect with Smokey @smokeylit