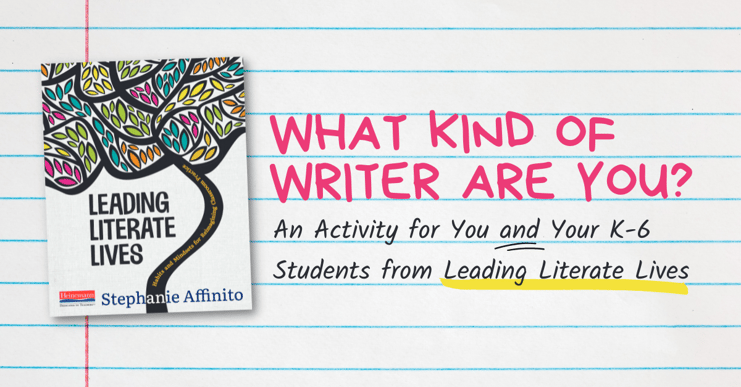 For some writers, simply sharing personal reflections with trusted friends and family members is enough to fuel their writing. For others, sharing education-related thoughts and ideas through social media is helpful for staying motivated and engaged. Some create a blog to share and connect with others. Others might hope to pursue more traditional publishing, such as writing an article for a magazine or journal or even publishing a book. We each have a voice that has something to share with the world, whether it be our lesson ideas, family recipes, or knack for creating Top 10 lists. And when we do so, we publicly claim our status as a writer and broaden our writing boundaries, one page at a time.

As writers, we have all sorts of preferences that make each of us unique: from where and when we write to how and what we write. And while those preferences can launch us into successful writing experiences, they can also hold us back from trying something new as writers. Enter writing experiments.

Try a Writing Experiment
First, let's uncover our writing preferences. Turn to a fresh page in your writer's notebook, and title it: "I am the kind of writer who. . ." Spend some time thinking about your preferences as a writer and then jot down the ideas that come to mind. Here are a few prompts to get you started:
Where and when do you like to write most?
What do you like to write about?
What kinds of writing are you most proud of?
How do you write? What is your writing process?
What brings joy to your writing life?
After spending some time reflecting, choose an experiment to explore your writing life in more depth. Move outside your writing boundaries, and experiment with different writing times, locations, styles, formats, and content. Choose a new writing practice and see what you find out about yourself. And don't knock it until you try it—you never know how your writing life might respond! See Figure 7.4 for a few ways to experiment with your writing life.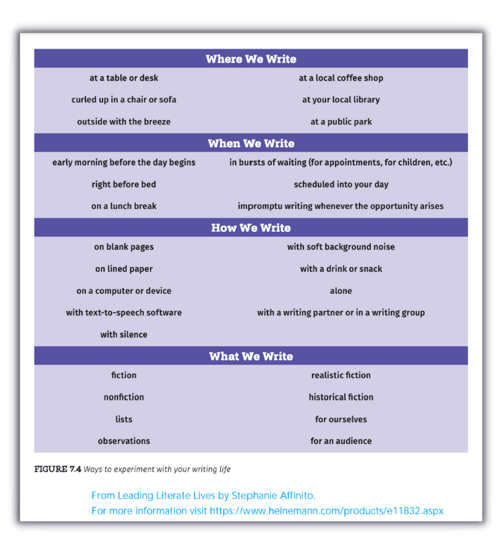 Be open to discovering new ideas about your writing life. I always thought morning writing worked best for me, but I found I'm most productive during shorter bursts of unexpected writing time. I used to think that I needed silence to write, but when I tried writing with soft music playing in the background, it energized me and I felt more creative.

After trying a few experiments for a while, turn to the next clean page in your notebook and title it: "Now, I am the kind of writer who . . ." Based on what you learned about yourself, add to your list. What did you find out about yourself as a writer that you didn't know before? How did your small experiments strengthen your identity as a writer?

Put this idea into practice in your classroom with this free activity from Leading Literate Lives.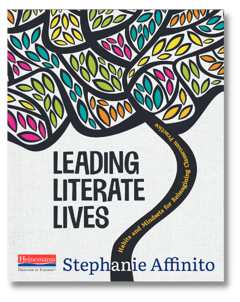 To learn more about Leading Literate Lives visit Heinemann.com.
👉 Browse more blogs featuring this book here.
---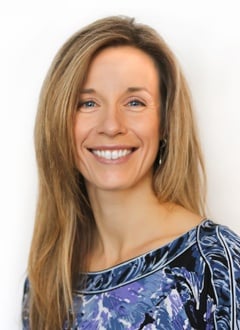 Stephanie Affinito is an educator in the Department of Literacy Teaching and Learning at the University at Albany in New York. She has a deep love of literacy coaching and supporting teachers' learning through technology. Stephanie creates spaces for authentic teacher learning that build expertise, spark professional curiosity and foster intentional reflection to re-imagine teaching and learning for students. She is the author of Literacy Coaching: Teaching and Learning with Digital Tools and Technology and Leading Literate Lives: Habits and Mindsets for Reimagining Classroom Practice. She presents regularly at state and national conferences on literacy coaching, teacher collaboration, and supporting teachers' reading, writing, and learning through innovative technology.
You can connect with her online at stephanieaffinito.com and on Twitter at @AffinitoLit.