Cultivating Your Literate Life: A Self Reflection Tool From Stephanie Affinito
While the New Year is traditionally the time for self-reflection and choosing personal goals, there's no bad time to set personal and professional goals. But, sometimes, choosing goals can feel a lot like walking into a bakery. There are rows and rows of options of all different kinds and flavors, each beckoning you in their own sweet way, leaving you with a challenging decision: What do I choose? Do I choose the familiar sugar cookie I know and love to stay in my comfort zone? Do I choose the chocolate cake the store is most known for and follow the crowd? Or do I choose the sugar-free option I think is better for me, even though I don't really want it? Decisions, decisions, decisions. And I don't know about you, but I always feel like I could use a bit of guidance in making those indulgent decisions. The same goes for setting personal and professional goals, especially when they relate to our literate lives.

I outline a Habits-Hearts-Communities framework to help us think carefully about cultivating our reading and writing practices in Leading Literate Lives: Habits and Mindsets for Reimagining Classroom Practice. While this framework is not linear and/or sequential in nature, it does offer a logical framework to help choose personal goals around our reading and writing lives. First, we must first carve out time to develop daily reading and writing habits. Once those habits are firmly in place, we can better honor our literate hearts, reading and writing about what matters most to each of us, and ultimately connect with communities of connected readers and writers working to do the same.

But much like the bakery with its shelves of categorized baked goods, it can still feel challenging to know where to begin even with a general framework to guide us. That's why I created this self-reflection tool to help you reflect and identify a starting point for your own literate life. It's a simple, yet powerful, tool to reflect on your own reading and writing. In just four simple steps, you'll decide on a concrete starting point for your journey and a path for moving forward after that, too.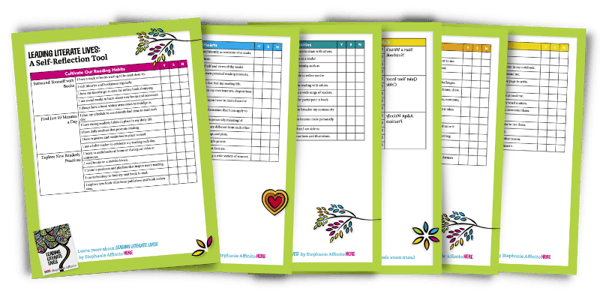 To learn more about Leading Literate Lives visit Heinemann.com.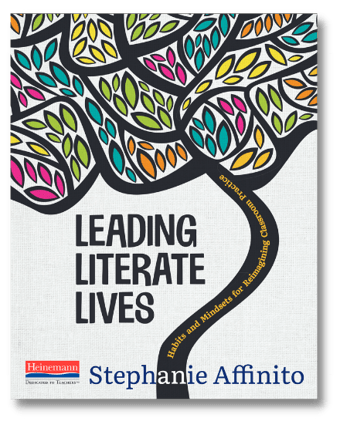 Browse more blog posts featuring Stephanie Affinito, including this podcast episode.
---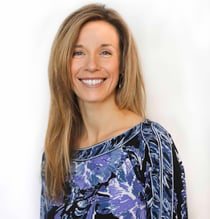 Stephanie Affinito is an educator in the Department of Literacy Teaching and Learning at the University at Albany in New York. She has a deep love of literacy coaching and supporting teachers' learning through technology. Stephanie creates spaces for authentic teacher learning that build expertise, spark professional curiosity and foster intentional reflection to re-imagine teaching and learning for students. She is the author of Literacy Coaching: Teaching and Learning with Digital Tools and Technology and Leading Literate Lives: Habits and Mindsets for Reimagining Classroom Practice. She presents regularly at state and national conferences on literacy coaching, teacher collaboration, and supporting teachers' reading, writing, and learning through innovative technology.
You can connect with her online at stephanieaffinito.com and on Twitter at @AffinitoLit.