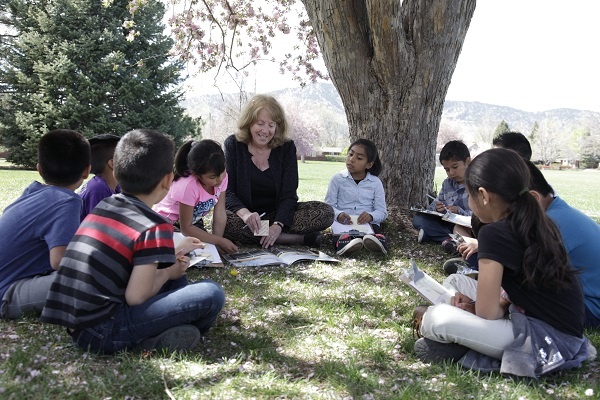 Summer school offers a wonderful opportunity to deepen student comprehension of nonfiction texts and build knowledge across the curriculum.
The Comprehension Toolkit series from Stephanie Harvey and Anne Goudvis guides your teachers and supports your students in an active literacy classroom that's fun and effective—and it's ideal for use in summer school settings. Here are some tips on setting up a successful classroom environment for summer literacy learning: (For more tips, and a free 49-page summer pacing guide, click here.)
Just as during the school year, attention to setting up the classroom, organizing materials, planning, and using sound instructional practices are essential ingredients for a successful summer school. Well-organized classrooms invite students into learning.
Our classrooms include increasingly diverse learners, making careful planning even more important.
1. Room Arrangement

When setting up the room, consider arrangement. Generally, a space for whole-group instruction is created to accommodate all the students comfortably. A key organizational feature of this area is creating a meeting space that is comfortable and provides ample room for all students to participate.
It is helpful to have wall space to accommodate Anchor Charts, the instructional charts that teachers and students create to record important learning. If space isn't available, teachers may use coat hangers to display charts. The Anchor Charts are made on large pieces of paper so that students and teachers may integrate them as an ongoing resource for teaching and learning.
2. Texts for Independent Reading

A classroom library plays a particularly important role in summer school. Research suggests that one of the most robust remedies for summer reading loss is access to books. There are many ways to build a classroom library. Many schools provide libraries during the school year but often pack them away for summer. Make sure they are available. If there are no classroom libraries available, the school library is a source for books. To ease check-out and check-in, use a laundry basket with an index card and ring to identify the teacher, grade level, and classroom in which the books will be used. Media specialists might help in identifying appropriate titles. A general rule of thumb for summer is to have reading material at least 50% below grade level and the rest at grade level. Much of the independent reading students do should be at a "comfortable" level. Arranging the books in an inviting way helps students locate them with ease. Small baskets are frequently used to categorize by genre, topic, and author. Students may be encouraged to help in deciding how to arrange the books.
3. Texts for Small-Group Reading

Many schools have literacy libraries available to use for small-group reading. These texts are selected based upon students' instructional reading levels. (The Comprehension Toolkit series also provides a variety of small-group reading texts and options).
4. Other Supplies

Materials and resources that are easily accessible promote independent work. Clipboards act as portable desks when students are gathered for whole-group instruction. Other tools, such as markers, pencils, and Post-it notes should be available so that students have easy access to what they need. Post-it notes play an important role in strategy instruction. They offer students a place to capture thinking and teachers insight about students' evolving understanding.
—
The Comprehension Toolkit series provides everything teachers need to ensure that learners successfully understand what they view, hear, and read.
Building on four decades of research in comprehension, Harvey and Goudvis offer enjoyable and focused lessons to develop and extend students' ability to gain meaning. Both the K–2 and the 3–6 Toolkit sets focus on a wide range of nonfiction reading. Not only does this approach support students in the language arts classroom, it also extends across the curriculum into the content areas. There is no more important context for this than in students' summer school experience.
The Teacher's Guide in both the primary and intermediate resources offers a comprehensive approach to successful classroom organization. Furthermore, it offers a thorough overview of the six key cognitive strategies readers need to acquire to become proficient readers. This is a great resource for professional development and ongoing support for creating an active classroom and acquiring a deeper understanding of the comprehension process.
The most important tip we can offer for a successful summer school literacy program is to plan well, but also plan a fun and engaging program.
Click here to download a free summer pacing guide and to start planning a successful summer literacy program today.

♦ ♦ ♦ ♦
Anne Goudvis and Stephanie Harvey have enjoyed a fifteen-year collaboration in education as authors and staff developers. They are coauthors of Heinemann's curricular resource series The Comprehension Toolkit.