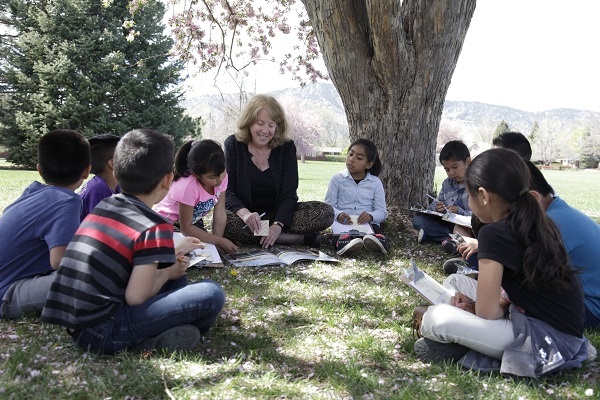 Summer school offers a wonderful opportunity to deepen student comprehension of nonfiction texts and build knowledge across the curriculum.
The Comprehension Toolkit series from Stephanie Harvey and Anne Goudvis guides your teachers and supports your students in an active literacy classroom that's fun and effective—and it's ideal for use in summer school settings. Here Stephanie and Anne answer a few frequently asked questions about summer literacy learning with The Comprehension Toolkit:


How were the lessons selected?
We selected lessons that focus on strategies teachers tell us students most need. These lessons seem well suited for summer instruction. Since the time for summer school is abbreviated and goes very quickly, we selected "high-yield" lessons to maximize student learning.
What if I would like to use one of the other lessons in the strategy cluster instead of the one suggested in the plans?
If other lessons seem more appropriate for a specific group of students, teachers should feel encouraged to match the lessons to their students' needs. In fact, teachers will want to read through the entire strategy booklet each week to be sure students' background knowledge is adequate to ensure success. In addition, teachers may find the content included in other lessons within the strategy clusters useful for small group instruction.
What if I don't finish the lesson planned for the day?
Consider both the time and the instructional activities flexible. Rather than rush through a lesson, we encourage you to shift some of the instruction to the following day. This is especially true of the Monday and Tuesday lessons. You may also extend the lesson time by 5–10 minutes. Because lessons are planned to provide deep engagement with text, slowing the pace may be better than rushing through the content. Remember, too, that small-group instruction is actually an extension of the whole-group experience. You may extend the reading or reread the whole-group text in small groups or support students as they respond to text. The Comprehension Intervention lessons are designed specifically to support the whole-group lesson and offer students scaffolded opportunities to deepen their learning.
What if my students have little experience with nonfiction text?
If students have read mostly narrative text, you may want to spend extra time developing students' understanding of nonfiction text structures and its features. Be sure to look closely at the Toolkit. There are many instructional suggestions about how to teach students to notice and understand nonfiction features. You may also use the time allocated for opening, transition, and closing for short minilessons and modeling. These times are intended to build continuity and help students make the necessary connections in their learning. Building reading flexibility across the genres is critical, and the Toolkit texts offer a variety of nonfiction text structures and features to help students develop expertise.
What if I see students aren't quite ready for a lesson?
We believe that it is crucial to follow students. If you find you need to build students' background knowledge before moving to the next lesson, do so. The Toolkit is rich with resources to help you in planning. The strategy books have been designed around the gradual release model and organized to build one lesson on the next. We believe teachers make two very important decisions in every lesson: where to begin instruction and how much support to offer students so they are successful.
My students are not familiar with practices, such as using Think Sheets and sticky notes, that are included in the lessons. What should I do to help them?
If students are unfamiliar with any of the practices, we encourage careful modeling coupled with generous amounts of supported practice before expecting independent use. Using a fishbowl to model a practice is an ideal way to scaffold for student success. Also, small-group time may offer further opportunities for this modeling and guided support.
My kids are not used to so much time talking to each other, how do I help them do it, and how can I be sure they stay on task when they are turning and talking?
Helping students learn how to turn and talk takes modeling and practice. There are really two parts to the modeling and both are important. The first part is procedural or how to do it. The second part is substantive or how to ensure quality in what kids say to one another. There are a couple of ways to help students learn both. Ask a confident student to help you model, using a fishbowl in which the other students watch to learn the "turn and talk" practice. Play both the role of participant and discussant, explaining to the kids what is happening in the conversation between the two of you. The other way is to use a fish bowl. Have two students in the middle of a circle and others gathered around the outside. Read part of a short text, stopping several times to have the students turn and talk. Be sure to coach the students so others see both the process and the substance. As students become more skilled in the process, continue to work on the quality of the conversations. In time, children "borrow" the language of the teacher and use it in their own conversations. We are learning more and more about the important role talk plays in learning.
Some of my primary students aren't reading yet. How should I handle the small-group time?
For emergent readers, small-group instruction may look more like shared reading rather than guided reading. The most important benefit of meeting in small groups is the opportunity to individualize for learners' unique needs. If students are not yet reading, offer them greater support by using shared reading. The level of text is also a very important consideration. Make sure the support offered students matches the demands of a selected text. It is critically important to offer young students opportunities to share their thinking. Teachers may handle the "decoding" task so that emergent readers have all their resources for thinking.
Do you have other suggestions for differentiating according to students' needs?
Be sure to take full advantage of moving among students when they are engaged in peer groups. You will gain helpful insights as you stop to confer or offer on-the-spot support. Giving just enough, rather than too much, support will help you notice what students have already learned and guide you in identifying the areas in which they still experience confusion.
♦ ♦ ♦ ♦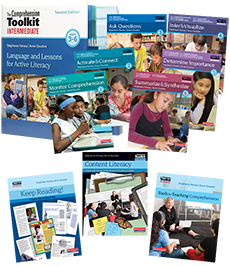 The Comprehension Toolkit series provides everything teachers need to ensure that learners successfully understand what they view, hear, and read.
Building on four decades of research in comprehension, Harvey and Goudvis offer enjoyable and focused lessons to develop and extend students' ability to gain meaning. Both the K–2 and the 3–6 Toolkit sets focus on a wide range of nonfiction reading. Not only does this approach support students in the language arts classroom, it also extends across the curriculum into the content areas. There is no more important context for this than in students' summer school experience.
The Teacher's Guide in both the primary and intermediate resources offers a comprehensive approach to successful classroom organization. Furthermore, it offers a thorough overview of the six key cognitive strategies readers need to acquire to become proficient readers. This is a great resource for professional development and ongoing support for creating an active classroom and acquiring a deeper understanding of the comprehension process.
The most important tip we can offer for a successful summer school literacy program is to plan well, but also plan a fun and engaging program.
♦ ♦ ♦ ♦
Click here to download a free summer pacing guide and to start planning a successful summer literacy program today.
♦ ♦ ♦ ♦
Anne Goudvis and Stephanie Harvey have enjoyed a fifteen-year collaboration in education as authors and staff developers. They are coauthors of Heinemann's curricular resource series The Comprehension Toolkit.