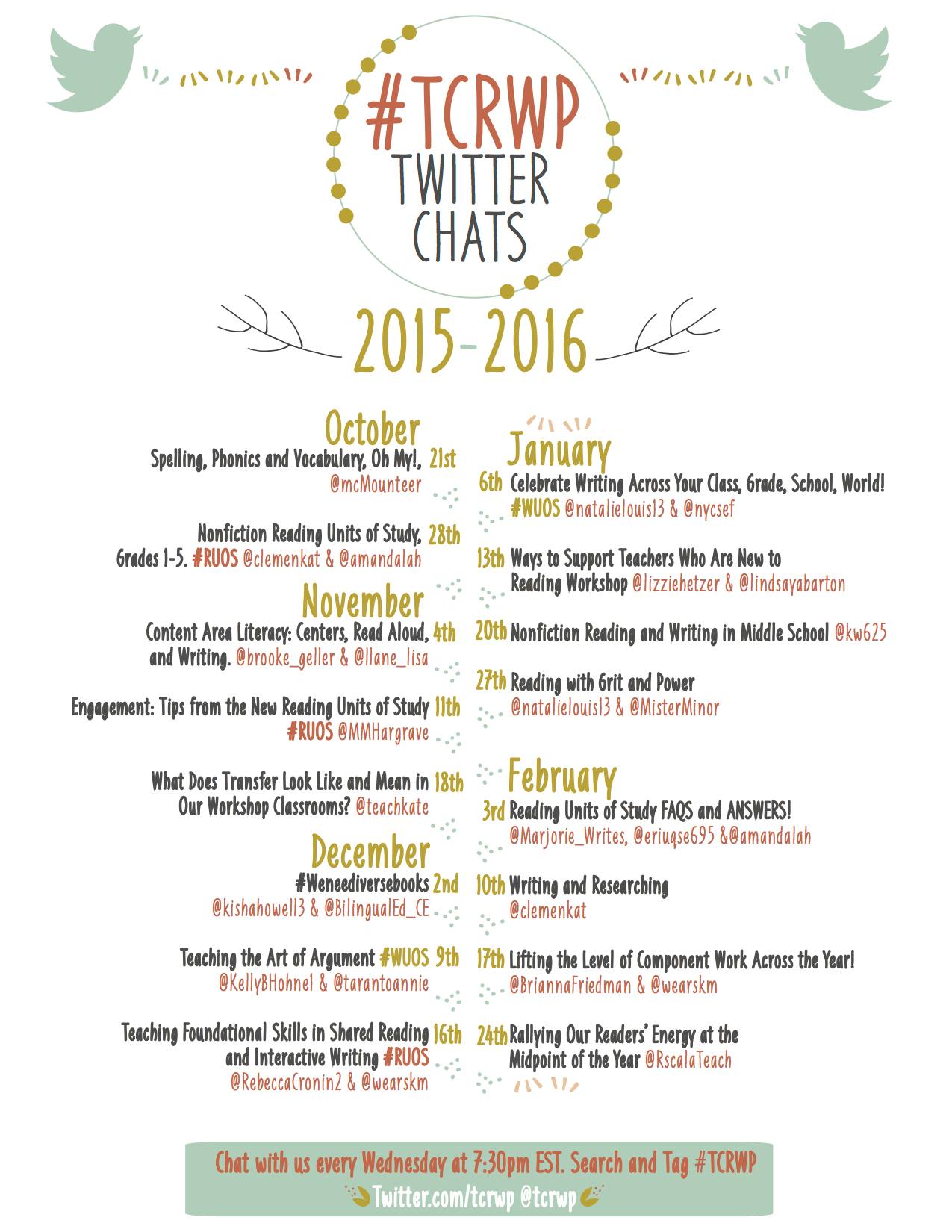 See below for the full #TCRWP Twitter chat transcript!
By Anna Gratz Cockerille
The Units of Study for Teaching Reading series by Lucy Calkins and colleagues is a curricular program unlike any other. Each grade-level kit contains and unparalleled mix of resources, plans, and tools that will help any teacher, novice or veteran, to enrich their reading workshop instruction.
But of course, any resource, plan, or tool is only useful if it is used. A first grade teacher recently told us, "I was making all of my charts from scratch until, midway through the second unit, I realized I had all of the teaching points I needed to make charts on sticky notes in my kit." Our aim in answering frequently asked questions at this point in the year is to make sure that every teacher using the Units of Study is able to take full advantage of each part of the kit.
Here's another example of a wonderful resource you may not know about. At the Reading and Writing Project's website, you can find FREE Reading UOS mini-courses. These lively, fast-paced video tutorials offer an overview of the sequence of units for each grade level, answer predictable questions, and give practical help for getting going. If you haven't watched these yet, click here the moment you finish reading this post (or even sooner, we'll understand!).
We also invite you to join the Reading Units of Study Facebook group to connect with other reading workshop educators and Reading and Writing Project staff. This group, with its 3,000+ and steadily growing member count, is another place for you to ask and answer questions and share observations and best practices as you move through the Reading UOS journey.
With a series as robust as the Reading Units of Study, it may take time to really get to know the wealth of resources each kit holds. Further, the questions you have now might be different from those you had at the start at the year, before you had a couple of units under your belt. For this reason, we are hosing a Twitter chat to answer frequently asked questions to help you get the absolute most from the Units of Study resources, right now.
There couldn't be a better team on call to answer your questions. Join Marjorie Martinelli, Janet Steinberg, and Amanda Hartman tomorrow, February 3 at 7:30 p.m. ET. As always, use #TCRWP to join the chat.
Come chat with the @TCRWP!
♦ ♦ ♦ ♦
Anna Cockerille is a staff developer, literacy coach, and writer based in New York City. She has taught in K–8 classrooms all over the world in places such as Sydney, Australia; San Pedro Sula, Honduras; and Auckland, New Zealand. Anna has been a staff developer for the Teachers College Reading and Writing Project at Columbia University (TCRWP) and an adjunct instructor for the Literacy Specialist Program at Teachers College. She writes at Two Writing Teachers.
Not on Twitter? New to Twitter? Take Heinemann's free Twitter for Educators course here.