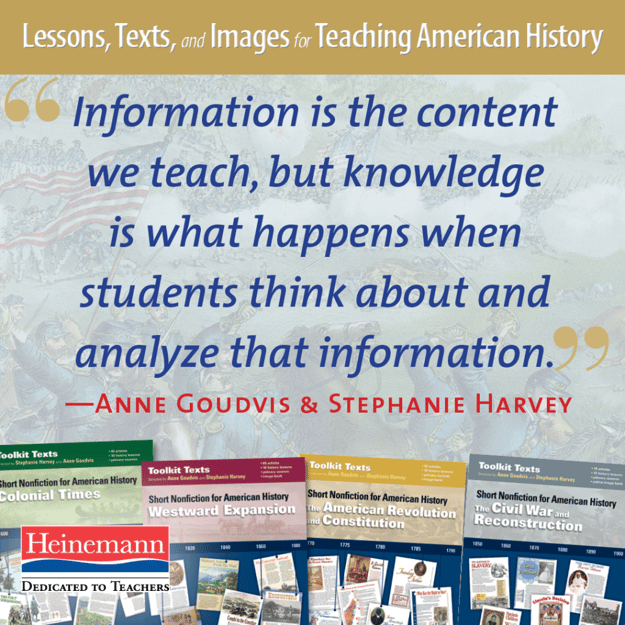 Anne Goudvis and Stephanie Harvey have created the Short Nonfiction for American History Series in order to embed reading and thinking strategies into social studies and history instruction, so that comprehension and thinking strategies become tools for learning and understanding content. Throughout the series, Anne and Stephanie show that teaching historical literacy means merging thoughtful, foundational literacy practices with challenging, engaging resources to immerse students in historical ways of thinking.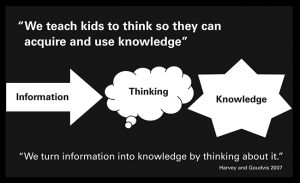 In the following "visual podcast", the authors give an overview of the entire Short Nonfiction for American History series and address how, with the lessons and unique resources they provide in each book, students can build strong historical background knowledge, deepen comprehension and literacy skills, and strengthen their critical thinking capabilities.
Close reading is thinking-intensive reading and to comprehend history text filled with complex ideas and unfamiliar information, readers need a quiver full of strategies. These books help you connect kids to the content you love through literacy strategies that apply to reading to learn in history. -- Anne Goudvis and Stephanie Harvey
Thanks for reporting a problem. We'll attach technical data about this session to help us figure out the issue. Which of these best describes the problem?
Any other details or context?
message
♦ ♦ ♦
Interested to find out each of the lessons in the Short Nonfiction for American History series help students build knowledge? Check out the second visual podcast in our series here.
♦ ♦ ♦
---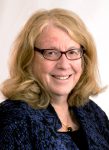 Anne Goudvis is the coauthor the Heinemann title Comprehension Going Forward and of Strategies that Work (with Stephanie Harvey). She and Steph also created best-selling classroom materials The Comprehension Toolkit; The Primary Comprehension Toolkit; and Comprehension Interventions.
Anne has been a classroom teacher, staff developer, and university instructor. For the past fifteen years, she has worked as a staff developer with the Denver-based Public Education and Business Coalition and currently does staff development in schools around the country. Recent interests include working in schools with culturally and linguistically diverse students and integrating reading comprehension instruction with content area topics in social studies and science.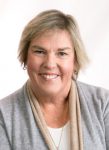 Stephanie Harvey has spent her career teaching and learning about reading and writing. After fifteen years of public school teaching, both in regular education and special education classrooms, Stephanie worked for twelve years as a staff developer for the Denver based Public Education and Business Coalition (PEBC), a partnership of leaders from education and business, who support innovation in public schools.
Insatiably curious about student thinking, she is a teacher first and foremost and currently serves as a private literacy consultant to schools and school districts. In that role, she conducts keynote speeches, presentations, workshops, demonstration lessons, coaching sessions and ongoing consultation to teachers, reading specialists, literacy coaches, principals and district administrators. With a focus on K-12 literacy, her specialties include comprehension instruction, inquiry-based learning, content area reading and writing, nonfiction literacy, and the role of passion, wonder, and engagement in teaching and learning.