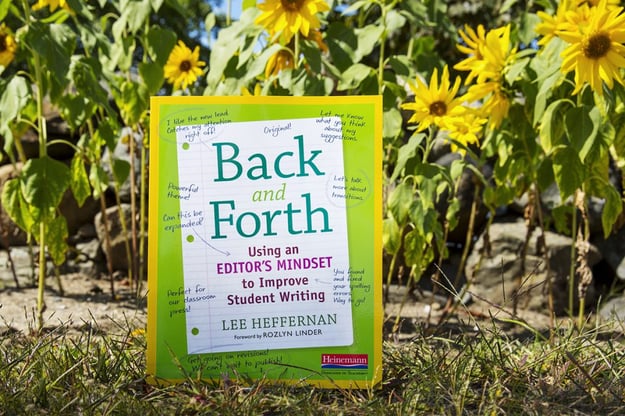 The following is Rozlyn Linder's foreword from Lee Heffernan's new book, Back and Forth: Using an Editor's Mindset to Improve Student Writing
---
Guilty as charged. I can recall numerous times when I asked a student, "Are you ready to publish your writing?" I swiftly sent them off to rewrite, type, or illustrate their work. That writing was then retired to a class bulletin board, or even worse— my desk. Done. That was the end of that piece. It now belonged to me. Lee Heffernan has shown me the error of my ways.
Lee's book speaks to the idea of student empowerment, accountability, meaningful writing, revision, and publishing. Her work essentially shows us how to move students from fake writing (writing that is just for the teacher) to writing that has purpose and passion. Lee manages to marry process and product in a way that will inevitably set a new standard for writing instruction for teachers everywhere. Her work breaks ground with tenets that shift our writing instructional norms and inspires students.
Lee introduces her students to a three-tiered small press publishing model. Students learn about the authentic goals of publishing: fostering relationships, connecting to readers, and revising to improve text. But she doesn't just stop there. The class creates a student press by deciding the type of writing that they want to do, designing the logo, and, as important, delving into the roles of both editors and writers.
She suggests that students identify and study some of their favorite books, examining who the publishers are and learning the recursive process of writing and revision. Revision and ownership are at the heart of writing and Heffernan makes that clear and exciting! What actually happens when professional editors and writers work? What is the role of authentic revision? In this book, Heffernan brings the notion of authentic purposes for writing by putting students in the role of author.
At the heart of her model are collaboration and revision. Students learn to collaborate and work together to offer one another feedback. Lee gets students to understand the actual value of multiple revisions. After working with fellow student– authors, students learn how to prepare their writing for submission to the classroom press.
Student-created small presses? Student investment in revision? The moment I dove into this book, I was in awe. Heffernan has created a model for writing instruction that is transformative in how students can view their work as professional and authentic.
As I read Lee's book, page by page, like a favorite novel, I found it hard to tear myself away. It is impossible to read this book and not get chills up your spine about the possibilities for building writers who not only love their craft, but understand the role of professional editors and writers. With every page turn, I wanted to know more, see more, and soak in each student sample. The student enthusiasm jumps off the page and you can feel the excitement and ownership of the classroom presses that are featured in this book. Students begin to see themselves just like professional writers—with a genuine purpose. That repositioning of writing is amazing and powerful. This model has transformed the way I think of student ownership, revision, and publication. Lee Heffernan takes something as intriguing and exciting as authentic writing and makes it fun to implement for students and teachers.
♦ ♦ ♦

To learn more about Back and Forth by Lee Heffernan, and to download a sample chapter, visit Heinemann.com.

♦ ♦ ♦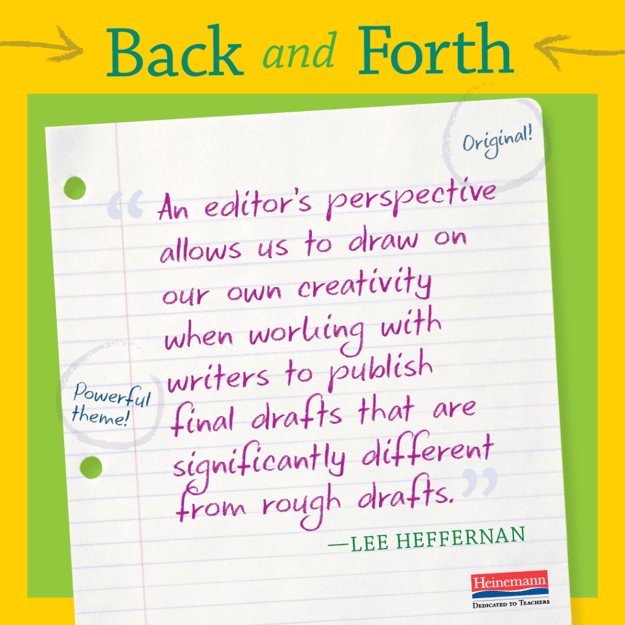 ---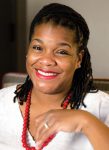 For Rozlyn Linder, watching students grow as learners is the only thing more inspiring than watching teachers grow as professionals. As a literacy specialist, a blogger, a high-demand consultant, and the author of the Heinemann title The Big Book of Details and the bestselling Chart Sense series, Roz loves to help colleagues take complicated research and turn it into classroom-ready teaching ideas. Connect with her @rozlinder, at rozlinder.com, and anywhere online that teachers talk.