Welcome to the Heinemann PD Professional Learning Community Series! This month we discuss cultivating literacy-rich classrooms.
♦ ♦ ♦ ♦
As a teacher, feeling as though you are less than an expert at something new can bring anxiety when working with students. However, if we can reframe our thinking to being a learner along with our students, the opportunities we have to enhance thinking and learning opportunities increase. This type of classroom environment becomes one where students feel empowered to problem solve and teach each other, qualities of learners that will sustain long beyond the classroom.
In this clip below, Kristin Ziemke talks about her own shift from her early career perspective of her role in the classroom. While she once felt that her responsibility was to be in charge, she learned that her true role is to be the chief learner in the classroom, a guide on the side for students.
Thanks for reporting a problem. We'll attach technical data about this session to help us figure out the issue. Which of these best describes the problem?
Any other details or context?
message
Technology changes so quickly that modeling and integrating new tools into teaching can feel overwhelming. Amplify authors Kristin Ziemke and Katie Muhtaris talking about starting each day from a "place of possible" and maintaining pedagogy. So much about trying something new in the classroom is your mindset and technology integration, whether you have one device or are 1:1, begins with examining your own learning processes and role in the classroom.
♦ ♦ ♦ ♦
Looking for more PD on this topic?
Off-site: Don't miss a fantastic day of learning with Kristin Ziemke in a one-day workshop this fall/winter in NY, MN or IL. Register here!
Online: Heinemann's Digital Library features many articles on bringing digital literacy and technology to your classroom. Check out the list of available articles and professional books available by clicking here!
On-Site: Take a look at customized seminars, consulting authors and speakers, and residencies available to you by clicking here.
♦ ♦ ♦ ♦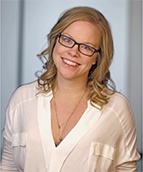 Kristin Ziemke (@kristinziemke): A teacher and innovation specialist in Chicago, Kristin engages students in authentic learning experiences where reading, thinking, collaboration and inquiry are at the heart of the curriculum. Kristin pairs best practice instruction with digital tools to transform learning in the classroom and beyond. An Apple Distinguished Educator, National Board Certified Teacher and Chicago's 2013 Tech Innovator of the Year, Kristin seeks opportunities to transform education through technology innovation. She collaborates with educators around the globe as a staff developer, speaker and writer.
Kristin Ziemke and Katie Muhtaris are co-authors of Amplify: Digital Teaching and Learning in the K-6 Classroom. Kristin and Katie, along with Stephanie Harvey and Anne Goudvis, are also coauthors of Connecting Comprehension and Technology. You can follow Kristin on Twitter @KristinZiemke.