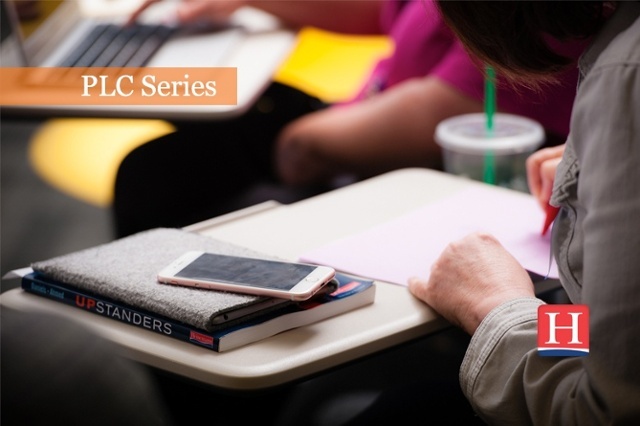 We hope you have been enjoying the new format of this series!
Each month, we share 2 posts designed to provoke thinking and discussion, through a simple framework, incorporating mini-collections of linked content into your professional development time.
For December, we get to take a moment to slow down and rediscover opportunities for these six posts and accompanying frameworks thus far. Looking for a way to have focused, quality professional learning time with your team or staff? Here you go! Please let us know if you have any topic ideas for series' posts in 2018.
♦♦♦♦

Guiding Question: How can I listen more carefully to the truths of others as I work to understand my responsibility to students as members of society?
---

Guiding Question: How is my duty to be an advocate for my students challenged by my own intimidation, discomfort, or life experiences?
---

Guiding Question: In what ways do we choose or judge language use based on principles of society, culture, and power?
---

Guiding Question: How can we reframe our thinking about our English learners in ways that embrace their strengths, honor their first language(s), and hold them to high, intellectual standards?

---

Guiding Question: How can we embed the cycle of inquiry into classroom culture so we can invite children to engage in this process, whether our schedules support 5 minutes or 5 weeks?
---

Guiding Question: What is the value of students taking new learning—born from inquiry—into action in their world?
---
Sign up to receive our PLC Series via email
♦♦♦♦
Looking for more PD?
Online: Have you seen all of our On-Demand, video-rich, self-paced courses? Click here to browse single, mini, and full-session courses by authors such as Regie Routman, Jennifer Serravallo, Sue O'Connell and more!
Off-Site: Immerse yourself in an inquiry weekend! Join us in Santa Fe for a Multi-Day Institute: Teaching with Student-Directed Inquiry: Pathways to Literacy, Empathy, Achievement, and Action. Learn more here.
On-Site: Heinemann's Speakers & Consulting Authors are thought leaders in how to create successful classroom and school environments based on respect, collaboration, empathy, and positivity. Find out more by clicking here!