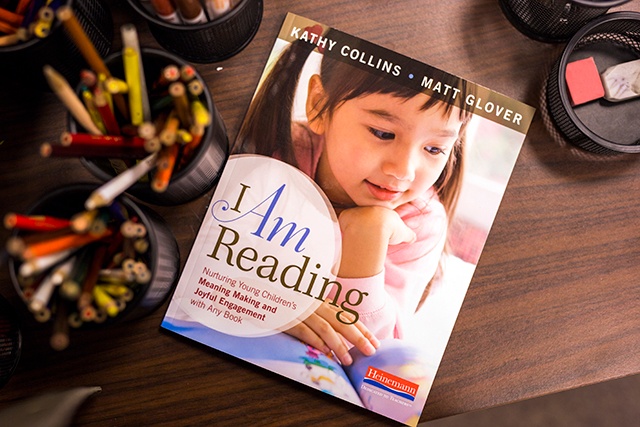 What do we see when young children interact with books before they can read the words? I Am Reading: Nurturing Young Children's Meaning Making and Joyful Engagement with Any Book by Kathy Collins and Matt Glover is out now. In today's post adapted from the book, we'll discuss an emergent reader's interactions with a familiar text.
We invite you to read about Matt's daughter, then two-and-a-half-year old Natalie, who interacts with Knuffle Bunny, a picture book that her parents read to her and her twin sister Molly many, many times. In the book there is a link to view the video of Matt's daughter reading Knuffle Bunny. Here Matt and Kathy do a great job of narrating Natalie's interactions. Consider these questions, "What is Natalie doing? Is Natalie reading or is she 'reading'?"
by Kathy Collins and Matt Glover
We watch her through a Reading Lens. The Reading Lens gives us the depth perception to go beneath the surface of the scene and enables us to observe what Natalie may feel, believe, and know about reading. This lens can allow us to begin to understand children's relationships to reading and to books while also revealing ways we can support them.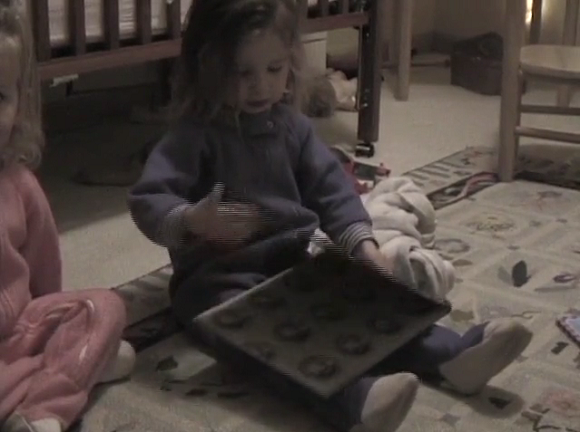 The video opens with Matt asking Natalie, "Can you read this? What's that book called?" Natalie responds with an enthusiastic, "Knuffle Bunny!" and gets right to business as she opens the book without hesitation. Natalie doesn't request that her dad sidle up next to her to read to her, nor does she respond, "You read!" Of course, there are many variables at work, from the amount that her family reads to her to how many times she's heard Knuffle Bunny, from her unique personality to her comfort level in the situation. Perhaps in another setting with another text, Natalie may not have been as confident and ready, but this particular event shows us that she can have a comfortable relationship with books and confidence in her ability to read, especially with familiar books.
Very soon after opening the book, Natalie issues an invitation to Molly, her twin sister, to read the book with her. Molly denies the invitation and scoots off to get another book. Unbothered, Natalie begins to read. When viewed through the Reading Lens, we see that Natalie already understands that reading can be a social activity and that a reading experience can be shared, or not. The "or not" moment, when Molly heads away and Natalie maintains her focus on Knuffle Bunny, suggests that Natalie is also very comfortable sitting by herself with a book. Natalie intends to read this particular book regardless of whether or not her sister wants to join her.
As Natalie begins to read, she points to the action on the page and narrates it, saying something like, "They go in the park." She says this twice, matching the illustration to her version of the text. Elizabeth Sulzby would call this following the action in a picture governed attempt (Sulzby 1985), and this is one way young children read familiar books without being attentive to the print.
Natale's Dad supports her language development without breaking the world of the story

Natalie turns the pages and at a point, says something unclear, and her dad asks, "They're going to the Laundromat?" In that situation, Natalie is accessing the vocabulary of the text, trying to say Laundromat, and Natalie's dad naturally supports her language development and vocabulary acquisition without breaking the world of the story.
After Trixie and her dad arrive at the Laundromat, Natalie turns the page and twice exclaims, "Knuffle Bunny!" and points to the stuffed animal stuck in the washing machine. Her vigorous exclamation of his name when she locates him in the washing machine shows that Natalie understands that Trixie doesn't realize her beloved stuffed animal is lost. Her voice expresses a sense of tension in that part of the story.
Next, Natalie turns the page again and says, "Let's go home, Dad," giving voice to Trixie. So far, on three pages where she paused, Natalie does three completely different things as a reader:
She narrates action on the page.
She locates and identifies a character with a vocal intonation that suggests she's holding on to the meaning of the story.
She "embodies" the character by giving the character voice or approximating the dialogue in her retelling.
In addition to highlighting all of the ways Natalie makes meaning and connects the illustrations with her schema of how the story goes, the Reading Lens allows us to also observe the many early reading behaviors and book-handling skills Natalie has acquired.
When we watch young children like Natalie through a Reading Lens, we are struck by just how much reading work they're doing and how many skills and strategies they're presenting before they read one word conventionally. For many reasons, we realize that when viewed through a Reading Lens, Natalie's interaction with this text is so much deeper than cute and so much more significant than "no big deal."
♦ ♦ ♦ ♦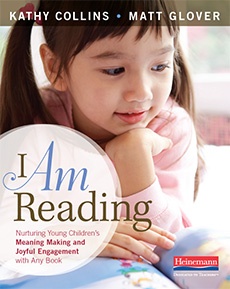 In bestselling books such as Growing Readers and Already Ready, Kathy Collins and Matt Glover have shared their commitment to exemplary instruction for Pre-K and primary students. Their extensive teaching, professional development, and leadership experiences have helped them make powerful connections with other early childhood educators as nationally known consultants, speakers, and presenters. Follow them on Twitter: @Mattglover123 and @KathyCollins15.
Go to the I Am Reading page to preview the book and read a sample chapter.