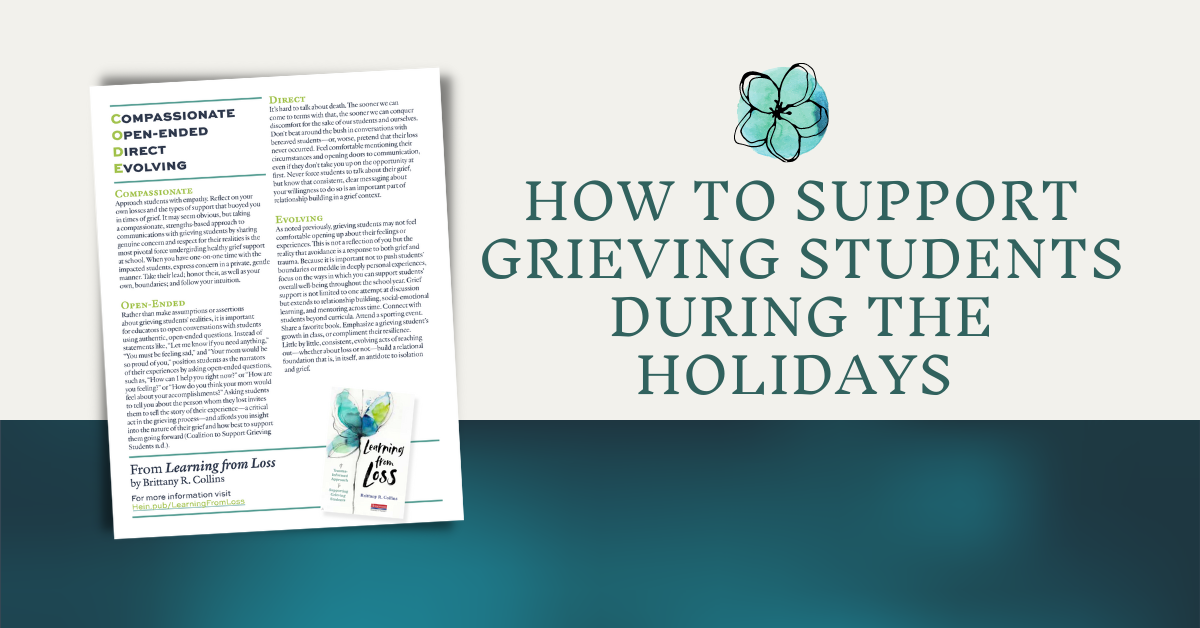 No matter which holidays teachers and students celebrate, the autumn and winter months present many opportunities that are traditionally regarded as times for communing with friends, family members, and loved ones. Yet for many students and teachers, especially those who are grieving, these times can bring increased stress, loneliness, and grief—not only due to the absence caused by the loss of a person, but by the lack of proximity to friends and trusted adults, and the disruption in routine, that holiday vacations cause in the lives of young people.



This year alone, we know that over 120,000 children in the United States have lost a parent or caregiving elder to COVID-19, with BIPOC youth experiencing higher rates of bereavement due to the systemic health inequities that the pandemic further proves (Strobbe 2021). How can we best support these young people, at and beyond school?

It's no secret that death, loss, grief, and trauma can feel daunting to talk about. We feel unprepared to comfort the grieving and unheard when we are bereaved. We fear that we will say too much. That we have said too little. Sometimes, we say nothing at all, even when we deeply care.

Yet we also know, from research and lived experience, that human connection is the best boon in times of challenge, and that small acts of caring hold the capacity to counteract isolation, hopelessness, and grief. In Learning from Loss, I introduce a four-step framework for connecting and communicating with grieving students. This holiday season, and always, the following CODE framework offers entry-points for reaching out to grieving students, whether or not that means engaging in direct conversations about loss.
CODE: A Four-Step Framework for Communicating with Grieving Students
It is important to note that supporting students amid grief and adversity often begins on the relational level through one-on-one communication. It is important to take students' lead in regard to self-disclosure, and we should never put them on the spot or force their vulnerability, lest that perpetuate discomfort or trauma. As you will see in the framework below, relationship-building—and, by association, grief support—can begin with nonverbal communication, ways of showing up for young people that may not include direct discussion about their loss experience.

In short, effective communication with grieving students is Compassionate, Open-Ended, Direct and Evolving (CODE).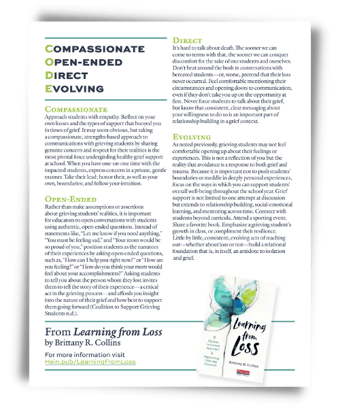 As we approach this and every holiday season, let's remember that it takes only one person to ignite the powerful protective benefits of social connection in the lives of students dealing with trauma or loss (Bluestein 2001, 10). This means that we, as educators, hold the power to change the trajectory of a grieving student's life, and your gestures of support need not be large in order to make an impact.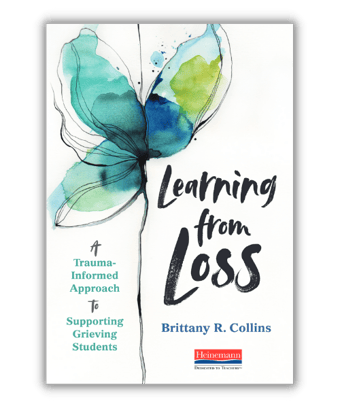 ---
Brittany Collins is an author, educator, and curriculum designer dedicated to supporting teachers' and students' social and emotional wellbeing, especially in times of adversity.Her work explores the impacts of grief, loss, and trauma in the school system, as well as how innovative pedagogies—from inquiry-based learning to identity development curricula—can create conditions supportive of all learners. She is the Founder of Grief-Responsive Teaching, a professional learning community and resource hub that supports students' and teachers' wellbeing in times of loss.

Brittany is passionate about connecting theory and practice to foster collaborative relationships with students, teachers, and writers around the world. She is the Director of Teaching & Learning and Product Manager of Global Writing Workshops at Write the World LLC, where she designs, develops, and implements original writing curricula and supports middle and high school students and teachers across continents.

Her writing has appeared in The Washington Post; Education Week; Edutopia; Inside Higher Ed; We Need Diverse Books; English Journal and Literacy & NCTE of the National Council of Teachers of English; Teachers' and Writers' Magazine; and Thrive Global, among other outlets, and she has developed curricula for PBS Learning Media, Write the World, Smith College, Boston University, and Race Project Kansas City, among other schools and organizations.

Brittany studied English and Education at Smith College and the University of Massachusetts, Amherst; Creative Nonfiction at the Yale Writer's Workshop; and is pursuing her certificate in Trauma Studies from the Trauma Research Foundation.

You can connect with Brittany on her website or on Twitter @brcollins27.
References:
Bluestein, Jane. 2001. Creating Emotionally Safe Schools: A Guide for Educators and
Parents. Deerfield Beach, FL: Health Communications.
Coalition to Support Grieving Students. n.d. "What Not to Say." National Center for School Crisis and Bereavement. Accessed February 14, 2021.
https://grievingstudents.org/wp-content/uploads/2020/05/NYL-1B-What-to-Say.pdf.
Stobbe, Mike. "120,000 Kids Lost a Parent Amid COVID-19 Pandemic." Time. October 07, 2021. Accessed October 21, 2021. https://time.com/6104829/us-covid-orphans/.
<<Download a sample from Learning From Loss >>