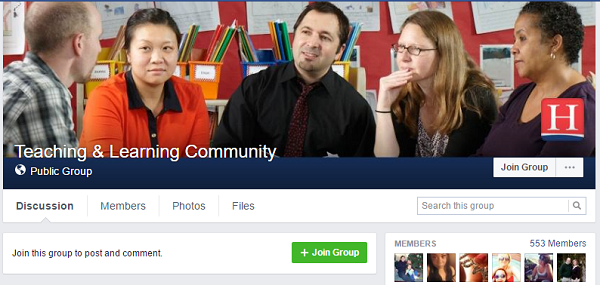 Summer for teachers is an important phase of the reflection process in education. Being a reflective educator who shares in professional reading and conversation is what keeps teachers current and prepared for the next school year. Expanding knowledge of pedagogy, researching best practices to support new initiatives, and recentering or finding inspiration are just a few of the benefits for summer professional development so students can have the educational experience they deserve.
Facebook groups are a fantastic place to build a professional learning network (PLN) and learn alongside other educators who are tackling similar endeavors as yourself. Whether you are looking to share conversation about the professional books in your "to read" stack or to gain insight to other educators' perspective on ideas from books or articles you have already read, Facebook groups allow you to have the important conversations and collaboration that allows professional learning to thrive.
Here are some important pieces of information to help you build your understanding of the function of Facebook groups:
A Facebook group is different from a Facebook page in that two-way communication is promoted and encouraged.
The nature of a Facebook group facilitates sharing and discussion whereas a Facebook page is a location for people and organizations to create a public presence online, like a website.
On the desktop Facebook website, you will find your groups listed on the left-hand menu.
You can have mobile access to your groups via the Groups app for Facebook. This allows you to read and participate in conversation without the distractions of the Facebook home feed.
You can post, reply, and add media via the Groups mobile app just as you do from the desktop website.
Using the app, you can customize your notifications for different groups, discover other groups, and prioritize a set of favorites so you can see your most frequented groups first.
---
Download the Groups app and take a look at some our Facebook groups that are ready for you to join for quality, free summer PD:
Looking to expand your strategies for teaching writing? Head on over to the group dedicated to writing instruction, elaboration and details sparked from Roz Linder's book The Big Book of Details.
Trying to build an understanding of the pedagogy behind how and when to integrate technology into the classroom? Join the Amplify Teaching group rooted in Katie Muhtaris and Kristin Ziemke's book Amplify.
Need to connect with other educators utilizing the Units of Study for literacy instruction? There are multiple groups for these resources, but you can start with the general groups hosted by the Teachers College Reading and Writing Project (TCRWP) for the Units of Study in Reading and Units of Study in Writing.
And last, but certainly not least, please join us in the Teaching & Learning Community group hosted by Heinemann Professional Development. This summer we are hosting a FANTASTIC book study with the inspiring collection of essays in The Teacher You Want to Be, edited by Matt Glover and Ellin Oliver Keene.
Our schedule for this 6-week book study can be downloaded here.
Starts July 11th—See you there!