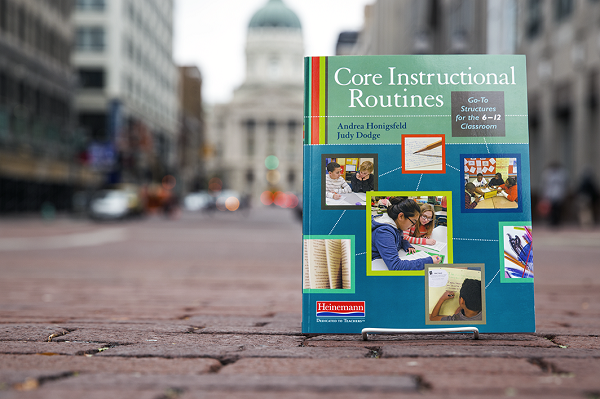 How can a secondary teacher reconcile the heavy demands of the content curriculum with best practices while enhancing students' literacy skills in the content areas? Core Instructional Routines helps you build background knowledge and literacy within and across subjects using "SWRL" (Speak, Write, Read, and Listen) routines that make learning more relevant and interactive. Andrea Honigsfeld and Judy Dodge share ample opportunities for creative collaboration, critical analysis, meaning-making, and student engagement. In today's post adapted from the book, the authors explain how routines help teachers manage large classrooms.
By Andrea Honigsfeld and Judy Dodge
[dropcap]Routines[/dropcap] are necessary when you have 100–150 students in one day. With so many students requiring your attention, routines provide a consistency that students can count on and help you smooth the transition from period to period.
Getting your students involved in carrying out some of the managerial routines (gathering homework, passing out textbooks, moving desks into desired arrangements and placing them back at the period's end, etc.) will simplify your day. In addition, the more students are responsible for implementing these routines themselves, the more ownership they will take for the learning that occurs in your class. An analysis done in 2013 by the Center for Education Policy at George Washington University concluded that among four academic mindsets that contribute to student's motivation are ownership of his or her learning and a feeling of social relatedness to the school and community. When routines make students feel like they are an integral part of the class, motivation increases and sets the stage for students to take responsibility for their own learning.
When students are expected to participate in the routines and interact with you in a way that is mutually respectful ("This is what we need to do here now. I can do my part."), the classroom becomes a community of learners where you and your students share responsibility for what takes place daily. By getting some essential routines out of the way within the first few days of the course and within a few minutes of each class, you will have more time to spend getting to know your learners and engaging them in the important work of the day. Routines and pre-established structures will be especially beneficial ways to support struggling middle school and high school learners.
And be sure to check out Core Instructional Routines for K–5
♦ ♦ ♦ ♦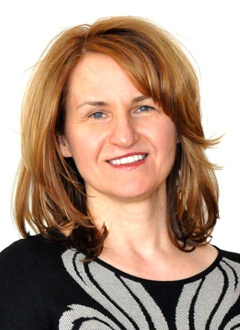 Andrea Honigsfeld (left) is associate dean and director of the Doctoral Program in Educational Leadership for Diverse Learning Communities at Molloy College. Judy Dodge (right) is a learning specialist and a recognized leader in the field of effective classroom instruction.