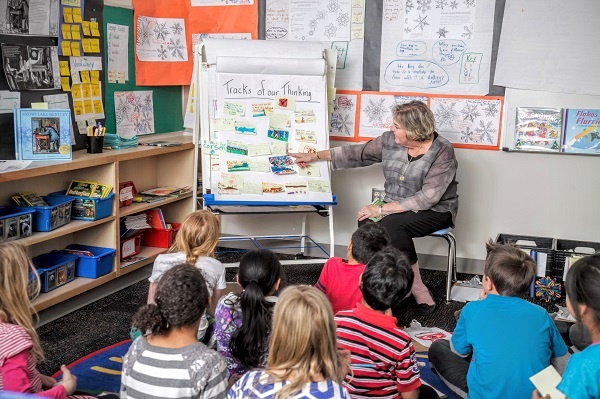 "When we comprehend, we add to and enhance our store of knowledge"

You can't help but ask questions and wonder in a room that is filled to bursting with great text, stirring images, engaging artifacts, magnifying glasses, Erector sets, and so forth. Content-rich classrooms make wondering irresistible. Stimulating environments fuel kids' natural curiosity. Teachers who create classrooms like this instill in their students a disposition to explore, investigate, read on, and learn more about the real world. The real world is rich, fascinating, and compelling, and, because kids are living in it, let's replicate it in the content literacy classroom.
David Pearson suggests a simple motto that says it all when it comes to content literacy: READ IT, WRITE IT, TALK IT, DO IT! (Pearson, Moje, & Greenleaf 2010) And he's talking about across the day, across the curriculum, and across the year. This active process is a hallmark of effective, engaging content teaching and learning. In content-rich classrooms, kids are asking questions, inferring, discussing, debating, inquiring, making things, and generating new ideas.
Content literacy practices must be thinking and learning intensive, so say no less than the President and Fellows of Harvard College (2007). To build intrigue, knowledge, and understanding, students read, learn about, and interact with the questions, mysteries, controversies, discoveries, events, issues, and drama that are the real stuff of content learning.
Too often content literacy, or "reading in the content areas," has been viewed as memorizing an endless stream of facts and dates—or answering end-of-chapter questions. No wonder kids report that social studies is the most boring part of the day. Who wouldn't be bored slogging through a textbook the size of an encyclopedia? Sometimes science is no better when it's all about filling in worksheets or memorizing formulas.
How unfortunate. We believe it is the content that is seductive! We have never met a student we can't engage in something in the real world. We've watched as kids marvel at a praying mantis gnawing on a honeybee, wonder about the nature of black holes, or empathize with a Civil War soldier their age, who had to fight against his brother.
We have never met a student we can't engage in something in the real world.

In reviews of the research, Cervetti et al. (2009, 2015) argue that "knowledge building is the next frontier in reading education" because "evidence is beginning to demonstrate that reading instruction is more potent when it builds and then capitalizes upon the development of content knowledge." This is a reciprocal process; as students build their knowledge through reading, they create a foundation that in turn supports ongoing thinking, learning and understanding.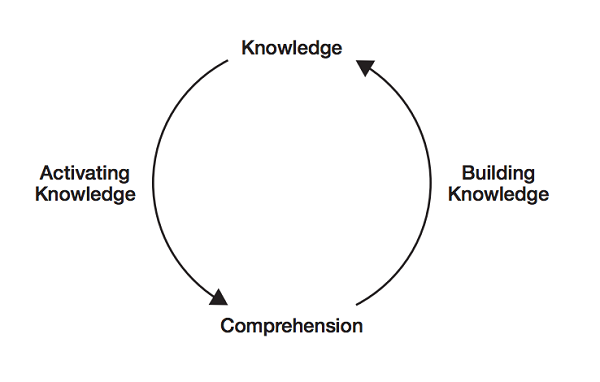 Researchers emphasize the knowledge building side of this figure, which underscores the idea that when we comprehend, we add to and enhance our store of knowledge. So above all, comprehension is a knowledge building activity. In turn, as we continue to learn about and comprehend the world, our comprehension is strengthened by existing and new knowledge. "Knowledge from this perspective does not refer to a litany of facts, but rather to the discipline-based conceptual understandings [which] engage students in becoming experts on the world around them" (Cervetti et al. 2009). So, "knowledge begets knowledge." The more content knowledge we have, the more likely we are to grow it.
Our forthcoming book, Content Literacy: Lessons and Texts for Comprehension Across the Curriculum, provides content literacy lessons designed to teach students ways to get the most out of their nonfiction reading so they can build content knowledge and actively use it. The lessons engage students in analysis, synthesis, critical reading, and thinking across the curriculum. They are not defined by strategy, but instead integrate several comprehension strategies which build on the original lessons in The Comprehension Toolkit.
Click here to receive updates on Content Literacy: Lessons and Texts for Teaching Comprehension Across the Curriculum as well as the release of the second edition of The Comprehension Toolkit in early 2016.

♦ ♦ ♦ ♦
Anne Goudvis and Stephanie Harvey have enjoyed a fifteen-year collaboration in education as authors and staff developers. They are coauthors of Heinemann's curricular resource series The Comprehension Toolkit.