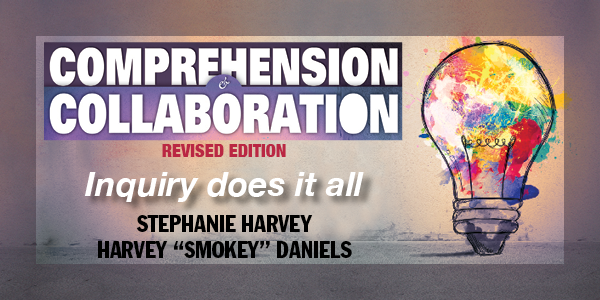 A lot, actually. If you've been using the original edition, you'll find that Stephanie Harvey and Harvey "Smokey" Daniels have added a whole lot more of what you loved into the revised edition. You'll also discover new ways to think about how inquiry circles fit into classrooms where you:
use new instructional technologies.
Steph and Smokey have addressed those first two in the lessons they provide in Part II. They've added 13 more lessons for a total of 40 lessons. Here's what's new:
Comprehension Lessons

Signal Words and Phrases and Their Purposes
Parallel Annotation: Track Both Content and Your Thinking
Distinguishing Between an Opinion and an Informed Opinion
Simple or Complex: Which Is It?
Collaboration Lessons

Active Listening in Pairs
Where Do You Stand?
Being an Attentive Audience
Inquiry Lessons

Model with Research-Alouds
Install a Wonder Wall/Question Board
Questioning and Wonder: Keeping Track of Information and Questions in Small Groups
Dealing with Digital Distractions
Forming Inquiry Groups on Multiple Topics
Sharing Learning with Posters and Murals
Steph and Smokey have also added 9 implementation examples of inquiry circles, bringing the total to 36 (with some moving online). They demonstrate the teaching and learning that support your big goals, and they now include "Standards Skills" callouts that connect learning to standards for college and career readiness. Here are the new inquiries you'll find:
Gender Stereotypes (Intermediate)
Helping Kids Half a World Away (Middle)
Astronomers and Astronauts (Intermediate)
Investigating Ancient Cave Paintings with Edmodo (Middle)
Sticky Tape (Primary) Click here for a PDF example.
Complex Problems Arise in a 4th Grade Rainforest (Intermediate)
Explores and Explorations (Intermediate)
Civil Rights Literature Circles (Middle)
Open Inquiry and Research (Primary)
Finally, the chapter on educational technology has been completely rewritten and expanded to about twice its previous length. There's increased focus on differentiation through digital tools, on setting up classrooms to avoid digital distractions, on increasing access to information, and on helping kids create authentic digital presentations with current tools, most of which were not available or in limited release for the original edition.
Of course, that's not all that's new. Steph and Smokey have been through the book line by line to ensure that everything in it keeps you fully up to date on the latest and best practices for implementing small-group, project-based inquiry learning.
♦ ♦ ♦ ♦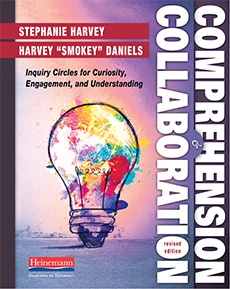 Comprehension and Collaboration, Revised Edition ships in late June. Get pre-publication savings with coupon code CANDC2.
Stephanie Harvey has spent her career teaching and learning about reading and writing. Harvey "Smokey" Daniels has been a city and suburban classroom teacher and a college professor, and now works as a national consultant and author on literacy education.
Click here to view our official page for Comprehension and Collaboration, Revised Edition