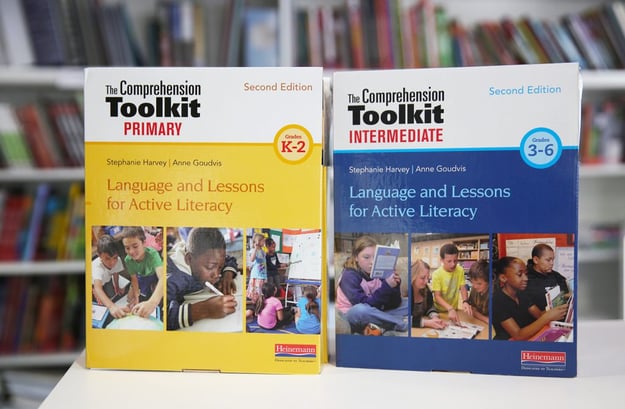 Kids' thinking matters. When students begin to understand that their thinking matters, reading changes. Throughout the school day, kids are actively questioning, discussing, arguing, debating, responding, and generating new knowledge. We can't read kids' minds, but one way to open a window into their understanding is to help them bring their thinking to the surface by talking and writing about it.
The Primary and Intermediate Comprehension Toolkits emphasize responsive teaching with lessons that explicitly teach the language of thinking. With this metacognitive scaffolding, teachers are able to gradually release to kids the responsibility for comprehending the wide variety of nonfiction texts they encounter. Toolkit lessons strengthen the specific kinds of thinking proficient readers use: six comprehension strategies that research has shown are part of an effective reader's mental toolkit. The Comprehension Toolkit guides you through the explicit instruction of these six comprehension strategies:
Monitor Comprehension When readers monitor their comprehension, they keep track of their thinking as they read, listen, and view. They notice when a text makes sense or when it doesn't. They distinguish between what the text is about and what it makes them think about. Only when they are "thinking about their thinking" can they make sense of what they read and also recognize when meaning has gone astray.

Activate and Connect Whether we are connecting, questioning, or inferring, background knowledge is the foundation of thinking. Readers can't understand what they hear, read, or view without thinking about what they already know. To comprehend, learners must connect the new to the known. Kids must be prepared not only to think about what they already know but also to revise their thinking when they encounter new and more accurate information.

Ask Questions Curiosity is at the heart of teaching and learning. Questions spur curious minds to investigate. Questions open the doors to understanding the world. As readers try to answer their questions, they discover new information and gain knowledge. To develop as critical thinkers, kids must be taught to think about and question what they listen to, read, and view. Questioning is the strategy that propels learners forward.

Infer and Visualize Inferring is the bedrock of understanding. It involves taking what you know—your background knowledge—and merging it with clues in the text to come up with ideas and information that aren't explicitly stated. Inferential thinking helps readers to figure out unfamiliar words, draw conclusions, develop interpretations, make predictions, surface themes, and even create mental images. Visualizing is sort of a first cousin to inferring. When readers visualize, they construct meaning by creating mental images, seeing, hearing, tasting, touching, and even smelling in their imaginations. Inferring and visualizing enable kids to get a deeper, more robust reading of the text.

Determine Importance For too many years, kids have been asked to pick out "the main idea" without being shown how or explaining why. Once kids know how to merge their thinking with the information, they need to be able to figure out what makes sense to remember. No one can or should remember every fact or piece of information read. Instead, readers need to focus on important information and merge it with what they already know to expand their understanding of a topic. Kids need to be shown a way to use information to develop a line of thinking as they read, surfacing and focusing their attention on important ideas in the text.

Summarize and Synthesize Synthesizing information nudges readers to see the bigger picture as they read. Thoughtful readers integrate the new information with their existing knowledge to come to a complete understanding of the text. As readers encounter new information, their thinking evolves. They merge the new information with what they already know and construct meaning as they go. As they distill nonfiction text into a few important ideas, they may develop a new perspective or an original insight.
Grounded in research and proven in practice, the Comprehension Toolkits guide you in the explicit instruction of these strategies, and situates them within the six effective teaching practices to foster comprehension:
Creating an Environment for active literacy and investigation

Choosing Compelling Texts

Providing explicit instruction through Gradual Release of Responsibility

Promoting collaboration

Differentiating, teaching, and assessing

Teaching comprehension across the curriculum
…
Learn more and download sample materials at Heinemann.com
---
Follow us on Instagram @heinemannpub to stay up to date on the latest books, your favorite authors, and upcoming events!
---
Stephanie Harvey has spent her career teaching and learning about reading and writing. After fifteen years of public school teaching, both in regular education and special education classrooms, Stephanie worked for twelve years as a staff developer for the Denver based Public Education and Business Coalition (PEBC), a partnership of leaders from education and business, who support innovation in public schools.
Insatiably curious about student thinking, she is a teacher first and foremost and currently serves as a private literacy consultant to schools and school districts. In that role, she conducts keynote speeches, presentations, workshops, demonstration lessons, coaching sessions and ongoing consultation to teachers, reading specialists, literacy coaches, principals and district administrators. With a focus on K-12 literacy, her specialties include comprehension instruction, inquiry-based learning, content area reading and writing, nonfiction literacy, and the role of passion, wonder and engagement in teaching and learning.
Anne Goudvis is the coauthor the Heinemann title Comprehension Going Forward and of Strategies that Work (with Stephanie Harvey). She and Steph also created best-selling classroom materials through firstHand: The Comprehension Toolkit; The Primary Comprehension Toolkit; and Comprehension Interventions.

Anne has been a classroom teacher, staff developer, and university instructor. For the past fifteen years she has worked as a staff developer with the Denver-based Public Education and Business Coalition and currently does staff development in schools around the country. Recent interests include working in schools with culturally and linguistically diverse students and integrating reading comprehension instruction with content area topics in social studies and science.