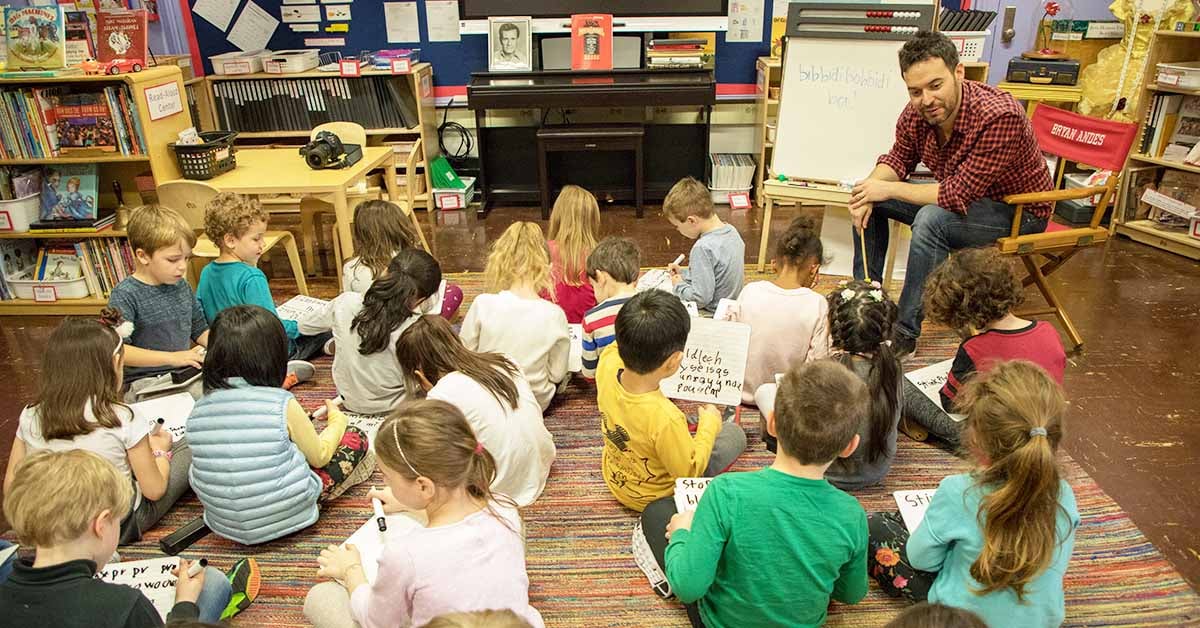 In all of the feedback we've received about the new Phonics Units of Study, two themes seem to be emerging. The first: the program is easy to follow and provides a clear picture of what effective phonics instruction should be. The second theme that is emerging is that the phonics work is showing up in noticeable ways in students' reading and writing. Teachers have told us that they see children using the tips and strategies from phonics as they decode challenging words in reading and sound out challenging words in writing.
We've received comments such as these, from Marie LaRosee, a veteran teacher with 30 years of experience from Mt Desert Island, Maine:
"Thank you to Lucy, Natalie, and all contributors to The Phonics Units of Study. This is by far the most user friendly phonics program available. I finally had a few hours today to read through the Guide from beginning to end in one sitting to pull all the pieces together. I felt like I had a mentor sitting with me in conversation explaining what I really needed to know as a teacher to do my "best" phonics teaching. All of this presented in a "no fuss", efficient, and energizing approach. Thanks for doing all the hard research, for consolidating it, and sharing. I have all of my "Super Powers" charged up for my next unit of teaching and also feel I can talk to parents with a bit more of an "expert" voice and clarity about phonics. I believe you have 'broken the mold of phonics curriculum and have set the new standard for readability, teachability, and effectiveness,' as you hoped. The kiddos in my class are showing me the power of this work. Bravo!"
But, in addition to praise, with the launch of any new series comes what is perhaps the most important kind of feedback: suggestions on how to make the work better. The TCRWP phonics team has been observing and collecting data as teachers have gotten the phonics units off and going. They've heard ideas on how to make the work more efficient in places, how to best organize the materials, how to how to adjust certain sessions for clarity and ease of instruction. This feedback will inform the ongoing phonics work, including the development of the second grade series.
TCRWP staff developers and deep contributors to the TCRWP's phonics work Natalie Louis and Rachel Rothman-Perkins will lead this week's chat on lessons we've learned so far from teaching the Phonics Units of Study. Natalie and Rachel will share some of their observations, and they welcome your stories, impressions, and new ideas from putting the first phonics units into practice.
---
Each Wednesday night at 7:30pm eastern, The Teacher's College Reading and Writing Project hosts a Twitter chat using the hashtag #TCRWP. Join @natalielouis13 & @rrothmanperkins to chat about what we've learned from teaching the new phonics units tomorrow evening.
Not on Twitter? Take Heinemann's free Twitter for Educators course here.
---
Anna Cockerille, Heinemann Editor and Coauthor of Bringing History to Life (Grade 4) in the Units of Study for Teaching Writing Series, was a teacher and a literacy coach in New York City and in Sydney, Australia, and later became a Staff Developer and Writer at TCRWP. She also served as an adjunct instructor in the Literacy Specialist Program at Teachers College. Anna has been a researcher for Lucy Calkins, contributing especially to Pathways to the Common Core: Accelerating Achievement (Heinemann 2012), and the Units of Study for Teaching Reading, Grades 3–5 series (Heinemann 2010). Anna is currently serving as an editor on the forthcoming Phonics Units of Study series for grades K-2, and previously served as an editor for the Units of Study for Teaching Reading, K–5 series.
Follow her on Twitter @annagcockerille