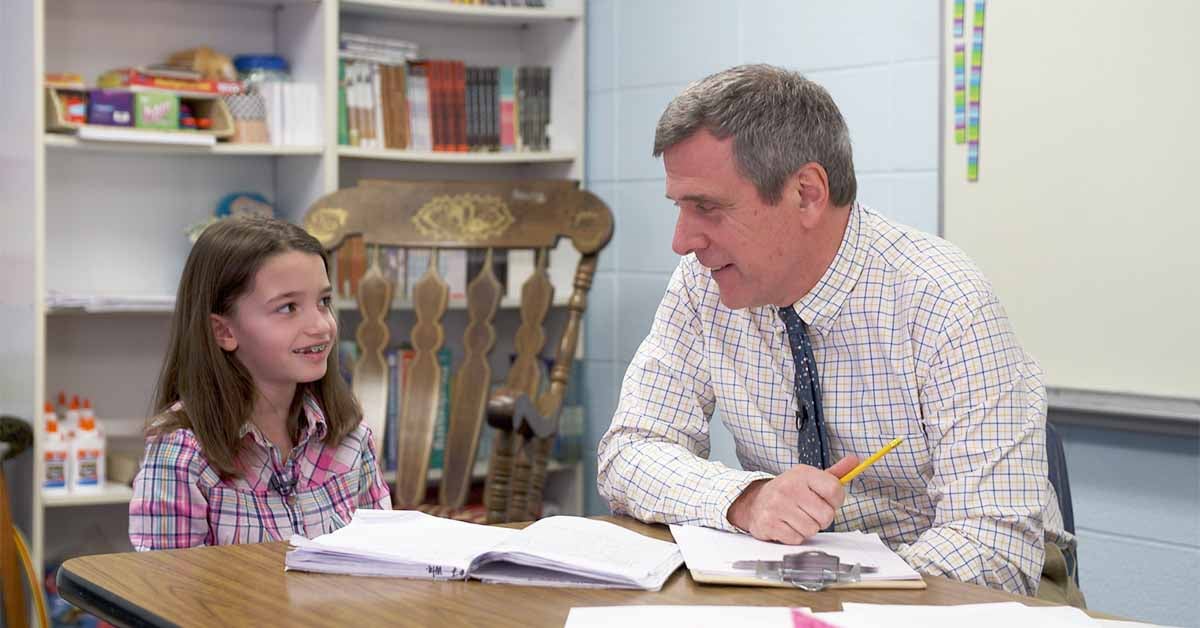 A writing conference is, first and foremost, a conversation. The word conversation suggests so many things about the way you should talk with your students. The goal of a writing conference is to teach students something about writing that they can use in the future. If you add to students' writing repertoires in every conference, they become better writers over time.
It's important that you teach students about one aspect of writing in each conference. This one aspect could be:
A strategy for navigating a stage of the writing process, such as how to come up with a topic or edit a draft
A craft technique, such as how to write an effective beginning (or lead) for a piece of writing or use transitions
A point of grammar or mechanics, such as how to punctuate a sentence with a period or set off a dependent clause with a comma
If you try to teach two or three things in conferences, they will go on for too long—and students won't be able to take in so much teaching, no matter how well intentioned. Helping students grow as writers is a long-range project. Across a school year, you'll have many writing conferences with students—and whatever you don't address in one conference can always be a focus later.
Teaching students to be better writers require that you learn to navigate the three parts of a writing conference. Within each part, there are one or more conferring moves you'll learn to make by using intentional language.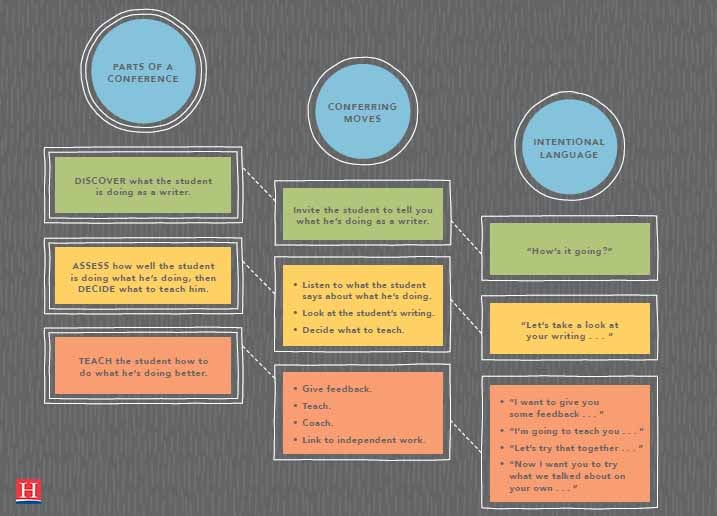 When you ask the question, "How's it going?" at the beginning of writing conferences, you're doing much more than inviting students to talk about what they're doing as writers. The question initiates your relationship with each student and deepens each of these relationships in subsequent conferences.
In conferences, the student becomes known to you as a person, a writer, and a learner. As you come to know each child, you shape and adjust your teaching for that child. Students, too, learn a lot about you in conferences. Through conferring, you become known to your students. For most students, getting to know you helps them be more comfortable and open to learning in conferences.
The relationships that grow out of writing conferences are not the by-product of conferring—they are one of the important goals, since these relationships are so central to students' growth as writers.
•••
Learn more about A Teacher's Guide to Writing Conferences at Heinemann.com
---
Carl Anderson is one of the nation's leading experts on teaching writing to students in grades K-12. He dedicates his energies exclusively as an education consultant and writer.
Carl recently worked for Teachers College Reading and Writing Project at Columbia University as a Lead Staff Developer, providing staff development in the teaching of writing grades K–8. He spent school days in New York City elementary and middle schools demonstrating effective teaching in the writing workshop and coaching teachers. He gave day-long workshops for teachers at Teachers College on launching the writing workshop, conferring with student writers, mini-lessons, and developing curriculum for the writing workshop.
Carl is the author of numerous books including the bestselling How's It Going? A Practical Guide to Conferring with Student Writers, as well as Assessing Writers and the series Strategic Writing Conferences: Smart Conversations that Move Young Writers Forward Grades 3-6.
His latest book, A Teacher's Guide to Writing Conferences, is part of the Classroom Essentials series. Full of classroom video, the book helps teachers understand the underlying principles and reasons for conferring with students, and how to make writing conferences a part of teachers' daily routines.
Follow Carl on Twitter @ConferringCarl