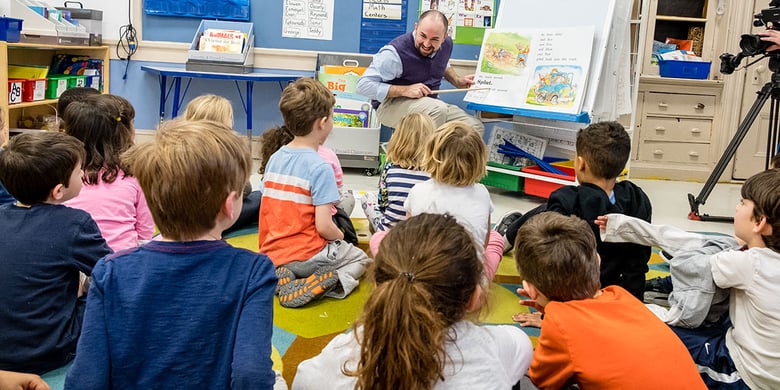 Whole-group literacy is a time for purposeful reading instruction, peer collaboration and discussion, and thinking and talking about books. It is a time for the teacher to guide the students with precision as they learn about meaning, text structure, foundational skills, and vocabulary. This vital portion of the literacy block is also a time for powerful student engagement—which makes all the difference in literacy learning.
When implementing shared reading into your literacy block, you will notice how much of a difference utilizing large texts within a shared reading experience can make. Shared reading sparks joy, inquiry, student talk and agency. Shared reading is more engaging and impactful than any other whole-group literacy instruction.
A Look Inside Shared Reading
Shared reading takes whole-group literacy instruction further by utilizing enlarged texts, leaning on a reading experienced where students are guided by the teacher in a true "shared" experience. Shared reading differs from interactive read-aloud where the students use their voices to read along with the teacher. Shared reading is an opportunity for children to "step up together" into more challenging texts than they can read independently.
Here are some of the top benefits of shared reading instruction for both primary and intermediate classrooms:

What are the Benefits of Shared Reading for Primary Students?
1. Shared Reading Connects Language with Print and Reinforces Foundational Skills
Shared reading helps young readers understand the relationship between oral language and print. They begin to see that, like talk, print language has a set of rules. Like talk, print also holds a very specific message: writers use letters and spacing to make words so that they can share ideas. With the support of their teacher and community, shared reading provides a space to explore the myriad connection between what is spoken, written, and read.

Shared reading also provides the perfect opportunity to reinforce foundational skills and phonics learning. As students gather to read the enlarged text, they step up together to apply the skills they've been learning in their daily phonics lessons. Hands-on application activities during shared reading reinforces learning in a way that makes the learning stick for students.


2. Shared Reading Connects Play with Learning
While parts of the school experience might contrast with the low-stakes, collaborative nature of play, shared reading joyfully leverages the power of social support and fun. During shared reading, the teacher intentionally guides playful participation in the reading process. Students' existing competencies stretch as the teacher scaffolds the hard work of trying out unfamiliar genres and text types, new vocabulary, and strategies for problem solving through text.

Shared reading books are designed to captivate minds with engaging illustrations and photographs, poetic language, and irresistible features such as cut-outs, flaps, or pop-ups and bring readers back to the text again and again. These characteristics/features of shared reading bring forth play and joy, all the while children are working to expand their reading process. The playful nature of the experience makes the challenge of the work exciting.
3. Shared Reading Develops Strong Independent Readers
Shared reading allows readers to successfully step up into more challenging texts together. All children build confidence as they build competencies, including English learners and those who find literacy learning difficult.

As their teacher invites them into the reading process with support from the group, children begin to understand that they can take on the learning from this instructional context and apply it to their own reading. They gain independence as readers as they build understandings together about print concepts, letters, sounds, words, genre, book and academic language, vocabulary, fluency and comprehending.
What are the Benefits of Shared Reading for Intermediate Students?
1. Shared Reading Helps Students Navigate Craft Techniques, Literary Language, Text Features, and Genre and Forms
The author's and illustrator's craft decisions, literary language, and the use of text features contribute to increased text complexity and increased cognitive demands on readers. Shared reading provides many opportunities for students and teachers to map and name the techniques that authors and illustrators use to make texts interesting, beautiful, specific and engaging. Discussion of these techniques builds academic language, improves comprehension, and influences student writing.

Shared reading is also the perfect experience for exploring new genres and forms. While interactive read-aloud includes opportunities for students to learn more about genre and forms, the enlarged print used in shared reading allows them to see some of the conventions with their own eyes.


2. Shared Reading Boosts Reading Comprehension
Due to the shared reading experience, students engage with their peers to deeply discuss and learn about texts. The process of inquiry-based learning, examining a text, making predictions, and coming to conclusions together allows students to grow as readers that better comprehend their reading.
3. Shared Reading is the Perfect Opportunity to Reinforce Phonics, Vocabulary, and Fluency
As texts become more challenging, all readers benefit from continued opportunities to apply and strengthen phonics and word analysis skills, to expand vocabulary, and to improve all dimensions of fluency including rate, word stress, pausing, phrasing, and intonation.