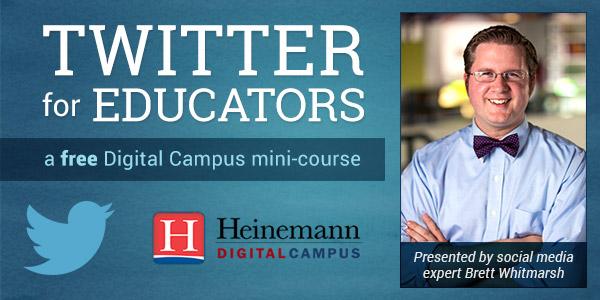 Did you know educators are among the largest professional users of Twitter? Twitter can be a powerful tool for teachers. Whether it's to utilize the service as a makeshift learning network, or to give your classroom a voice, Twitter has many educational uses. The social platform's forced economy and relative ease-of-access can translate to the classroom with efficacy. Here are some ways Heinemann authors and teachers are using Twitter in the classroom.
Creating a Classroom Account

In Connecting Comprehension and Technology, authors Stephanie Harvey, Anne Goudvis, Katie Muhtaris, and Kristin Ziemke fold technology into the practices of the Comprehension Toolkit series. They write: "Each week we use Twitter to reflect on and share our new learning. I project the classroom Twitter account […] and students verbally share their reflections as I type them into the site and share with the world" (181).
A single classroom account is a hub of inquiry and extension. Depending on your initial framing, students can suggest other accounts to follow based on interests or events (the official NASA handle, for instance), supplementing whole group discussions.
My families love following our class on @Twitter. Classroom tweets become soundbites for dinner table conversation #istelitchat

— Kristin Ziemke (@KristinZiemke) December 1, 2014
Further reading:
Twitter in the Primary Classroom: Engage, Inspire, & Collaborate, an ebook by Kristen Wideen, elementary teacher and blogger at mrswideen.com.
Providing Venues for Inquiry and Connection

Twitter is also a great classroom tool for inquiry. With nearly half a billion users on Twitter, we can show in real-time that words have meaning. Try using Twitter to investigate a current event. Determine the primary voices and collate a list of Twitter handles to watch the news unfold from multiple angles. Sara Ahmed, author of Upstanders and current middle school teacher, aided student inquiry into the Syrian civil war: "I started searching on Twitter for anything and everything I could. I searched Syria, Syrian children, and Syrian refugees, and came across Camp Zeitouna and the hashtag #Play4Syria" (5). Sara's class used online discussion to determine a course of charitable action through fundraising for Syrian children.
In 2014's Thrive, Meenoo Rami lauded Twitter as a way to connect to diverse cultures and backgrounds. "The best work we do with students is real world; it isn't about playing school with our students. The work we assign them and the work we do alongside them should be connected to their experience in the world" (40).
Further reading:
"Modeling Your Own Inquiry" from the Heinemann Blog
"Three Ways to Start Using Social Media in Your Reading Community Now," from Innovate, Ignite, Inspire, the new blog from authors Katie Muhtaris and Kristin Ziemke.
Helping to Build Empathy

In a recent #istelitchat, Katie Muhtaris (@literacyspark) wrote the following tweets:
Our Twitter relationships inspire my Ss to explore issues they never considered before. Build empathy, understanding. #istelitchat

— Katie Muhtaris (@literacyspark) December 1, 2014
Authentic audience is such a transformative piece of online interaction. Twitter helps my Ss expand their reach. #istelitchat

— Katie Muhtaris (@literacyspark) December 1, 2014
With the internet's myriad voices, students can learn to parse or synthesize viewpoints, thus developing empathy. As tweeted above, "authentic audience" transforms, and if students interact outside of their immediate community, the value of forming connections rises.
Getting Started and Going Further

Through Heinemann's Digital Campus (an online Professional Development tool) we offer a free Twitter course for educators. Divided into seven parts and is approximately 45 minutes total duration, "Twitter for Educators" gets you started on the social platform, teaches you its intricacies and idiosyncrasies, and outfits you with the needed tools to participate in regular Twitter chats from the education community. More information can be found here: http://heinemann.com/products/DCOCN0014.aspx