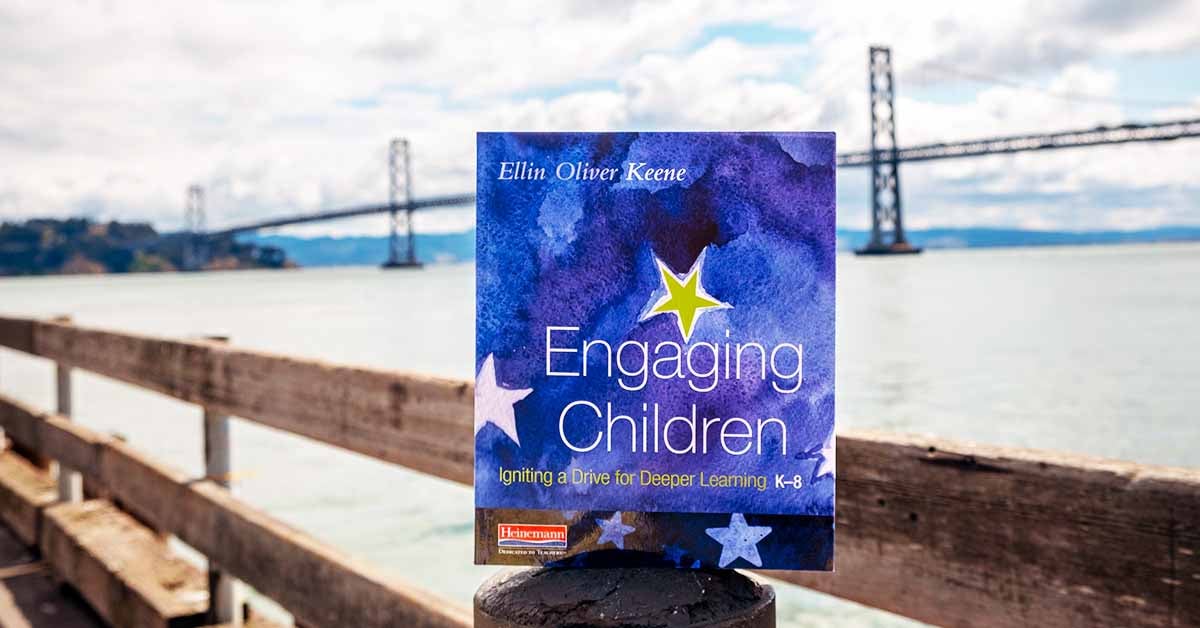 Adapted from Engaging Children by Ellin Oliver Keene
Many of us think of engagement as a state in which students behave well, answer questions on cue, are engaged in some sort of assigned activity, appear busy, are quiet, and there isn't a cell phone is sight. In many ways, we still structure our classrooms and speak with students as if we value compliance and the look of engagement more than true engagement. True engagement can be tricky to pin down.
If educators don't have a language to define and describe engagement—a point on the horizon toward which we're working—and if we don't incorporate talk of engagement into our discourse with students, how can we help children become truly engaged? How do we help them learn to engage on their own? How do we help them reengage?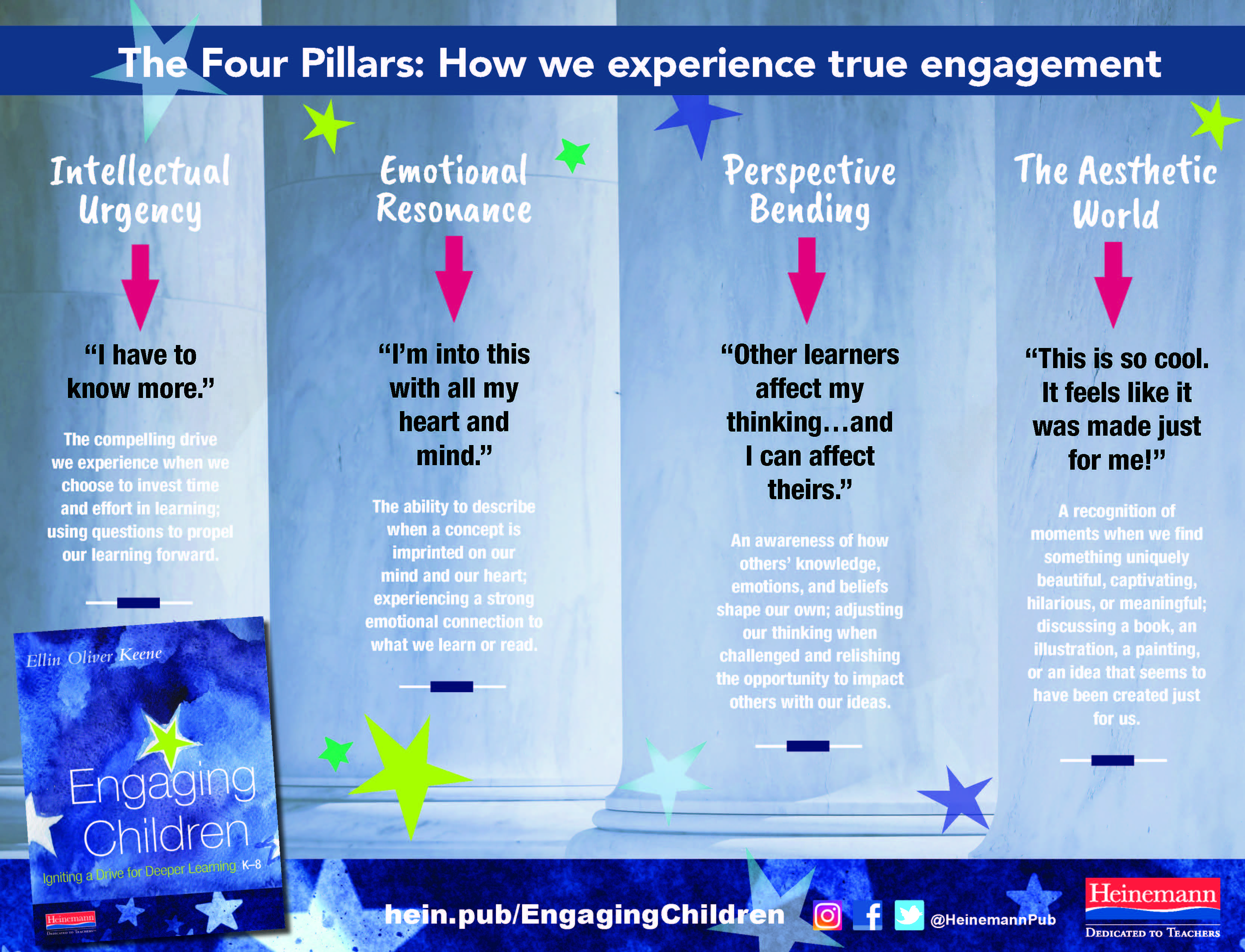 Here's the adult language that provides a bit more detail about each of the pillars of engagement:
Engagement is born of intellectual urgency. Engaged children often tell us through talk and action that they "have to know more about" topic. They are willing to put time and considerable effort effort into learning more. They drive the learning with their own questions. Often, conflict is embedded in the experiences, concepts, and stories in which children are deeply engaged. We're drawn to conflict and lean toward a resolution. Children are intrigued by conflict and may want to act to mitigate a problem in their community or the world. They believe that they just have to apply more attention to this text or idea.
Engagement is often born of an emotional resonance to ideas—engaged children can describe experiences when a concept is imprinted in the heart as well as the mind. They are far more likely to remember the idea when a strong emotion is tied to a concept they're learning or a text they're reading. They may want to share their emotional reactions through writing, conversation, or art.
Engagement is deepened by perspective bending—engaged children are aware of how others' knowledge, emotions, and beliefs shape their own. When children talk and write about their beliefs, they are more engaged; they have a stake in the learning. They may be open to changing their thinking or beliefs when challenged and particularly relish the idea that their ideas can impact other learners. Their beliefs may bend, but rarely speak.
Engagement is often connected to a learner's sense of the aesthetic—engaged children can describe moments when they find something beautiful or extraordinary, captivating, hilarious, or unusually meaningful. They may speak of a book or illustration, a painting, or an idea in science or math that seems to have been created just for them. They are drawn back to view it, discuss it, read it again and again. They claim the idea as somehow their own.
Test these pillars against the moments when you've felt most engaged and lost in the flow of intense intellectual and/or emotional attention. Do these ideas match your own experiences and your observations of students' experiences as they are lost in thought? Add your own descriptive phrases or even a new category! What elements are missing from the description above? What else do you notice about children who are deeply engaged?
•••
Want to connect with other educators reading Engaging Children? Join the Facebook group here!
Learn more about Engaging Children at Heinemann.com
---
Ellin Oliver Keene has been a classroom teacher, staff developer, non-profit director, and adjunct professor of reading and writing. For sixteen years she directed staff development initiatives at the Denver-based Public Education & Business Coalition. She served as Deputy Director and Director of Literacy and Staff Development for the Cornerstone Project at the University of Pennsylvania for four years. Ellin works with schools and districts throughout the country and abroad with an emphasis on long-term, school-based professional development and strategic planning for literacy learning. She serves as senior advisor at Heinemann, overseeing the Heinemann Fellows initiative and is the editor of the Heinemann Professional Development Catalog-Journal. Follow her on Twitter @EllinKeene