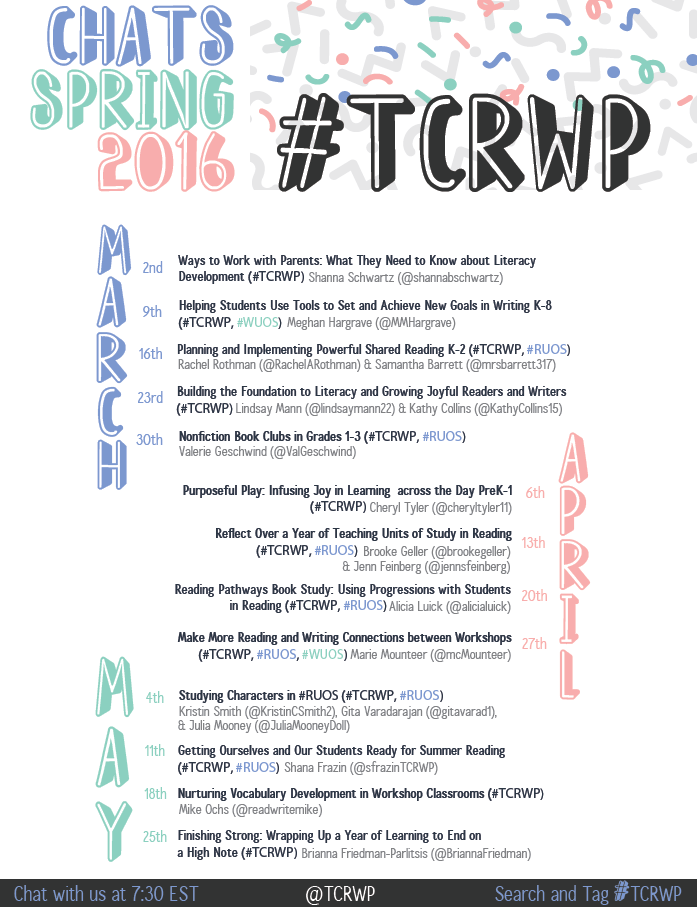 See below for the full #TCRWP chat transcript.
by Anna Gratz Cockerille
Hooray! It's shared reading time! Shared reading is often one of the most celebrated—and celebratory—times in the school day. In Chapter 12 of A Guide to the Reading Workshop, Primary Grades, Lucy Calkins writes, "To imagine shared reading, think of the times when you've attended the concert of a favorite singer. The star performer picks up the mic and takes the lead in a hit song. The audience sings along, and whenever the performer pauses in the song, the crowd fills in the lyrics. The crowd's engagement is high, and their voices come together to almost overpower the lead singer" (p. 135).
In classrooms where shared reading is going well, the feeling is not dissimilar to the feeling of that concert. Children participate joyfully, and the teacher leads the way. As Lucy says, "Shared reading can feel like a hootenanny." Even though it is raucously effective whole-group instruction, shared reading can have an intimate feel. As explained in the Guide, the father of shared reading was Don Holdaway, an Australian literacy researcher who developed shared reading to re-create the experience of a child being read to on a parent's lap.
Shared reading is an integral part of the balanced literacy curriculum in the early grades. In shared reading, children practice skills and strategies with a teacher leading the way and their peers alongside them. It instills a love of reading, and helps teachers link the direction instruction from minilessons to the independent reading children do during reading workshop. In other words, it's an important step between a teacher showing children how to do something and children doing it on their own. Shared reading lessons need not be lengthy; usually about 10–15 minutes is plenty. In fact, keeping the pace light and quick usually helps keep engagement high. Most teachers begin with an easy, light warm-up text that helps students to feel confident as readers and progress to the focus text. They pause a few times to engage students in thinking or talking briefly about the text.
A part of the Units of Study for Teaching Reading of which we are especially proud are the sections to support shared reading that accompany each unit in the K–2 series. Each shared reading section comes with text suggestions (often a longer text and a shorter text, such a song or poem) and a series of lessons to support each of the texts. Each lesson includes an introduction with a clear focus for the lesson, a warm-up and a step-by-step description of the lesson. If you haven't checked out this section in your unit books, don't delay. You'll feel empowered to integrate more shared reading into your instruction immediately.
Rachel Rothman and Samantha Barrett are Reading and Writing Project staff developers and shared reading experts who are leading the #TCRWP Twitter chat on this important and lively topic. Please join to share and learn tips, tricks, and best practices to get the most out of this component of balanced literacy.
Each Wednesday night at 7:30pm eastern, The Teacher's College Reading and Writing Project hosts a Twitter chat using the hashtag #TCRWP. Join @RachelARothman & @mrsbarrett317 to chat about shared reading tomorrow evening.
♦ ♦ ♦ ♦
Anna Cockerille is a staff developer, literacy coach, and writer based in New York City. She has taught in K–8 classrooms all over the world in places such as Sydney, Australia; San Pedro Sula, Honduras; and Auckland, New Zealand. Anna has been a staff developer for the Teachers College Reading and Writing Project at Columbia University (TCRWP) and an adjunct instructor for the Literacy Specialist Program at Teachers College. She writes at Two Writing Teachers.
Not on Twitter? New to Twitter? Take Heinemann's free Twitter for Educators course here.