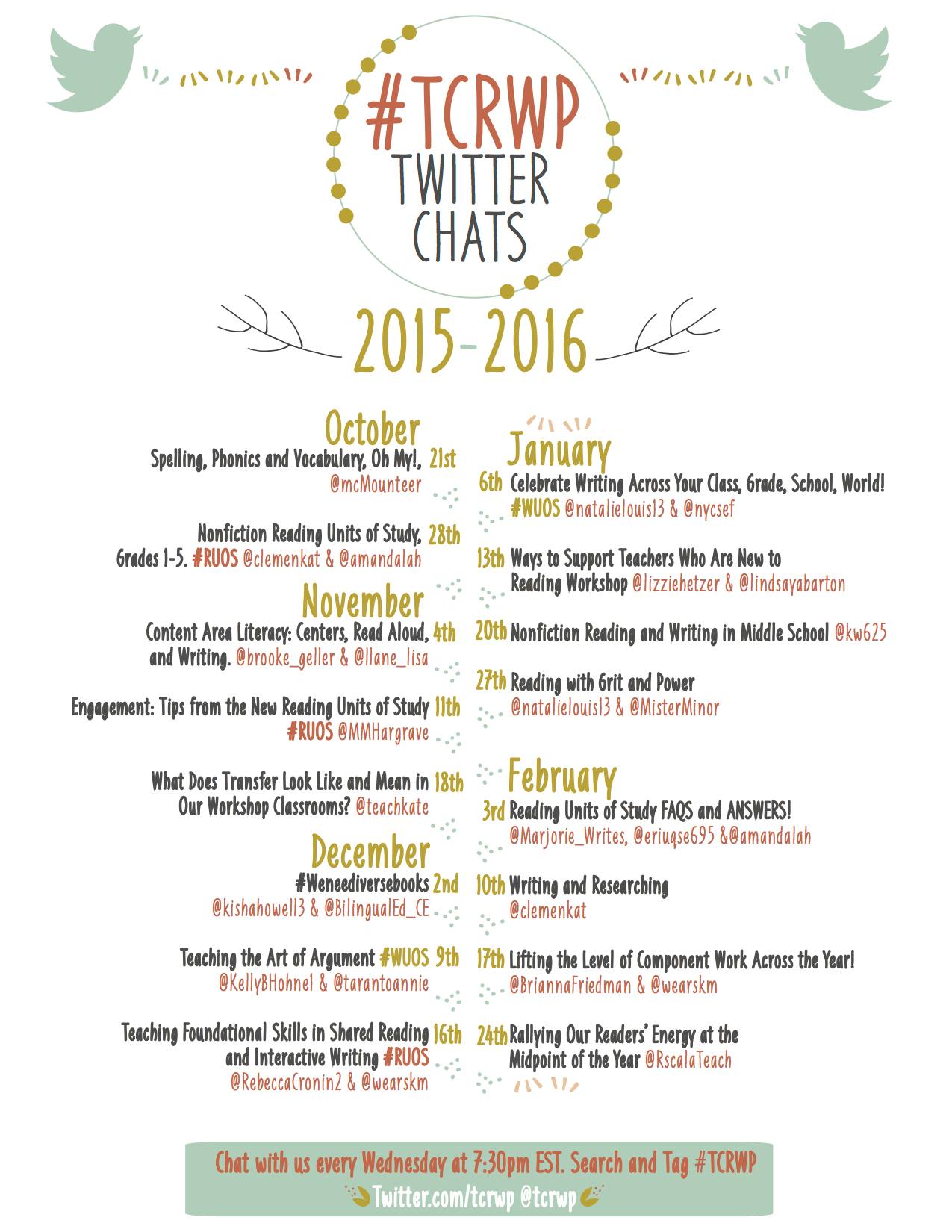 See the full TCRWP chat transcript below
by Anna Gratz Cockerille
Teachers, you are not alone if you are feeling the drain at this point in the year. You might be lagging just a bit longer getting out of the door. Your usual cup of coffee may have expanded into two. Or three. You may be counting the days until the next holiday. Some of the excitement you felt at poring over your students' work might have faded just a little.
It's highly likely that your students are feeling the same way. You might have noticed some backsliding in the depth and thoughtfulness of their talking and writing about their reading, or even in their stamina or volume. If this is the case, know that your students are not alone (of course they're not; they have you!) and know that YOU are not alone. The great news is, there are ways you can rally your students' energy at this point in the year. As a happy bonus, it's likely that you'll rally your own energy in turn.
Here are a few ways to infuse energy into your reading curriculum:

Insert a mini-unit in between longer, more in-depth units with the simple goal of boosting your students' engagement and morale. Consult the If...Then...Curriculum book that accompanies each Units of Study for Teaching Reading kit. In many classrooms, an engaging fiction unit such as the mystery unit for grades three or four or the fairy tales unit for grades one or two will be just the thing. You might plan such a unit to last only a few weeks, just enough time for students to get recharged and re-engaged.
Read aloud. Daily and joyfully. Mix up genres. Add in a few humorous picture books along with fascinating nonfiction articles. Lead your students in sharing their surprise, their laughter, and their concern.
Model ways you personally get re-engaged with your reading when you're feeling low. You might show how you warm up with a favorite text that makes you feel energized as a reader before delving into harder reading. Or, you might show how you try new thinking prompts to talk or write about your reading in different ways.
No doubt teachers in our fabulous community have scores of ideas to add to this list. Join tomorrow's Twitter chat to share ups, downs, tips, and tricks with the Reading and Writing Project's Ryan Scala and the many brilliant educators who join us.
Each Wednesday night at 7:30 p.m. eastern, The Teacher's College Reading and Writing Project hosts a Twitter chat using the hashtag #TCRWP. Join @RScalaTeach to chat about rallying readers' energy tomorrow evening.
♦ ♦ ♦ ♦
Anna Cockerille is a staff developer, literacy coach, and writer based in New York City. She has taught in K–8 classrooms all over the world in places such as Sydney, Australia; San Pedro Sula, Honduras; and Auckland, New Zealand. Anna has been a staff developer for the Teachers College Reading and Writing Project at Columbia University (TCRWP) and an adjunct instructor for the Literacy Specialist Program at Teachers College. She writes at Two Writing Teachers.
Not on Twitter? New to Twitter? Take Heinemann's free Twitter for Educators course here.