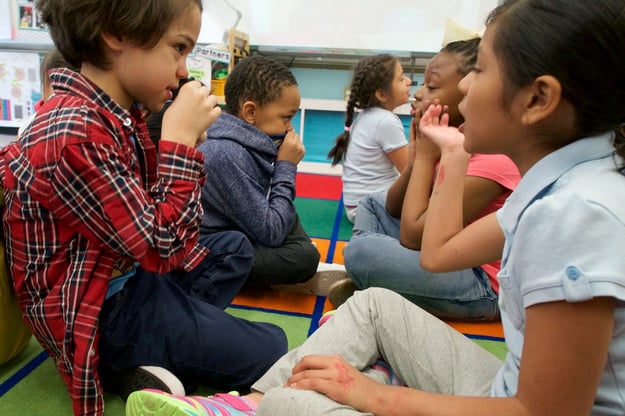 By Anna Cockerille
Because of the myriad ways writing workshop and oral language development are linked, it's hard to tell where one ends and the other begins. Put simply, during writing workshop, there is a lot of talk. It is a time in which children use language in authentic ways, seamlessly and purposefully integrating academic and social vocabulary as they work. Children rehearse for writing aloud, talking to plan what they are going to write. They brainstorm solutions to tricky parts with a partner. They discuss their writing process in metacognitive ways about during conferences with a teacher.
When a class of writers is engaged in writing workshop, they become a community of storytellers. Often, this is one of the only opportunities children have to tell their own stories in an extended way to a rapt audience. To foster this culture of storytelling, some teachers leave time for students to gather and tell their stories to each other, or teach each other about topics they know. As Lucy Calkins explains in A Guide to the Common Core Writing Workshop, this time to gather and storytell is invaluable to students' writing and can happen during writing workshop or at a different time of day. Even during snack time, teachers can model and ignite storytelling conversations: "Cool! You went to a carnival with your grandma?" Or, "Wow, did you know a snakes don't have eyelids?"
Further, all children, and especially English language learners, benefit from direct instruction to support vocabulary development and from plenty of opportunity for practice. Teachers can provide tools such as word banks of domain-specific vocabulary, or word cards with alternatives to overused words. The first step in using these tools powerfully is helping students to integrate these words into their oral language. Then, and almost always not before, are they ready use these words in their writing.
Staff developers and oral language experts Marie Mounteer and Jenn Kean Thompson will lead this week's TCRWP Twitter chat on supporting oral language development in writing workshop. Join them for plenty of tips on ways to help students grow more than ever as speakers and as writers.
Each Wednesday night at 7:30pm eastern, The Teacher's College Reading and Writing Project hosts a Twitter chat using the hashtag #TCRWP. Join @mcmounteer & @jennkeant to chat about supporting oral language development in writing workshop tomorrow evening.

♦ ♦ ♦ ♦

Not on Twitter? Take Heinemann's free Twitter for Educators course here.

---
---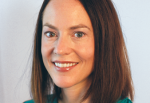 Anna Cockerille, Coauthor of Bringing History to Life (Grade 4) in the Units of Study for Teaching Writing Series, was a teacher and a literacy coach in New York City and in Sydney, Australia, and later became a Staff Developer and Writer at TCRWP. She served as an adjunct instructor in the Literacy Specialist Program at Teachers College, and taught at several TCRWP institutes, including the Content Literacy Institute, where she helped participants bring strong literacy instruction into social studies classrooms. Anna also has been a researcher for Lucy Calkins, contributing especially to Pathways to the Common Core: Accelerating Achievement (Heinemann 2012), and Navigating Nonfiction in the Units of Study for Teaching Reading, Grades 3–5 series (Heinemann 2010). Most recently, Anna served as an editor for the Units of Study for Teaching Reading, K–5 series.